Blackberry and Apple Crumble is an old favourite for a good reason - fruity filling, crunchy topping, easy to make. This version uses oats in the crumble for extra texture.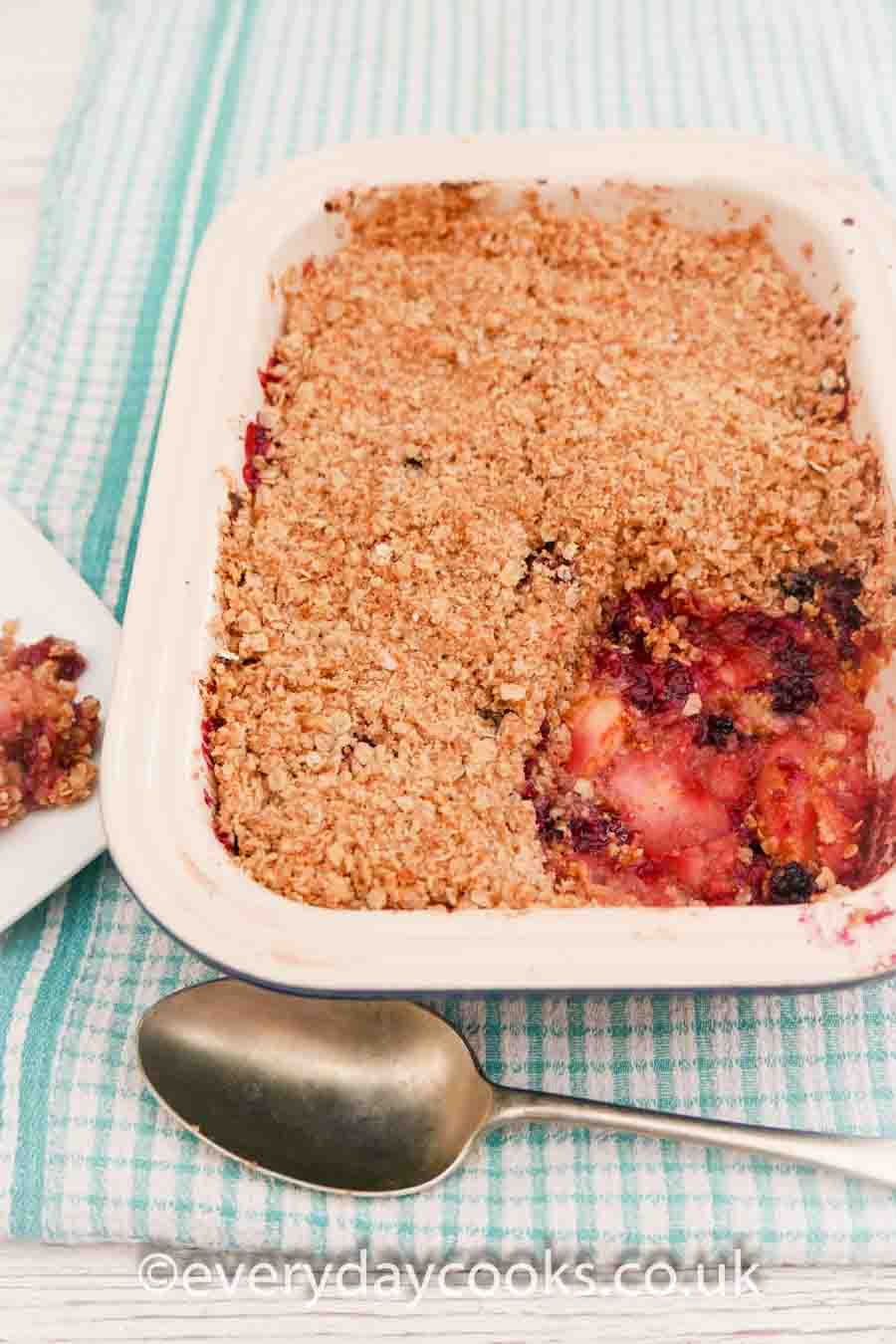 Blackberry and Apple Crumble
August, September and October are the best months for blackberries. You can find them on almost any hedgerow, so make the most of the short season and get picking!
If you have no blackberries for a crumble, just use more apple - and perhaps some raisins and cinnamon for extra flavour. You want about 1-1.2 kg fruit altogether
Key Ingredients in Blackberry and Apple Crumble
The ingredients are mostly fairly standard. For 4-6 people you need about 1kg of fruit, 160g flour and 80g each of butter and sugar, but I do add a couple of things and I use frozen butter. Here's what and why:
Flour
You can use white or wholemeal flour for a crumble topping, plain usually, but if all you've got is self-raising it doesn't really make a difference.
Oats
Oats - or meusli - gives some extra crunchy texture to the topping.
Substitute porridge oats or unsweetened muesli for 50-60g flour. My favourite is a mixture of white and wholemeal flour with oats.
Grated Frozen Butter
I recently came across the idea of grating frozen butter to use in scones. It's supposed to make the texture lighter, and it probably does.
I tried it, and I might not have bothered to carry on doing it, but it makes the whole rubbing-in process much easier and quicker. For that reason alone, I'm converted, so I thought I'd try it in the crumble topping (even though it won't make a difference to the outcome).
It does take longer to grate the butter than cut up cold butter, but overall the effort is much reduced. If you prefer to use cold butter in cubes, that's fine, of course, but I would recommend giving grating frozen butter a go.
Orange Juice with the Fruit
I like to add some sort of flavour to fruit crumbles, and orange juice isn't overpowering but it adds a bit of zing. Orange juice from a carton is okay - two tablespoons should be enough. It's also perfectly fine to omit it altogether.
Ground Almonds
I use ground almonds a lot when I cook. I often put them in cakes to add moisture and improve the keeping time. In fruit crumbles, I use ground almonds to absorb some of the juice that the fruit generates as it cooks. Again, using them is optional, but if you've got some, try it.
What else do you need to make Blackberry and Apple Crumble?
Oxo Good Grips Apple Corer - I managed to cook for 40 years without needing an apple corer. I have to say that I thought it was totally unnecessary and I wouldn't actually use it. Well, I was wrong. Now I use my apple corer every time I use apples in a recipe. It just makes the whole process a bit easier.
If you like this...
Why don't you try:
Recipe