Blackberries are abundant in the fields and lanes. What better way to spend a late summer's day than blackberrying and then making Blackberry Scones to enjoy with a cup of tea? A great way to get the kids involved too.
This lemon Blackberry Scone recipe is best made with fresh blackberries and eaten on the day you make them.
Be careful where you pick blackberries
My grandfather always told me not to pick the blackberries near the ground because dogs might have peed on them. Recently I discovered another hazard.
My greyhound, Billy, who is very picky about his food, and has never knowingly eaten fruit or veg, suddenly started gobbling the blackberries from the bush while I was picking them. In all the years I've been picking berries while taking him for a walk I've never known him to show any interest, but for some reason, wild blackberries are his new favourite food. So don't pick below greyhound head height.
Key Ingredients in Blackberry Scones
Blackberries - wild or store-bought
A dry summer affects wild blackberries. They aren't as big or juicy as usual, but they are ideal for making Blackberry Scones. And the really brilliant thing about scones is that less than 45 minutes from thinking about them they will be ready to eat, piping hot from the oven, ready for the butter to melt.
If you get carried away with picking too many blackberries, wash them, dry on kitchen paper and spread on a tray to freeze. Keep in a plastic box or bag for 6 months (although I'm still using last year's bumper harvest and they're fine). Use in crumbles or pies.
Lemon zest
Blackberries don't have the strongest flavour, so adding lemon zest enhances what there is and adds a slight citrus tang.
Butter
The flavour of any bake is better with butter, especially scones which don't have a strong flavour.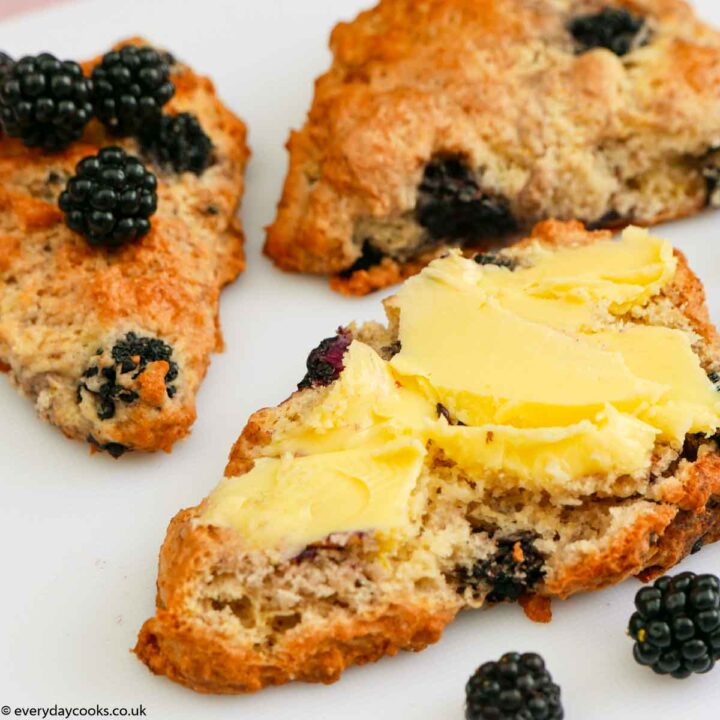 Secrets of Success
Using fresh fruit in scones
The problem with using fresh fruit in cakes and biscuits is that the moisture in them is variable, and too much can stop cakes or scones rising properly, or can make biscuits fall apart. (That's why I use dried raspberries in White Chocolate & Raspberry Cookies.) Blackberries from a dry summer are ideal for scones though. If you're buying blackberries, they may still be big and juicy, so will cook a bit differently.
Use frozen butter in scones
I picked up this tip fairy recently and it has changed the way I make scones (and fruit crumbles). You grate the butter into the flour and then rub it in as usual. The rubbing-in time is greatly reduced and seems much easier. I suppose it's because the butter is in such small pieces.
It's worth keeping a block of butter in the freezer for scone-making. Grate what you need then put the rest back for next time. There's always something new to learn!
How long do scones keep?
Blackberry Scones, like all scones, are best eaten on the day you make them. They will keep for 2-3 days in an airtight container in the fridge, or freeze as soon as they are cool for up to 3 months.
HELPFUL TOOLS
I now use an IQ lemon zester. It collects the zest and doesn't grate my knuckles, so the whole process is less painful and less messy.
Silicone baking mat – Since I bought these mats I've used them every time I bake on a tray. You reduce the washing up, as they go into the dishwasher, you don't have to grease them as they're totally non-stick, and you don't need extra flour to roll out on them.
If you like this...
Why don't you try:
Pin for later
Hover over any picture on the page and hit the Save button to pin the image to one of your Pinterest boards.