White Chocolate and Raspberry Cookies are a lighter, fruity version of a chocolate chip cookie. Perfect for summer tea.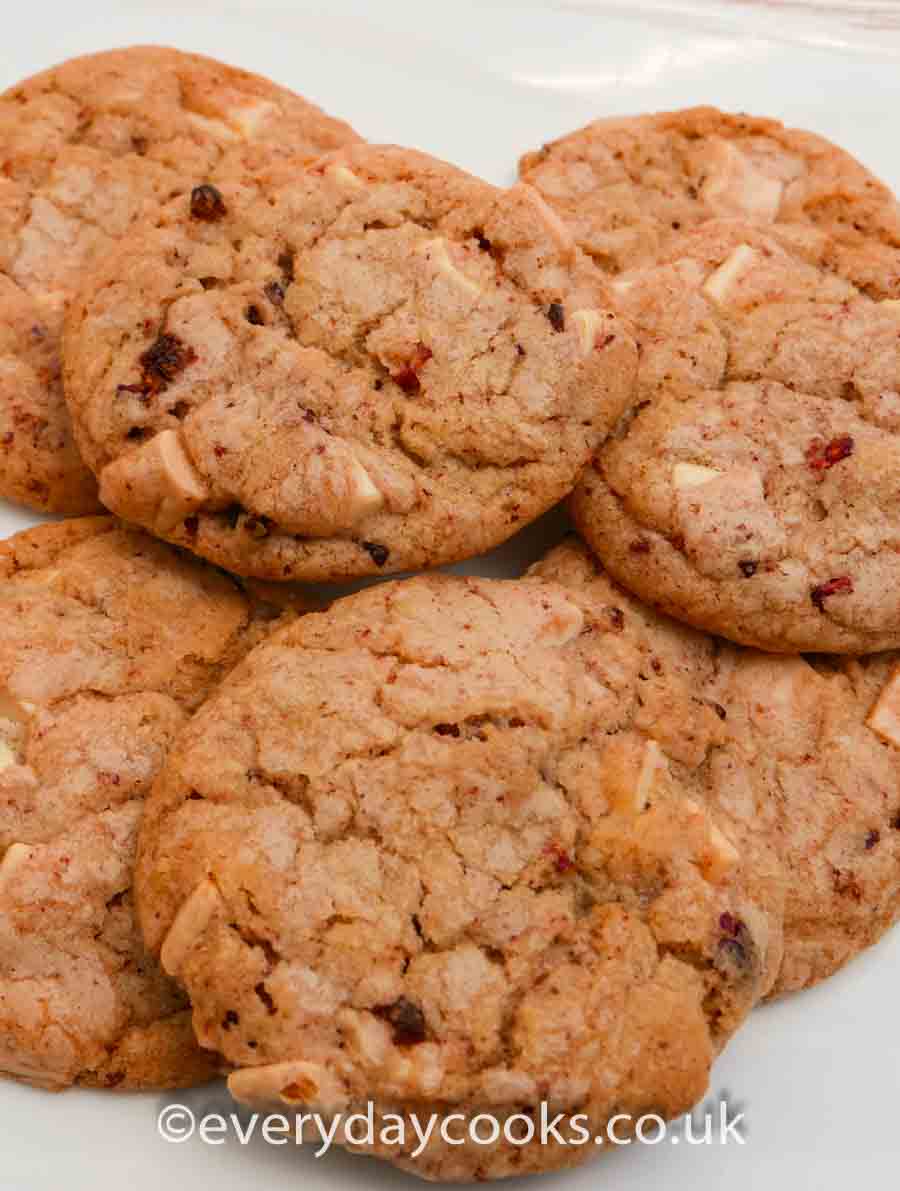 White Chocolate & Raspberry Cookies
I haven't made an awful lot of cookies in my time - in fact, I've only really got one recipe from my mother, so we tend to have Chocolate Polka Dot Cookies all the time.
Biscuit or Cookie?
I'm more used to making biscuits - ginger, shortbread, fruit - which are quite a different breed of teatime treat. The point of a cookie is that it's soft and chewy in the middle - quite the opposite of a biscuit, which needs some crunch.
One of the girls asked for White Chocolate and Raspberry Cookies, unfortunately, most of the recipes online are from US sites, so the measurements are by volume which I don't want to get in to, and anyway, their wheat is different so the flour has different properties which can affect quantities. I found a couple of recipes in magazines, but I was disappointed that they didn't work very well.
I once gave my daughter a fridge magnet that said something along the lines of If all else fail, do what your mother said in the first place. So I did what I should have done in the first place and adapted Mum's recipe. Of course, it worked.
Chocolate chips or chocolate chunks?
I always used to use chocolate polka dots in cookies. Probably that's all you used to get, but I'm quite taken now with the chocolate chunks you can get in Waitrose - and probably every other supermarket. They're a bit more substantial, especially when you're using white chocolate but, really, chocolate is chocolate.
Fresh or dried raspberries?
Fresh fruit in cookies - or cakes - can be problematic. You have to deal with the moisture they bring, and to be honest, you often get a soggy result.
So I'm sticking with freeze-dried raspberries. You can get them in most supermarkets, although they tend to be raspberry crumbs, which are pretty small and the packs are typically 10g (for these cookies you will need 20g). They are fine for cookies, especially if you don't make many. If you think you'll be making plenty of White Chocolate and Raspberry Cookies - or any cake or cookie with raspberries, you can also buy whole raspberries in larger packets from Amazon, for a much better price, which is what I did eventually. Just crush them slightly before using or as you mix them in. In fact, I think they give a better result as you get bigger pieces.
How long to cook White Chocolate and Raspberry Cookies?
The key to cookies is not to overcook them. I reckon these only need 12 minutes and mine are usually ready then. Occasionally they take a minute or two longer. That might be for the underneath tray, which sometimes doesn't get as much heat. If the oven was left open too long when you put the cookies in, it can reduce the temperature too much so you need an extra minute.
The cookies continue cooking on the tray when they're out of the oven, so definitely don't overcook. Just beginning to brown at the edge is a good guideline.
HELPFUL TOOLS
Magic Liner or a silicone baking mat – both reduce the washing up as they go into the dishwasher. You don't have to grease them either as they're totally non-stick.
If you like this...
...Why don't you try:
Recipe