(Half) Wholemeal Fruit Scones are best eaten fresh and warm from the oven with butter and a cup of tea. These scones are fruity and not too heavy.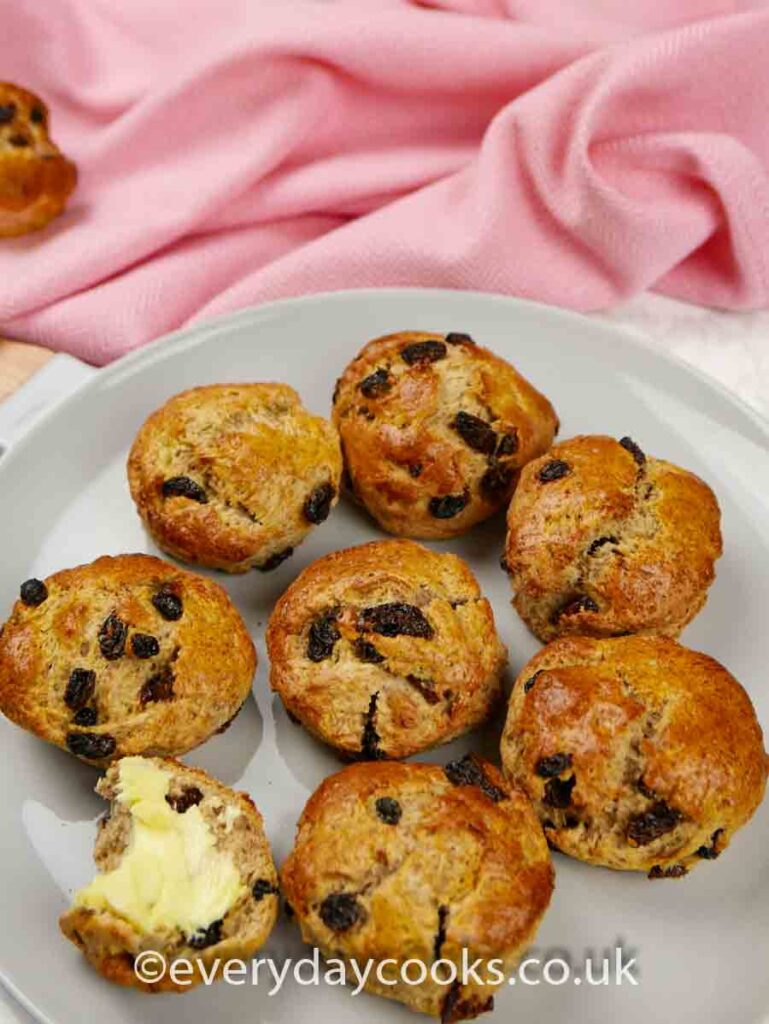 Wholemeal Fruit Scones
Wholemeal scones - even Wholemeal Fruit Scones sound a bit worthy and healthy - and possibly not too appetising. And, yes, I have made some like that when I was in a very 'wholemeal' phase of eating.
These scones are not totally wholemeal, so they keep some of the lightness of scones made with white flour, but they also keep some of that impression of healthy eating. Possibly the amount of butter I add does not make for healthy eating - what can I say?
Quick and easy scones
When I first started cooking (a very long time ago as I was very young) there was only one way to make scones - the rubbing in method.
Now I have two other methods - one a variation on rubbing in, the other uses technology.
Traditional Rubbing-in Method
You use butter from the fridge, cut into cubes, and rub it into the flour with your fingers before adding sugar, eggs/milk, and fruit.
Modern Rubbing-in Method
Use frozen butter and grate it into the flour. You still rub it in, but it's much less effort.
Processor Method
Blitz the flour and cold butter. Blitz again with the rest of the ingredients, apart from the fruit. Stir in the fruit.
Best method?
I use all of these, depending on the circumstances. If I'm making a lot of scones, I use the processor. If I just want a small batch I'll use either of the other methods, depending on how much butter I have in the fridge or freezer.
One top tip: If you're rubbing in, put the bowl on a low surface or in the sink so that your arms are straighter - they will ache less!
Helpful Tools
Magic Liner or a silicone baking mat – Use on top of your baking tray to reduce the washing up (both go into the dishwasher). You don't have to grease them either as they're totally non-stick. The silicone mat is also a good non-stick surface for rolling out. You don't need to add extra flour to your scones.
If you like this...
...Why don't you try: