Cheese scones always seem like cold-weather food to me. I think it's because I associate them with lashings of butter and homemade vegetable soup - the perfect lunch for a cold day, especially if you've been out for a walk.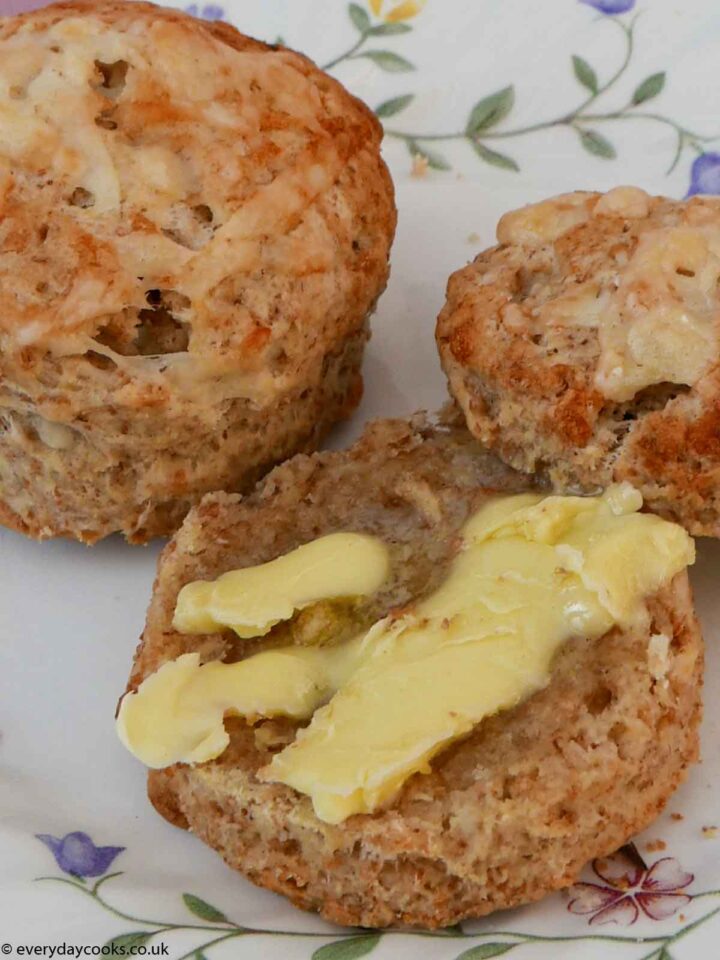 Make ahead for house guests
The scones are perfect to make ahead and keep in the freezer to produce when you have guests and you're short of inspiration for a quick lunch. I always make some before Christmas to fill any hungry gaps that appear.
Key ingredients in Cheese Scones
Add some spice
I like some spice in savoury scones, so I add a pinch of cayenne pepper or chilli powder. Chilli spice is often a mix of cayenne and other spices, so I tend to keep cayenne in the cupboard. If you aren't sure, leave it out!
I also add mustard powder. You could use ready-made if that's what you have. Try mixing it with the milk to make sure it's dispersed well.
Wholemeal or white flour?
I use half-and-half, but there was a time when I would make cheese scones with 100% wholemeal flour and they are very nice too. Add an extra teaspoon of baking powder to make sure they rise.
If you're making scones with plain flour - white or wholemeal - add 1 teaspoon of baking powder per 100g flour.
Either way, you get a plate of delicious scones just waiting for some butter.
Do Cheese Scones freeze?
Scones freeze well for up to a month. Best frozen on the day they're made.
What equipment do you need?
You'll need a 5-6cm round cutter (about 2 inches across). I use a plain cutter because the cherries can snag on a fluted cutter – but that's a personal preference.
A baking sheet is also needed – if you cut the scones a bit thinner you'll probably need two baking sheets
If you like this...
...Why don't you try some more scone recipes:
Pin for later
Hover over any picture on the page and hit the Save button to pin the image to one of your Pinterest boards.
Recipe