If you want a fruit cake without eggs, a Date and Walnut loaf is just the thing. Easy to make and deliciously fruity. Eat plain or with butter.
Date and Walnut Loaf is a cross between a scone and a cake. It's denser than my usual Everyday Fruit Cake and doesn't keep quite as well because there are no eggs in it. That's no problem because it freezes well.
On the other hand, if you want a cake and don't have any eggs - or don't eat them - this is perfect. And it's one of my favourites, partly because I like any excuse to spread butter on my cake!
Key Ingredients in Date and Walnut Loaf
Flour
You need plain/all-purpose flour for this recipe rather than self-raising flour, which would contain too much raising agent, e.g. baking powder.
Dates
Even if you're not keen on eating dates, they are good in a recipe like this, so give them a try. If you're not sure, reduce the amount and add more raisins to make up the weight.
Walnuts
Pecans can be substituted for walnuts in all my recipes - and I often use them as one of my children has a severe walnut allergy. Now that he no longer lives on the same continent, I do occasionally use them - especially in a recipe like this.
Milk
Full-fat milk gives the best flavour and some extra fat in the recipe, but use what you have. If you want a vegan version of this fruit and nut loaf, use your usual milk (and margarine instead of butter).
Ring the changes
Raisins and Dates:
You could use sultanas or a mix of vine fruit if that's what you have instead of raisins.
Or try dried apricots instead of the dates (and I have a recipe for that - coming soon).
Secrets of success
This is almost the simplest recipe - mix everything together and put in a tin.
The golden rule with this - as with any fruit cake you make in a processor - is to only mix the batter in the machine, then stir the fruit and nuts in at the end using a spoon.
Then spoon into a loaf tin, with a liner, and cook for 50 minutes.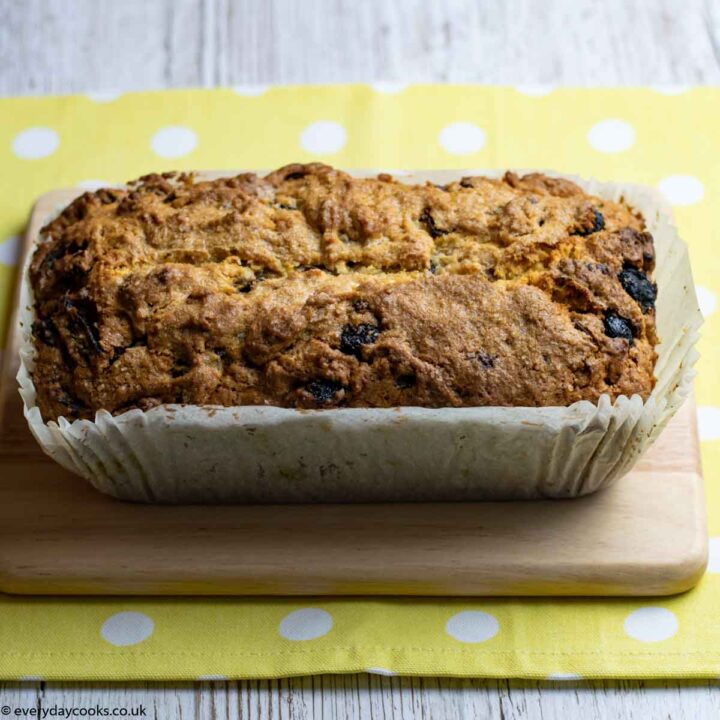 Why is my cake dry?
If your cakes turn out dry, check out my article Why Is My Cake Dry? for some of the most common reasons and the solutions.
How long will a Date and Walnut Loaf keep?
Keep for up to a week in an airtight box in the fridge. If you feel it's getting a bit dry, spread with butter like a scone - if you aren't doing that anyway!
Can I freeze it?
Absolutely. This fruit loaf will freeze for a month or so. If you have a small household, cut the loaf in half and freeze each piece separately.
In the past, I've said wrap in clingfilm or foil, but I'm trying to avoid disposable wrappings, so I can also recommend beeswax wraps. I like the large loaf-sized wraps which are perfect for these 2lb loaf cakes.
What equipment do you need?
A 2lb loaf tin is essential. I prefer metal over silicone as they keep their shape better.
I always use a baking parchment loaf tin liner, partly because it cuts down the effort - there's no need to grease the tin. Also if your tin is getting a bit old it may have some patches of rust. Normally I'd say replace it, but if you use a liner it's fine.
Finally, I keep the cake in the liner in a tin or in the freezer as it keeps the cake a bit more moist.
If you like this...
...Why don't you try:
Pin for later
Hover over any picture on the page and hit the Save button to pin the image to one of your Pinterest boards.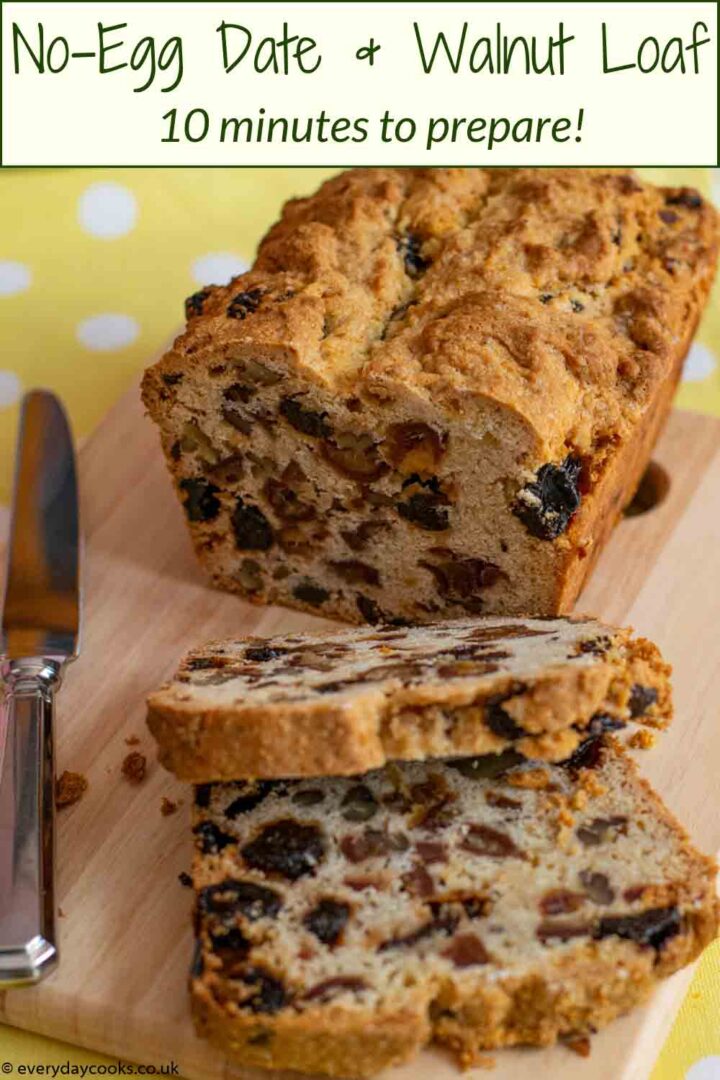 Recipe