Apple Sponge Cake has a crispy top and a thick filling of sliced apples and raisins. Eat hot or cold for pudding or tea.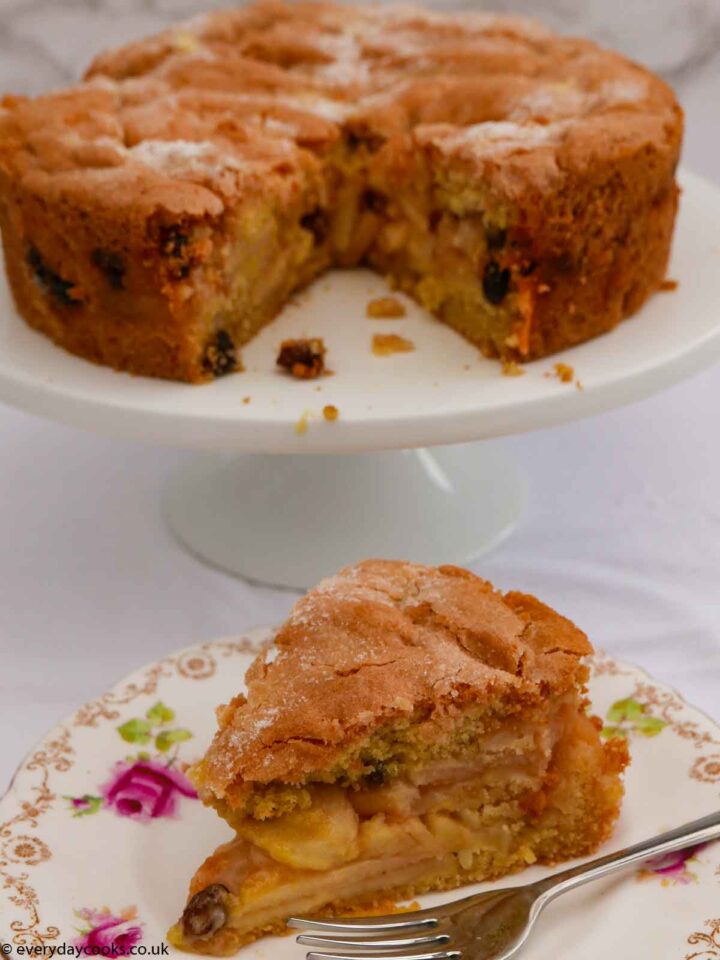 This was my aunt's go-to pudding whenever we visited when the children were young. I took the recipe from her, but I've modified it a bit. The original was baked in a rectangular tin and cut into squares, but I rather like this as a round cake as it's slightly deeper.
This is a good cake to make as a thank you for people who have been kind enough to donate apples if you don't have your own trees (which I don't, sadly). You will have to make two though, because you will want one for yourself.
Is it a sponge cake?
My aunt always called this an Apple Sponge cake although, technically it isn't a sponge cake at all. The cake layers are more dense so that they can support the weight of the apples and the moisture that they supply. You don't want a soggy cake!
Key ingredients in Apple Sponge Cake
Cooking apples
Don't be put off by the amount of apples (700g/1½ lb) that you use or the large amount of sliced apple that you get.
They cook down a bit, and give this cake a really thick layer of apple - yummy! There isn't a lot of sugar in the cake mixture, but sprinkling some over the apples means this cake is sweet enough.
What's the difference between cooking apples and eating apples?
Varieties of cooking apple are generally larger and a lot less sweet than eating apples. The flesh is usually less crisp and becomes soft and breaks down when cooked. The most common cooking apples in the UK are Bramleys. If you want to know more about British apples see the Great British Apple website.
Can you use eating apples instead of cooking apples in this cake?
If you use eating apples you will probably need less sugar, depending on how sweet your apples are. The texture of the apples in the cake will be slightly different, again depending on the variety of apple.
Flour
You need self-rasing flour, but if (like me) you only have plain/all-purpose flour, add 1 teaspoon (5ml) baking powder for each 100g flour. So for this recipe you need 2¼ teaspoons, plus the extra 2.
Egg
There is only one egg in the mixture and it can seem as if it won't be enough, but it is. Just make sure it's a large egg. In Europe, that means over 63g in the shell. In the US the same size is XL.
Ring the changes
Leave out the sultanas if you don't like them
Use orange zest instead of lemon if you prefer
Secrets of Success
The recipe is fairly easy - slice the apples, blitz the cake ingredients and layer them up - but there are a couple of things to watch for:
Soft butter
The butter must be soft. Room temperature is fine as long as your room isn't cold. If you haven't taken the butter out in time you can soften it in the microwave, but take care! Melted butter doesn't work the same way.
A longer, but safer method is to heat about 500ml water to boiling point in the microwave. Remove the water and put the chopped butter on a plate into the microwave and it softens in about 10 minutes.
Egg size
It's important to use a large egg (see above). If you don't have a large egg, you need about 1¼ medium eggs (use the rest in scrambled egg) or add a scant tablespoon of milk to the mix.
Spread the batter thinly
The batter for this apple cake is stiff to support all the apple. You will have very thin layers of cake mixture. Make sure the bottom layer covers the tin but with the top layer you will probably be able to see the apple in places. Do not worry! That's how it's supposed to be.
How long does Apple Sponge Cake keep?
The cake will keep for up to a week in an airtight container in the fridge - if it lasts that long.
Why is my cake dry?
It shouldn't be a problem with this cake but if the cakes turns out too dry, check out my article Why Is My Cake Dry? for some of the most common reasons and the solutions.
What equipment do you need?
Lemon Zester – This zester changed my cooking life. I know I'm late to this particular party but I relied on my box grater for decades. Now I've changed to a Microplane type of zester I don't grate my fingers and it catches the zest so there's more of it and it goes where I want
Apple Corer - I managed to cook for 40 years without needing an apple corer. I have to say that I thought it was totally unnecessary and I wouldn't actually use one. Well, I was wrong. Now I use my Oxo Good Grips Apple Corer every time I use apples in a recipe. It just makes the whole process a bit easier.
If you like this...
...Why don't you try:
Pin for later
Hover over any picture on the page and hit the Save button to pin the image to one of your Pinterest boards.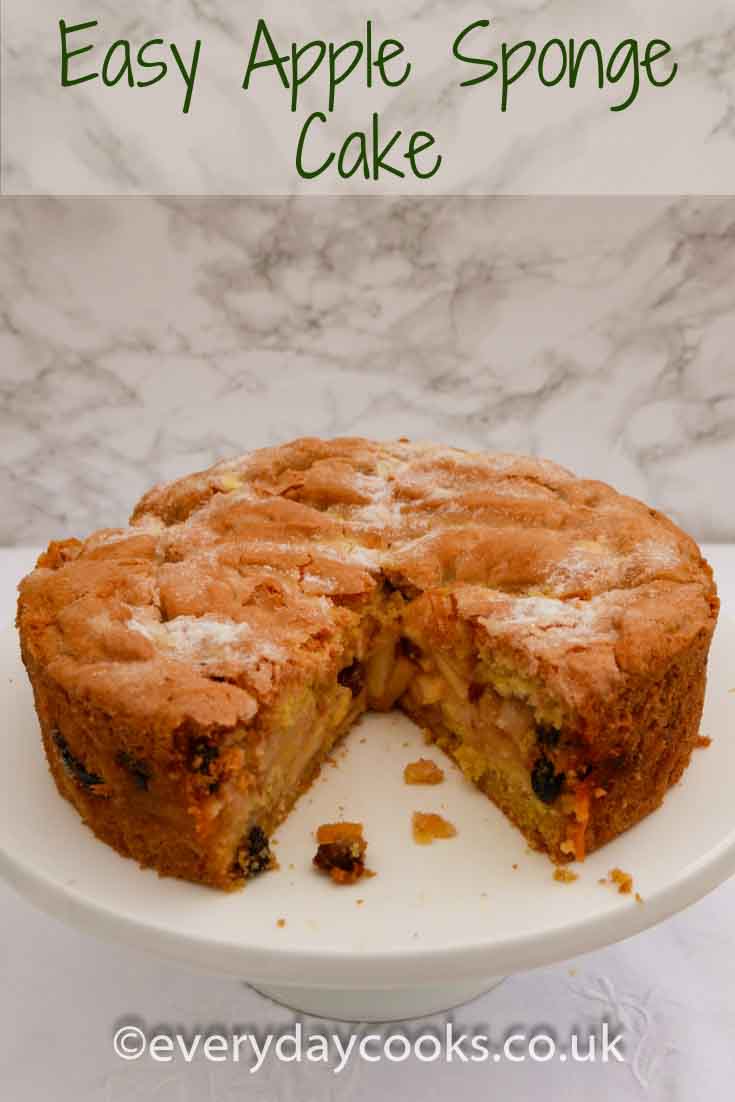 Recipe