Pear and Almond Cake is an autumn treat - moist almond cake with caramelised pears and crunchy almond topping. Serve for pudding or afternoon tea.
Pear and Almond Cake
This is a very easy cake to make - just blitz all the cake ingredients and top with the pears which you have fried in butter and sugar (i.e. caramelised).
What sort of pears are best for cooking?
Unlike apples, where the best cookers aren't great for eating, pears are more multi-purpose, so to a certain extent, use your favourite. I usually use Conference pears in a Pear and Almond Cake because they're my favourite (and they're easily available) and because the texture is good, but I know other people swear by Comice pears. I do think this recipe works best in the autumn using English pears.
The key to cooking with pears is that they should be firm, but not hard. That way they won't disintegrate when cooked, but they are ripe enough to have a good flavour.
Why use orange extract in a Pear and Almond Cake?
First, let me say that using orange extract is optional. You don't need it, but if you've bought some for another recipe, this is somewhere else to use it. If you really want the orange flavour and don't have any extract, the grated rind of an orange would also do the trick.
Why toast the almonds?
When the cake comes out of the oven it's pretty ordinary looking and untoasted almonds are fairly bland looking.
Toasting the almonds gives them a variety of colour, from cream to golden brown and gives your cake some texture in the appearance, and added crunch when you eat it.
Dusting with icing sugar adds the finishing touch to make the whole cake look attractive and appetising.
Helpful Tools
Baking parchment circles – Such a simple idea. Gone are the days where you had to draw round the base of the cake tin and cut out your own parchment circles. These mean that your cakes never stick to the base of the tin and, of course, that also means a saving on the washing up – never my favourite chore.
If you like this…
…Why don't you try: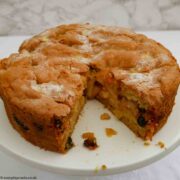 Apple Sponge Cake can be served warm for dessert or cold at teatime. The cake has a crispy top with an apple and sultana filling.
Pineapple Upside-Down Cake is great served hot or cold, for pudding or teatime.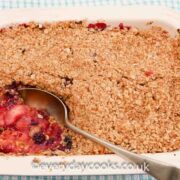 Blackberry and Apple Crumble is an old favourite for a good reason - fruity filling, crunchy topping, quick and easy to make.
Recipe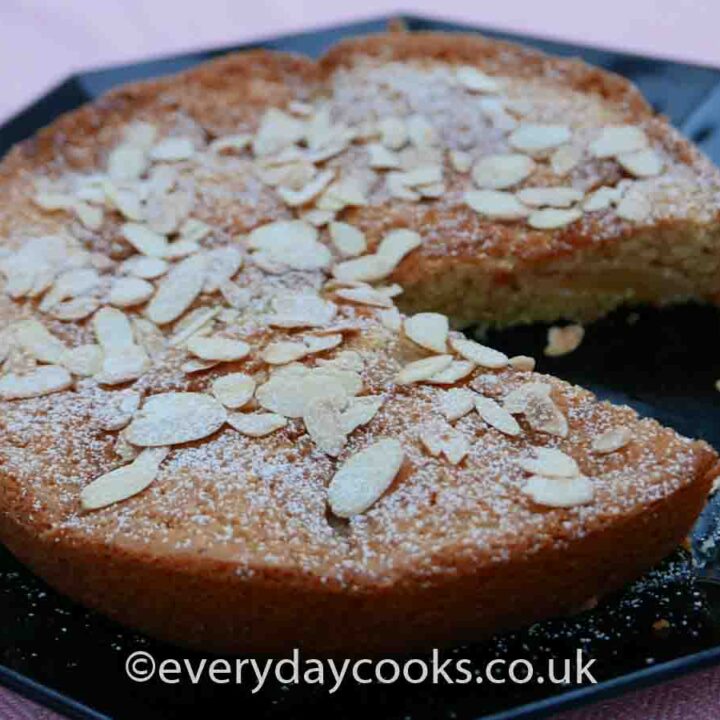 Print Recipe
Pear and Almond Cake
Pear and Almond Cake is an autumn treat - moist almond cake with a caramelised pear topping. Serve for pudding or afternoon tea.
Ingredients
For the topping:
3

pears,

large and firm

25

g

butter

1

tablespoon

caster sugar

(15ml)

25

g

flaked almonds

Icing sugar
For the cake:
175

g

butter

125

g

caster sugar

100

g

self-raising flour

1

teaspoon

baking powder

(5ml)

75

g

ground almonds

2

large eggs

¼

teaspoon

orange extract (optional)

(1.25ml)
Equipment
23cm/9-inch round shallow loose-bottomed cake tin
Instructions
Preparation:
Preheat the oven to 190°C/ 170°C fan/ gas mark 5/ 375°F

Grease and line a 23cm (9-inch) cake tin
For the pear topping:
Peel, quarter, and core the pears

Melt 25g of butter with 1 tablespoon of caster sugar in a frying pan on a MEDIUM heat. Gently shake the pan to create a golden caramel

The butter may separate and the caramel may start clumping but this will disappear as you cook the pears

Add the pear quarters and cook gently for 5-10 minutes until they begin to brown and soften

The time taken depends on how ripe the pears are

Take the pan off the heat and leave until needed.
For the cake:
Put all ingredients in a large mixing bowl or food processor and beat or process until combined

(Butter, sugar, flour, baking powder, ground almonds, eggs, orange extract (if using))

Transfer the mixture to the prepared tin. Arrange the pears on the top and spoon over a small amount of the surplus caramel

Bake for 40-45 minutes

Cool in the tin for 15 minutes before turning out

Meanwhile, gently toast the flaked almonds:

Under the grill OR

In a heavy-bottomed frying pan on a HIGH heat turning constantly to prevent burning

Turn the cake out, sprinkle with the almonds, dust with sieved icing sugar, and serve.
Notes
Everyday Cooks Tips:
Storage:
Store in an airtight container in the fridge for up to a week