Who doesn't love a cherry cake? Large and small, plain and iced, with a couple of biscuits/cookies thrown in, these are my top cherry cake recipes.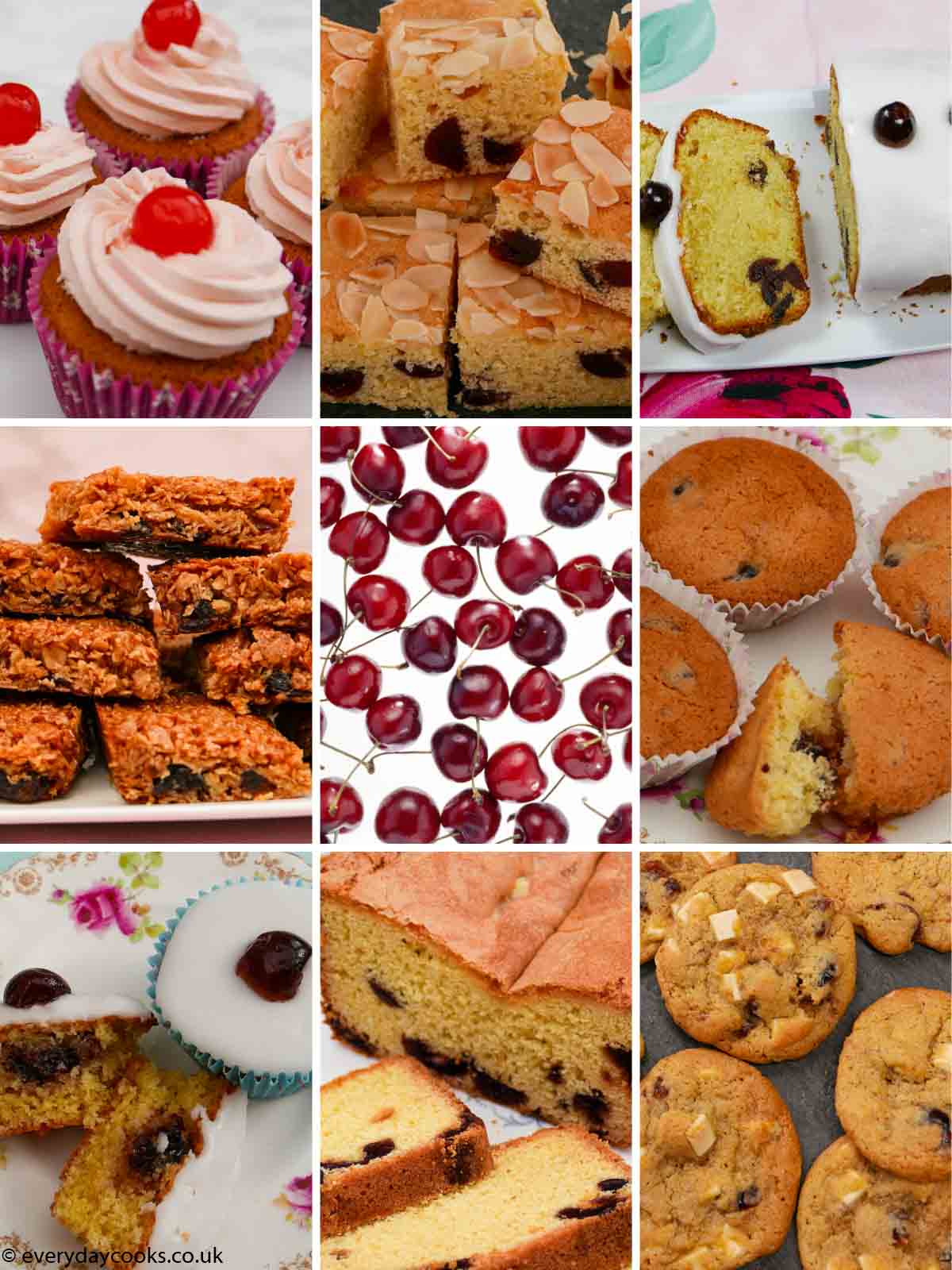 One of the first recipes I cooked as a child was for Cherry Buns. I still use the same recipe for buns but have branched out into other cake forms since then. Much as I love cake in all its incarnations, for me there is something very special about a cherry cake.
And of course, there are endless debates about the best cherries and how to use them:
Dyed or undyed cherries?
Of course, all cherries are dyed. The difference is whether they're dyed bright red or dark red. The latter is labelled a natural dye which comes from fruit and/or vegetables. These days bright red cherries are often dyed with similar products, but some may still use E127 which is not recommended for consumption by children, so it's really important to read the label if you're buying red cherries. What you want are fruit or vegetable dyes, which might also be called anthocyanins.
How to stop that sinking feeling
Whenever I mention making a Cherry Cake of any description, people start talking about cherries sinking. There are two schools of thought on preventing this - wash them or coat them in flour.
What makes cherries sink is the syrup. If you coat them in flour you just bind the flour to the syrup and the cherries are heavier. So cut the cherries up, wash them in tepid water and dry on a clean tea towel.
I sometimes add a third method - do nothing. This is occasionally my preferred option, e.g. when I'm in the mood for cake and I don't actually care where the cherries end up.
Halves or quarters?
If you really want a cake with evenly distributed cherries you need to quarter them. Quartering them does mean that a) there are more pieces to get distributed, and b) they are lighter so are less likely to sink.
But if you really love cherry cakes and like a decent piece of cherry, cut them in half. This is my preference - bigger pieces and never mind if they sink, especially in my grandmother's Cherry Cake.
So, as with a lot of baking, you pays your money and takes your choice. For well-distributed cherries, quarter them, wash, and dry. If you don't care, do nothing. Or take my compromise of halving and washing for a decent chunk of cherry.
Cherry cakes
A lighter, iced cake or a slightly denser, Madeira-style cake, which keeps a bit longer.
Cherry cupcakes
From Cherry Buns that are ideal for children to make, to a rather decadent Triple Cherry Cupcake, which I often make for charity coffee mornings. Or if you like almonds, try a Cherry Bakewell cupcake.
Cherry traybake
Traybakes are ideal when you have a lot of people to feed and not so much time. I often make one for the tea tent at the village show or when it's my turn to make the cakes at WI.
Cherry biscuits
If you prefer some crunch, try some cookies or a flapjack.
Pin for later
Hover over any picture on the page and hit the Save button to pin the image to one of your Pinterest boards.