Cherry Buns are fun and easy to make with kids. Great for a family tea or party.
Cherry Buns were one of the first cakes I made on my own as a child - after Rock Buns. I loved being in the kitchen with no-one else around - especially my younger brothers. And as I'm very partial to Cherry Cake, this was an ideal place for me to start.
Key ingredients in Cherry Buns
Glacé cherries
As with everything, we now have a choice of glacé cherries. You can have the original bright red ones or darker red cherries. I prefer to use darker cherries because I know the dye is vegetable/fruit-based. It really doesn't matter unless you have a sensitive child, then read the red cherry label - some are natural, others use E127 which isn't recommended for children.
Lemon zest
I've always added lemon zest to this recipe. If you don't have a lemon, you could try and orange - or just leave it out.
Secrets of Success
Prepare the cherries
I have tried, being lazy, to make these cakes by halving the cherries and not washing them, but they sink and don't get very evenly distributed through the cakes. So you definitely need to wash and dry the cherries and cut into quarters.
You may be tempted to add extra cherries but you don't need to because I have already added loads and there isn't enough cake for any more!
Ring the changes
Cupcakes or fairy cakes?
I prefer to make these as fairy cakes, i.e. half the size of cupcakes, and that's the ideal size for children. My philosophy on cake is that a little is a good thing and a lot is not. We're all being told to eat less sugar and I do feel that the trend for bigger cakes doesn't help.
On the other hand, if you occasionally want something a bit more special or substantial, by all means, make cupcakes. And I did when I turned these Cherry Buns into Triple Cherry Cupcakes for a charity fundraising day.
Can kids make Cherry Buns?
Absolutely they can. Younger children may need supervision with a hand mixer and the oven, but otherwise, this is an easy recipe for children.
Can I freeze the buns?
Definitely. Little cakes like this freeze well and keep for up to 3 months in a plastic bag or box. If you keep them too long they will start to dry out, so don't do that.
What equipment do you need?
Lemon zester – My first cookery book (Good Housekeeping Children's Cook Book, which I still have) has little brown stains on the page for Cherry Buns. This, alas, is from my grated knuckles over the years. I know I came late in the day to lemon zesters, but now I'm a big advocate. I especially mine, which collects the zest so it doesn't go everywhere!
If you like this...
...Why don't you try:
Pin for later
Hover over any picture on the page and hit the Save button to pin the image to one of your Pinterest boards.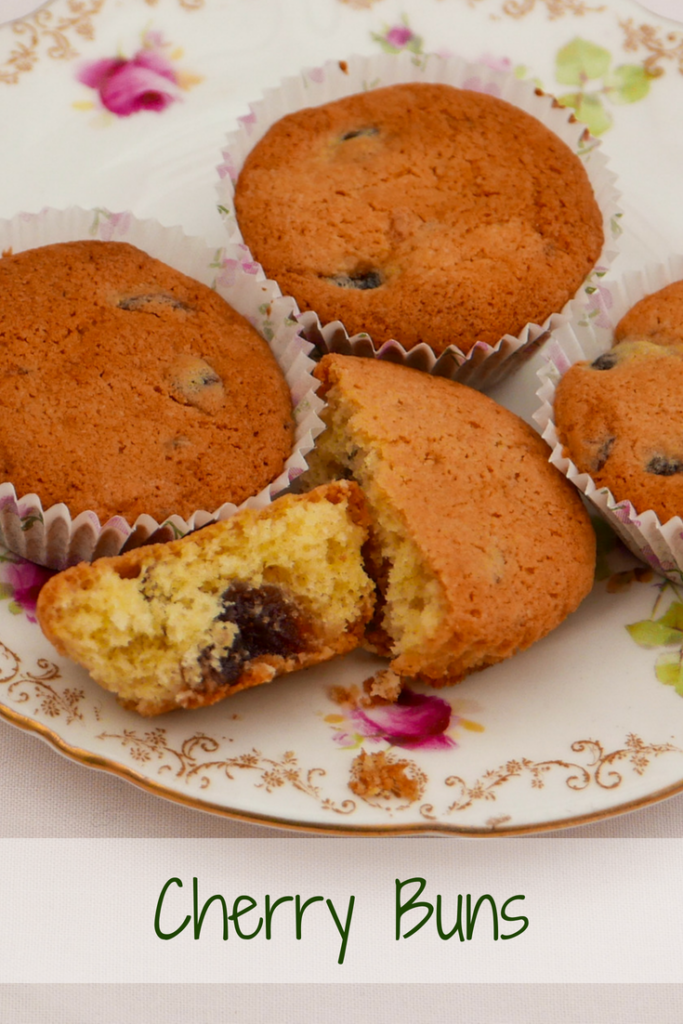 Recipe