Cherry Cake! My favourite. This is a traditional recipe made easy using the all-in-one method.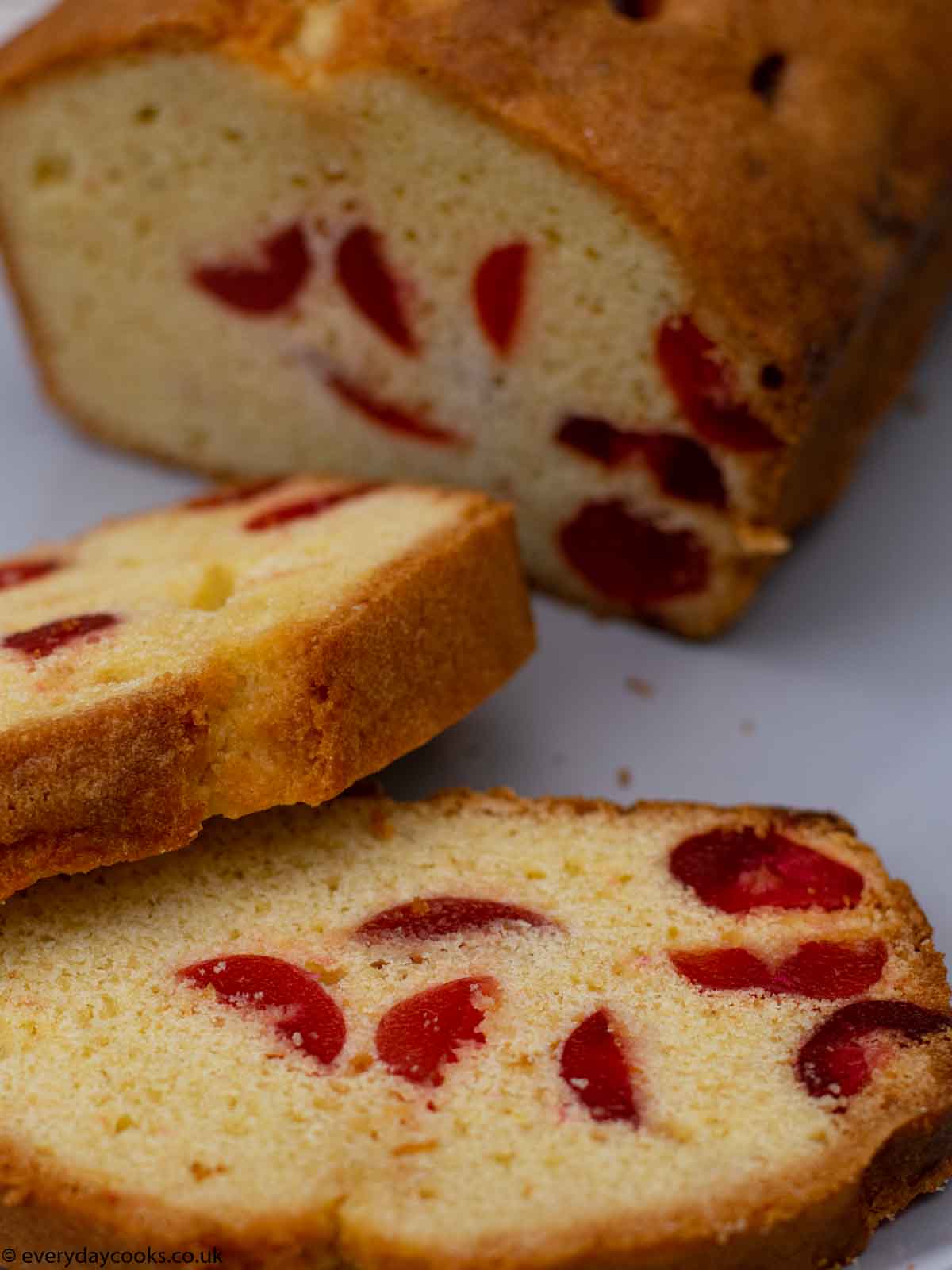 My mother tells the story of my father's first visit to her family home. Granny offered tea and cake and my father duly complimented her on her 'lovely Madeira cake'. Oops! Apparently, my grandmother was a bit miffed - not surprisingly, as she had made her best cherry loaf cake. Unfortunately, my father had a slice with no cherries.
Traditional Cherry Cake
My classic cherry cake recipe is based on Granny's, a cherry Madeira cake really - a nice firm cake, which keeps well. Of all my easy cherry cake recipes, this is my go-to when I want a quick and easy cake. If you want a softer cherry sponge cake recipe with icing see the Iced Cherry Cake recipe.
Key Ingredients in Cherry Cake
Original red or dark natural-dyed cherries?
Whatever you like is the short answer. I often use the darker cherries these days but red are fine too (as here). My only warning, as always, is to check for natural dyes if you have children as E127 isn't recommended for them.
Butter
This cake is fairly plain, apart from the cherries and a lot of the appeal is in its buttery taste, so it's worth using butter for this recipe. In fact, I always do use butter because I prefer the flavour - and, of course, nearly 100 years ago, my grandmother would have only used butter!
Ground almonds
Nothing beats the flavours of a cherry and almond cake. The ground almonds also add texture and help the cake keep longer by retaining moisture. If you want extra almond flavour, add a few drops of almond extract.
Ring the changes
Make a Fresh Cherry Cake
During the short season that you can buy fresh cherries, you could use those instead. You need 250g cherries, washed and stoned to give about 220g to use. Cut them into halves and/or quarters. Cooking time is the same.
See the recipe for Fresh Cherry Cake for more details.
Make a round Cherry Cake
Cook the cake in a 7-inch/18cm deep round tin. Cooking time is the same.
Secrets of Success
Easy, all-in-one method
As with most of my cakes, this cherry loaf cake is made using the all-in-one method - put everything in the bowl and mix it well. Two points to bear in mind:
You need soft butter
Your butter does need to be very soft if you're attempting this by hand. If it isn't very soft, try helping it along in the microwave for 10 seconds at a time - but be careful not to overdo it.
Mix the cherries by hand
Don't include the cherries in your all-in-one mix. They must be added at the end, by hand even if you did the rest with a machine. What you don't want is a pink cake with flecks of cherry
How to get cherries in every slice of cake
I use a lot more cherries than the original recipe so they aren't so thinly spread
2. Wash and dry the cherries before you use them to avoid too much sinkage. (Although I'm not too bothered about that mostly.)
3. Quarter the cherries so they aren't so heavy. I don't actually do this - I always halve the cherries - because for me a cherry cake is all about big chunks of cherry!
4. (I've also never done this because I can't be bothered), keep some of the cherries back and poke them into the mixture once it's in the tin. It's probably only worth doing when you want to impress someone - like a would-be suitor for your daughter.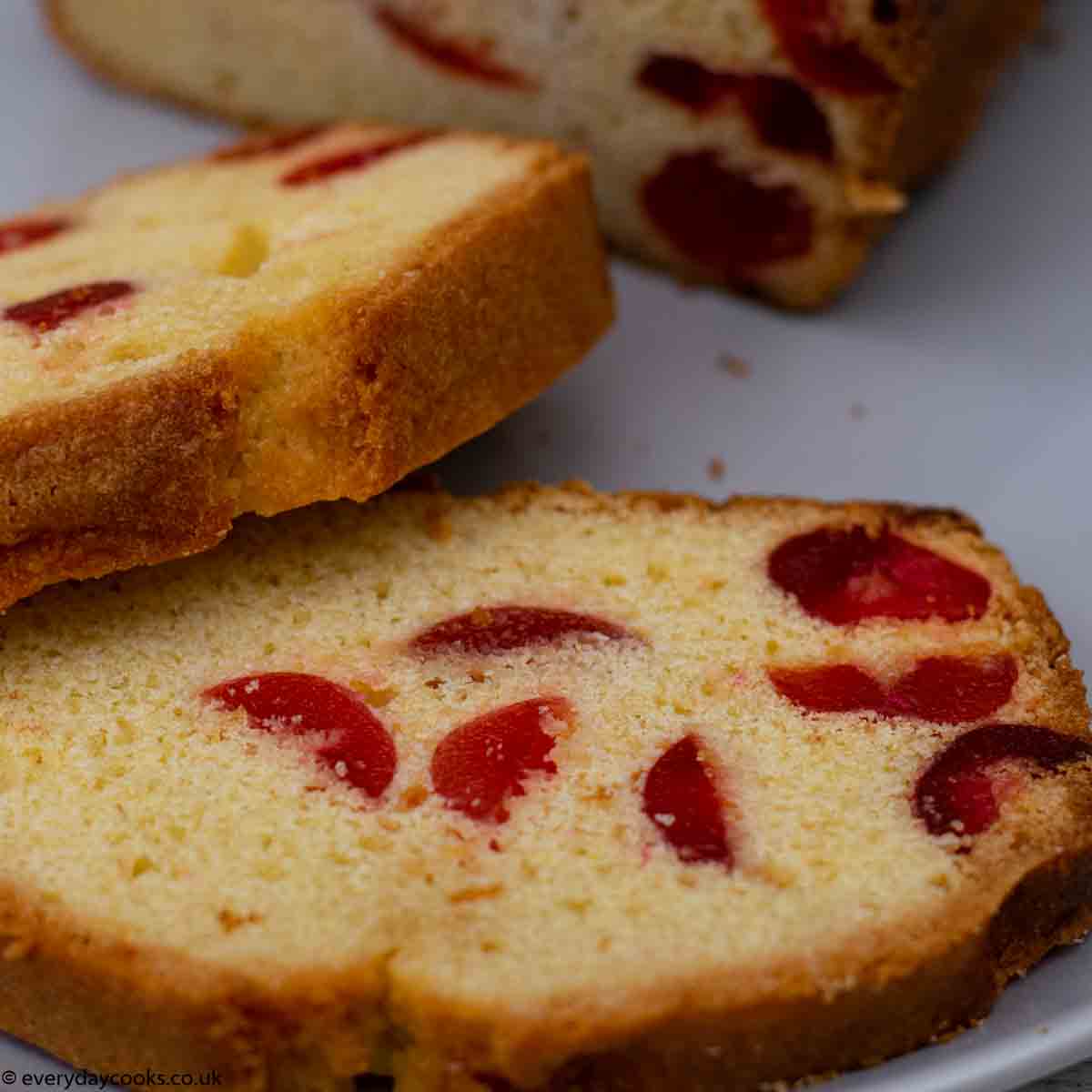 Why is my cake dry?
If your cakes turn out dry, check out my article Why Is My Cake Dry? for some of the most common reasons and the solutions.
Can you freeze Cherry Cake?
Cherry Cake freezes well. Wrap in foil or, I've recently tried beeswax wraps, which work well. Keep for up to 3 months. If you don't eat much cake, you can cut it in half and freeze half for later. I often make two cakes and freeze one for later, as it's so more-ish.
What equipment do you need?
Baking parchment loaf tin liner - Line the tin with a liner and forget about it sticking, or greasing the tin - and the washing up is easier too. Leave the cake in the liner if you're freezing the cake, or while storing in the fridge to keep it moist
Beeswax Loaf Wraps - I'm trying to reduce the amount of clingfilm, foil and plastic bags that I use, and my biggest problem has been something to wrap loaf cakes in for the freezer. I've now found large beeswax loaf wraps that will cover a loaf of bread, and are ideal for loaf cakes. They're washable and you can even rejuvenate them. Definitely worth a look.
If you like this...
...Why don't you try:
Pin for later
Hover over any picture on the page and hit the Save button to pin the image to one of your Pinterest boards.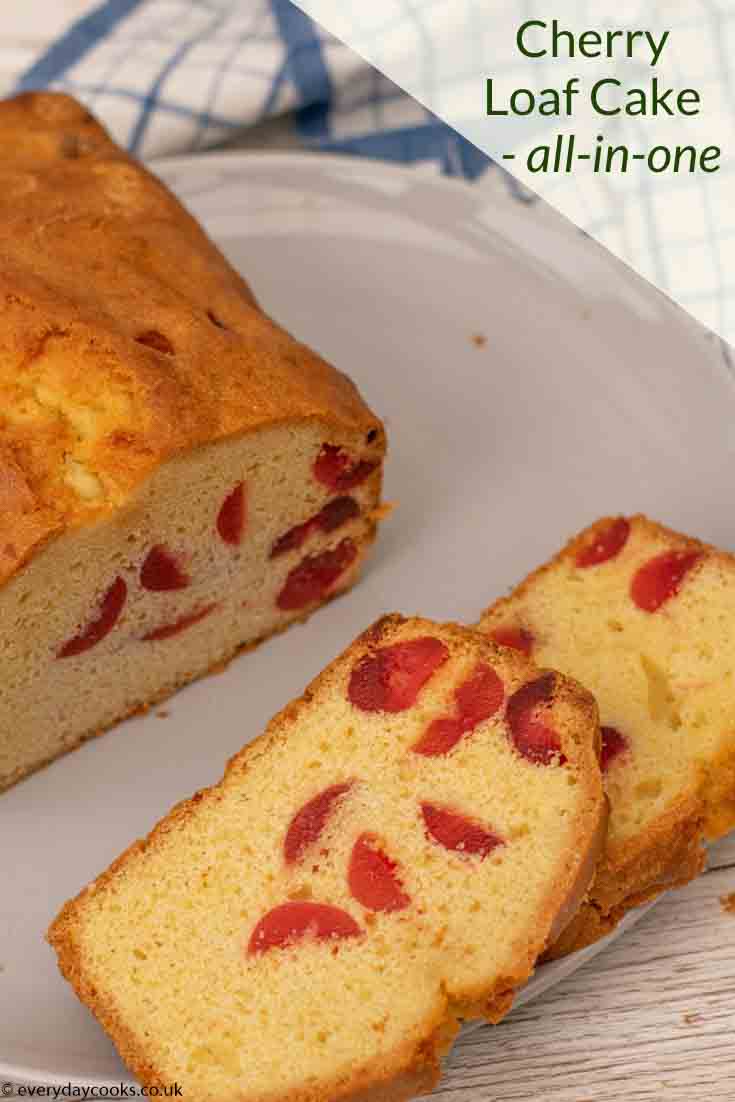 Recipe