An easy Fresh Cherry Cake recipe, based on a Madeira cake, to make the most of fresh cherries in a semi-sweet classic cake.
I've been making cherry cakes for as long as I remember because they are my favourite thing. My favourite is a Cherry Loaf Cake, which is really a Cherry Madeira Cake. This cake is based on that recipe, but baked in a round tin and made with fresh cherries.
Key ingredients in Fresh Cherry Cake
Fresh Cherries
The cherry season is short but, occasionally, cherries are plentiful and inexpensive. That's the time to make a Fresh Cherry Cake. Fresh cherries make a less sweet cake than glacé cherries - still delicious though.
You will need 250g of cherries, which will give you about 220g when you've stoned them. Cut them into quarters or halves or, as I do, a mixture of both.
Butter
This cake is fairly plain, apart from the cherries, so it's worth using butter for that special buttery taste. I always do use butter because I prefer the flavour but I often use a cheaper brand than the one we eat.
Ground almonds
Cherry and almond cake is a classic favourite. Ground almonds add texture and help the cake keep longer by retaining moisture. If you want extra almond flavour, add a few drops of almond extract.
If you don't have any ground almonds, make up the weight with flour.
Ring the changes
Not enough fresh cherries?
Then make a glacé cherry cake at any time of year or try half and half fresh and glacé cherries, which I know some readers have successfully done.
Make a Cherry Loaf Cake
If you prefer a loaf cake, use a 2lb loaf tin (with a baking parchment liner for convenience). The cooking time will be the same.
Secrets of success
You need soft butter
Your butter does need to be very soft if you're attempting an all-in-one cake by hand. If it isn't very soft, try helping it along in the microwave for 10 seconds at a time - but be careful not to overdo it.
Don't over-process the cake mixture
As with any all-in-one cake, don't over-process the batter if you have a processor. A minute or two is usually enough, and scrape the sides of the bowl down between sessions. Processor motor power varies though, so watch carefully.
Mix the cherries in carefully
Fresh cherries are quite firm, but you need to combine them gently into the batter. So beat everything else together first then fold in the cherries.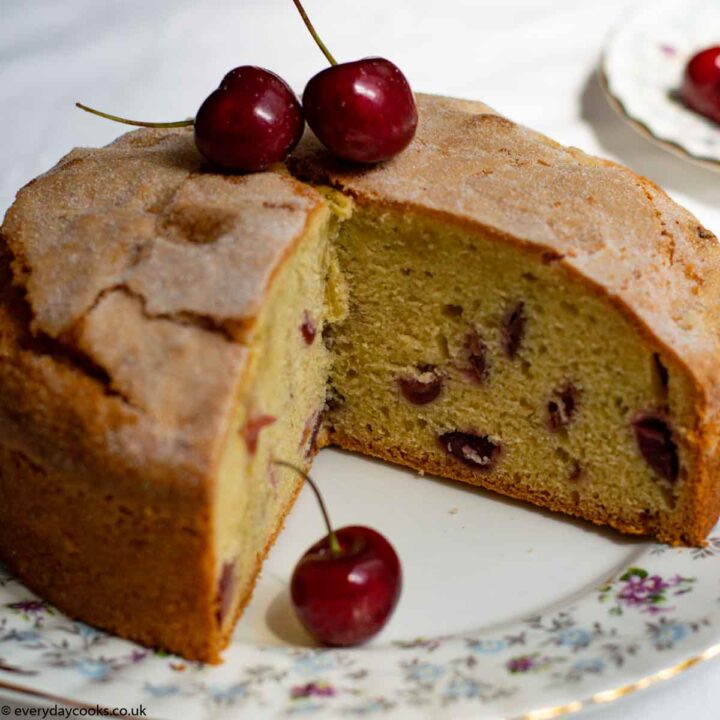 Why is my cake dry?
If your cakes turn out dry, check out my article Why Is My Cake Dry? for some of the most common reasons and the solutions.
How do you make this gluten-free?
I have successfully made a gluten-free version of this cake, using the following modifications to the recipe and ingredients:
Ingredients
Ground Almonds - Although almonds are GF, they may have been processed in a factory with other products. Check the information on the package.
Flour - Use gluten-free self-raising flour
Xanthan Gum - Essential for successful GF baking. Available in most supermarkets
Baking powder - Check it's GF (most are)
Method
Use 100g ground almonds, 150g flour, ¼ teaspoon xanthan gum, ¾ level teaspoon baking powder
Use more egg, either 3 extra-large hens eggs or 3 duck eggs (superb for GF baking). Or 4 medium eggs. If you're stuck with large eggs, either use an extra half (if you will use up the excess) or add 20ml milk.
How long will it keep?
This dense, but moist, cherry cake keeps better in the fridge than a tin, and is fine for a week at least.
Can I freeze a fresh Cherry Cake?
This cake freezes well. Cut into halves or quarters if you won't eat the whole cake at one time. Wrap securely in foil or a beeswax wrap and freeze for up to a month.
What equipment do you need?
You need a 7-inch/ 18cm deep round cake tin for this cherry cake. I like loose-bottomed round cake tins because it's easy to get the cakes out.
I always line the bottom of the tin - even non-stick pans - with a baking parchment circle and I buy them pre-cut. A mixed pack lasts for years.
The other essential piece of equipment for this recipe is a cherry stoner, although it's usually called an olive pitter. Although it's not something you use every day, it's fairly inexpensive, and it makes the process a doddle.
If you like this...
...Why don't you try: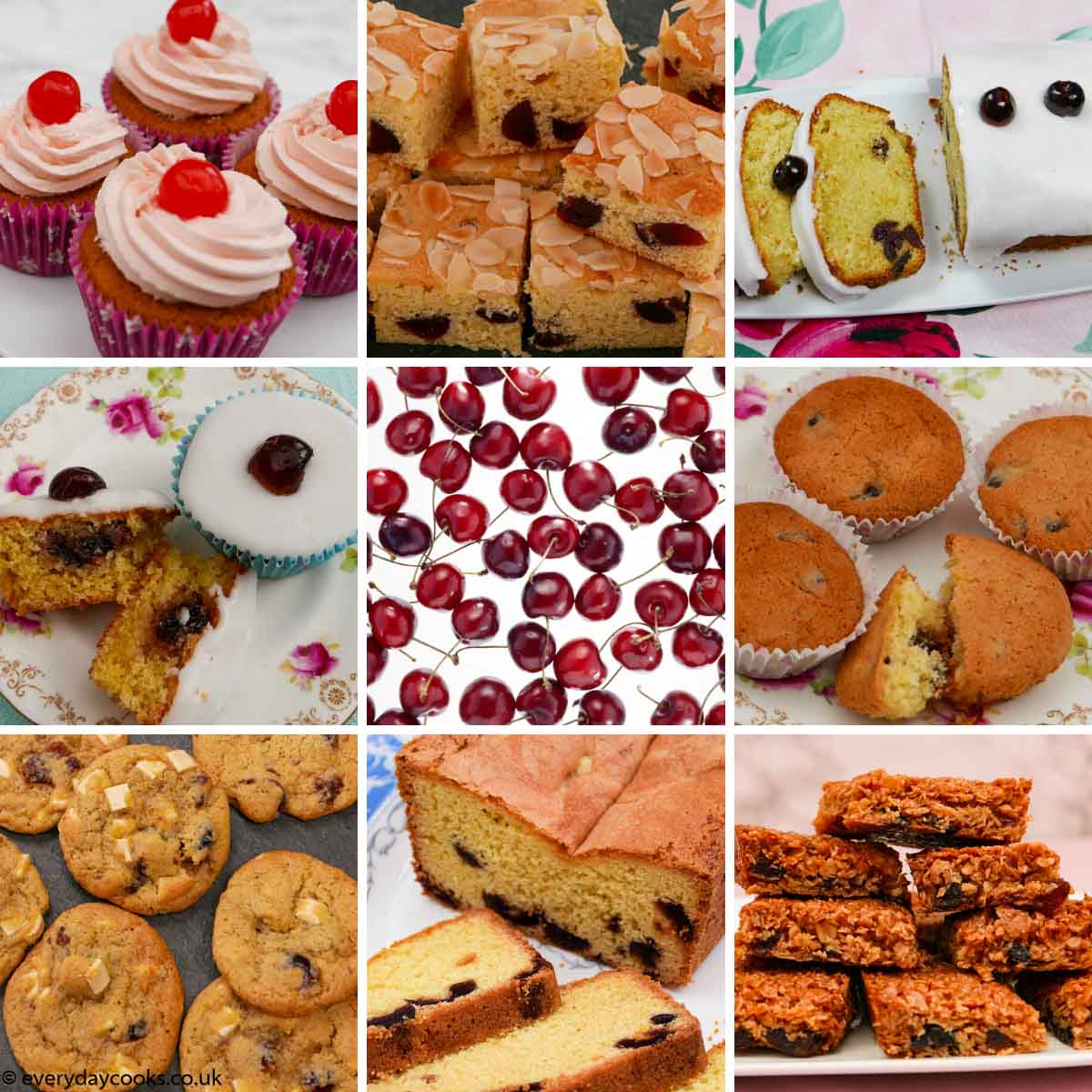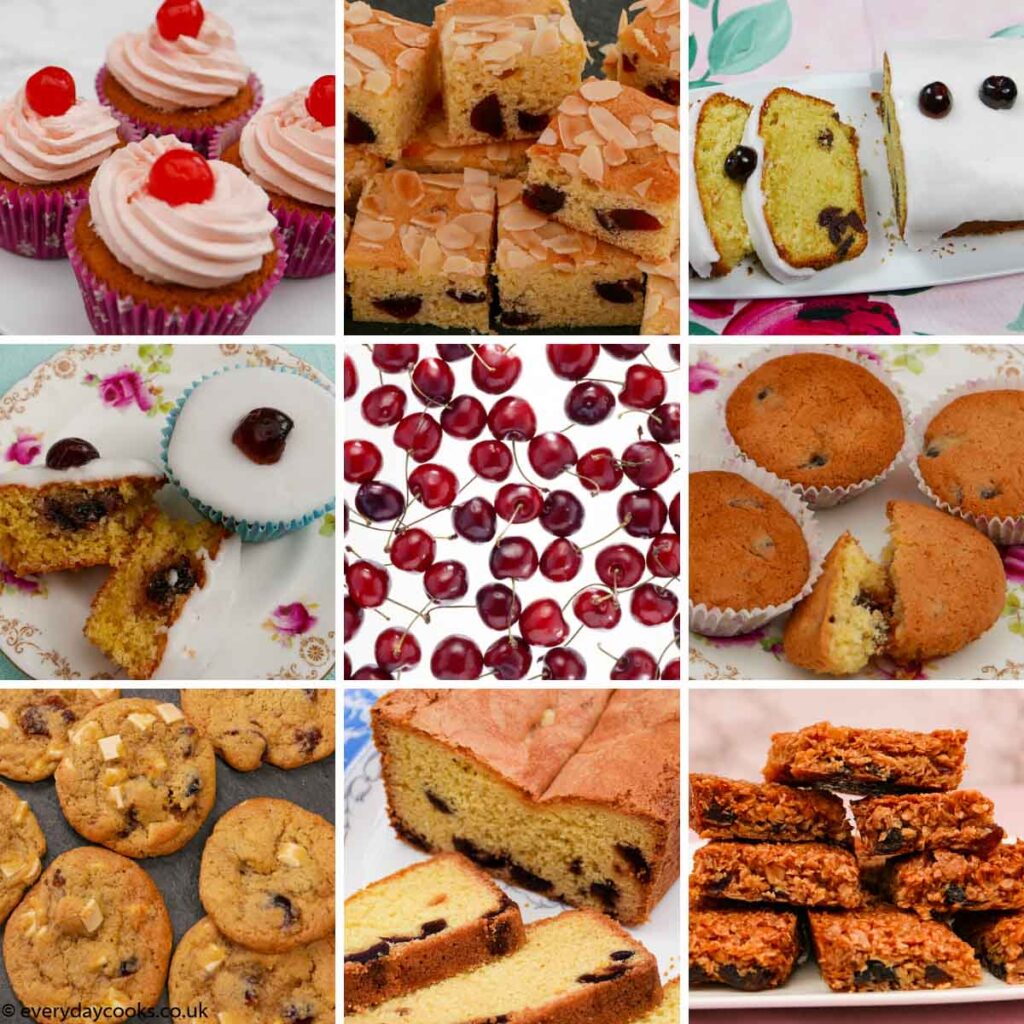 Another cake from my collection of easy cherry cake recipes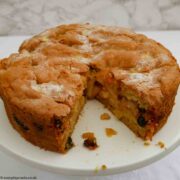 Apple Sponge Cake can be served warm for dessert or cold at teatime. The cake has a crispy top with an apple and sultana filling.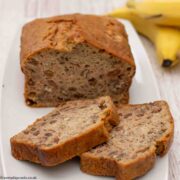 A moist, tasty cake with raisins and pecans to use up over-ripe bananas. Ideal for packed lunches.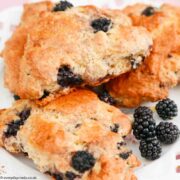 Blackberry Scones are best made with wild blackberries. Easy to find in any hedgerow (or the supermarket).
Pin for later
Hover over any picture on the page and hit the Save button to pin the image to one of your Pinterest boards.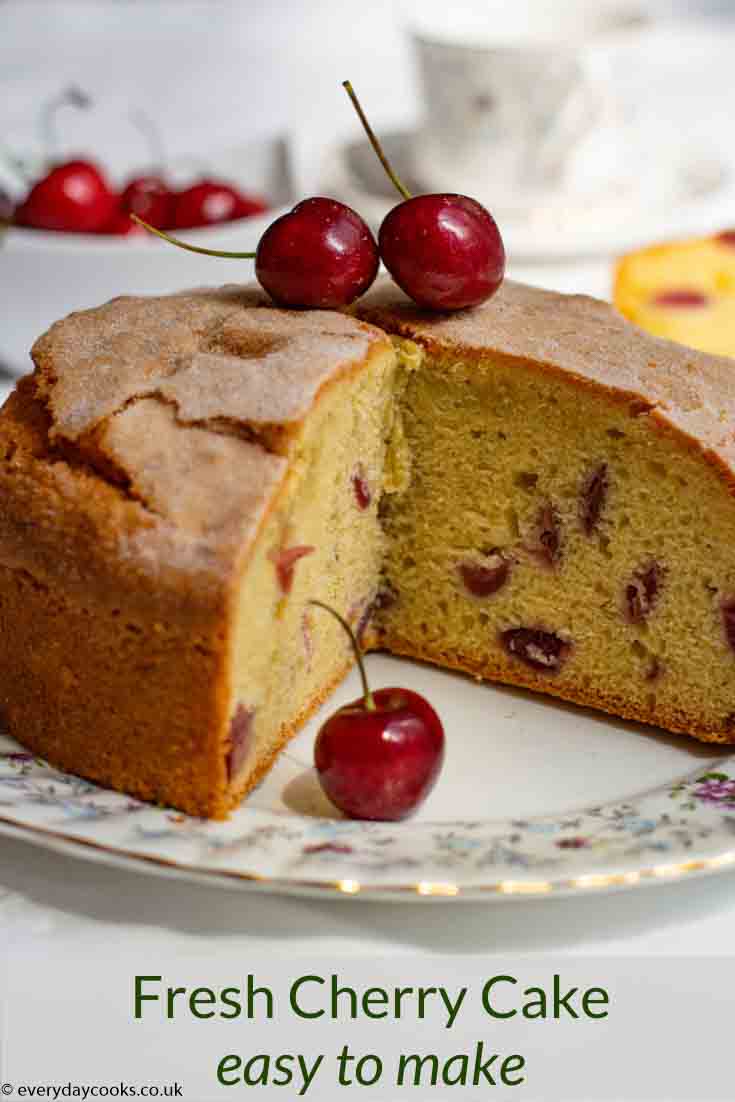 Recipe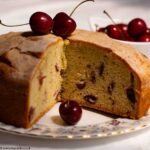 Print Recipe
Fresh Cherry Cake
An easy Fresh Cherry Cake recipe, based on a Madeira cake, to make the most of fresh cherries in a semi-sweet classic cake.
Ingredients
250

g

fresh cherries,

giving about 220g stoned fruit

225

g

self-raising flour

160

g

butter,

at room temperature

160

g

caster sugar

3

large eggs

25

g

ground almonds

1

teaspoon

vanilla extract

(5ml)
Instructions
Preparation:
Set the oven to 180°C/ 160°C fan/ gas mark 4/ 350°F

Grease a 17/18cm (7-inch) deep round tin with butter or use a paper liner

Wash and dry the cherries. Remove the stalks and take out the stones. Cut the cherries into halves and quarters (some of each)
For the cake:
Put all the ingredients except the cherries into a large bowl and mix well with a mixer or in a food processor.

(Flour, butter, sugar, eggs, ground almonds, vanilla extract)

Add the cherries and fold in with a large spoon until they are evenly distributed through the mixture.

Put the cake mixture into the prepared tin and make a slight dip along the centre to stop it peaking when cooked

Dredge the top of the cake with castor sugar

Cook for 45-60 minutes until well risen and golden and a skewer comes out clean

Take the cake out of the oven and leave in the tin for 10 minutes before turning out onto a wire rack to cool
Notes
Everyday Cooks tips
As with all cakes, the actual cooking time depends on your oven so check the cake after 45 minutes with a skewer or cake thermometer.
Storage
The cake will keep for a week in an airtight tin or plastic box in the fridge. It freezes well for a couple of months