Banana Loaf cake is a great way to use up over-ripe bananas and the result is a tasty and moist banana cake that and travels well. This recipe uses the all-in-one method and is quick to make in a food processor.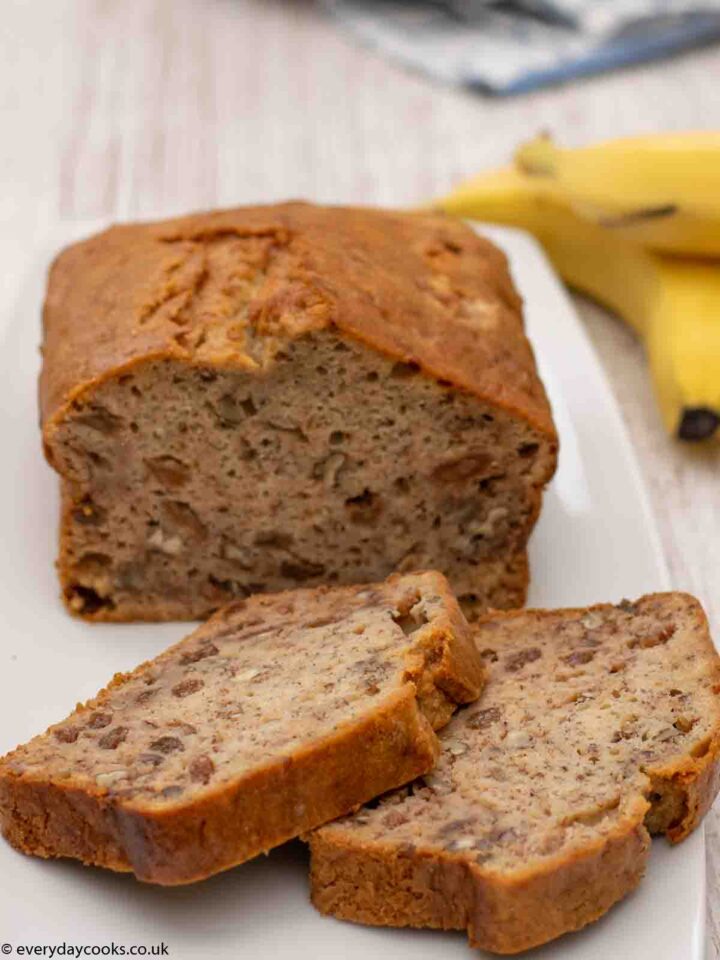 A loaf of banana bread is a very ordinary-looking cake - it's definitely not winning prizes for looks. But a Banana Loaf recipe is very handy to have in your repertoire because it's lovely and moist, which is down to the bananas.
My family loves bananas but we don't like them to be very ripe, so I often find some leftover that no-one wants to eat. Almost all banana cake recipes require ripe bananas, so this is the perfect solution for using up fruit that you might otherwise be tempted to throw away.
If you don't like the taste of ripe bananas (and I don't) you'll find the flavour of banana cake isn't overpowering. This is an easy Banana Loaf recipe, using the all-in-one-method. If you don't have a food processor, it still works - it will just take a little longer.
Key Ingredients in Banana Bread Loaf Cake
Ripe bananas
The bananas need to be ripe enough to mash. Black skins aren't necessarily a problem. If you only have one or two bananas that are too ripe, put them in the freezer until you have 2-3 good size ones, then make the cake. If you have loads of bananas - as you sometimes do in warm weather - make two cakes and freeze one. You'll need about 300g of peeled bananas per
Don't be put off if your bananas aren't overripe. Yellow bananas, especially with spotted skins will be fine. Essentially, if you can mash them, you can use them.
Fruit and nuts
I use sultanas and pecans for my Banana Loaf cakes, but you could use raisins instead. A Banana Walnut Cake instead of using pecans is another option. Use whichever you have.
A little bit of rum
The sultanas for this cake are soaked in rum - if you don't like the flavour, use a spirit of your choice, or you could use orange juice.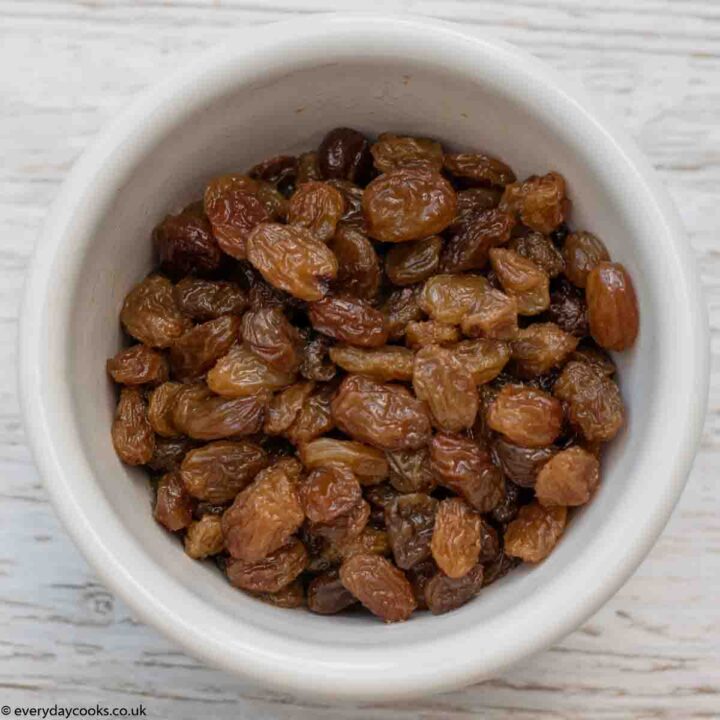 Secrets of success
Three things that will mess up your cake:
Blitzing the nuts to bits - Chopping nuts often puts me off using them in cakes, so here you just pulse them a few times. Just be careful not to overdo it!
Cooking the eggs with hot butter - This recipe uses melted butter (about 30 sec. on HIGH in the microwave), and the all-in-one method. Don't put the eggs on top of the hot butter in the bowl. Either put sugar or flour between them or don't let the butter get too hot. Either way, don't let the ingredients sit around in the bowl.
Leaving big chunks of banana - This only happens if your bananas aren't ripe. If they are, they only take a few pulses to combine with the mixture. If they're not quite soft enough, you'll get chunks. If it happens, just mash with a fork and mix in.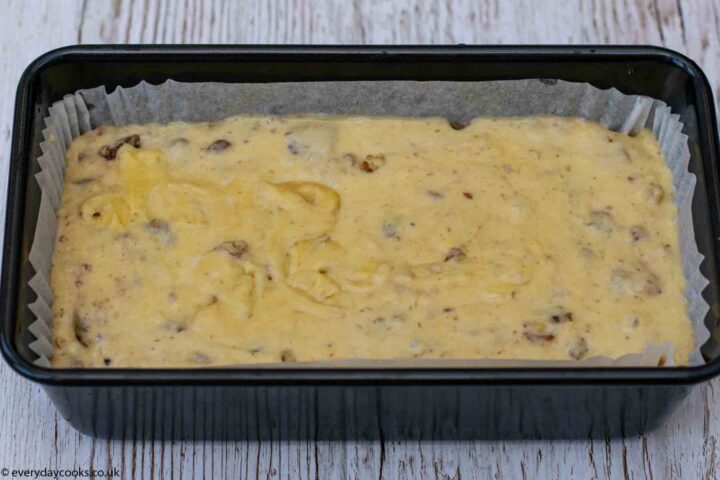 What if I don't have a food processor?
Although the recipe uses a food processor, you can use any sort of mixer with these modifications:
Chop the nuts roughly with a sharp knife
Mash the banana with a fork before mixing in
Make-ahead tips
If you remember, you can soak the fruit the night before. You don't need to heat it, just stir, cover and leave until you're ready to make the cake.
Why is my cake dry?
If your cakes turn out dry, check out my article Why Is My Cake Dry? for some of the most common reasons and the solutions.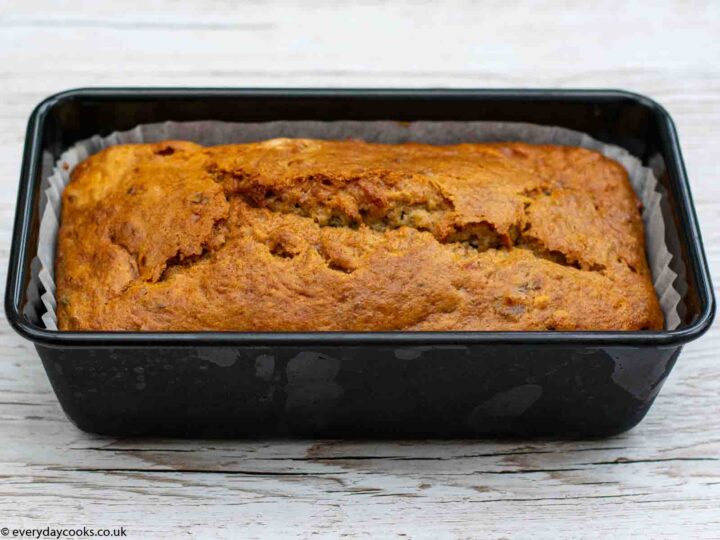 How do you store a Banana Loaf?
Keep it in the fridge
Store the cake in the fridge in the liner in an airtight plastic box for a week or two.
Freezing banana cake
Banana Loaf freezes well. Wrap in foil or, I've recently tried beeswax wraps, which work well. Keep for up to 3 months. If you don't eat much cake, you can cut it in half and freeze half for later.
Banana bread also travels well and is ideal for taking on a self-catering holiday to sustain yourself in the car, and have something delicious for tea. Leave it in the paper wrapper and wrap in foil
What equipment do you need?
Baking parchment loaf tin liner - Line the tin with a liner and forget about it sticking, or greasing the tin - and the washing up is easier too. Leave the cake in the liner if you're freezing the cake, or while storing in the fridge to keep it moist
Oven thermometer - If you're at all uncertain about oven temperature, a thermometer will help. They're relatively inexpensive, but make sure you buy one with large numbers (to read through the glass door).
Beeswax Loaf Wraps - I'm trying to reduce the amount of clingfilm, foil and plastic bags that I use, and my biggest problem has been something to wrap loaf cakes in for the freezer. I've now found large beeswax wraps that will cover a loaf of bread, and are ideal for loaf cakes. They're washable and you can even rejuvenate them. Definitely worth a look.
If you like this...
...Why don't you try:
Pin for later
Hover over any picture on the page and hit the Save button to pin the image to one of your Pinterest boards.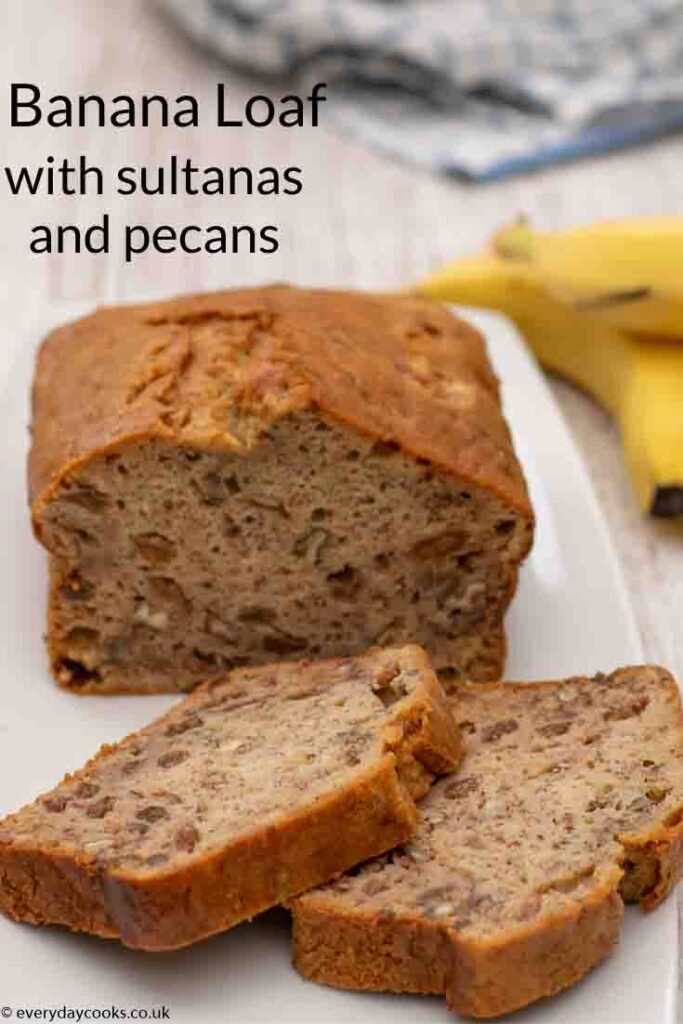 Recipe