Cherry and Almond Traybake with a hint of lemon. Nice and easy to make. Nice and easy to eat.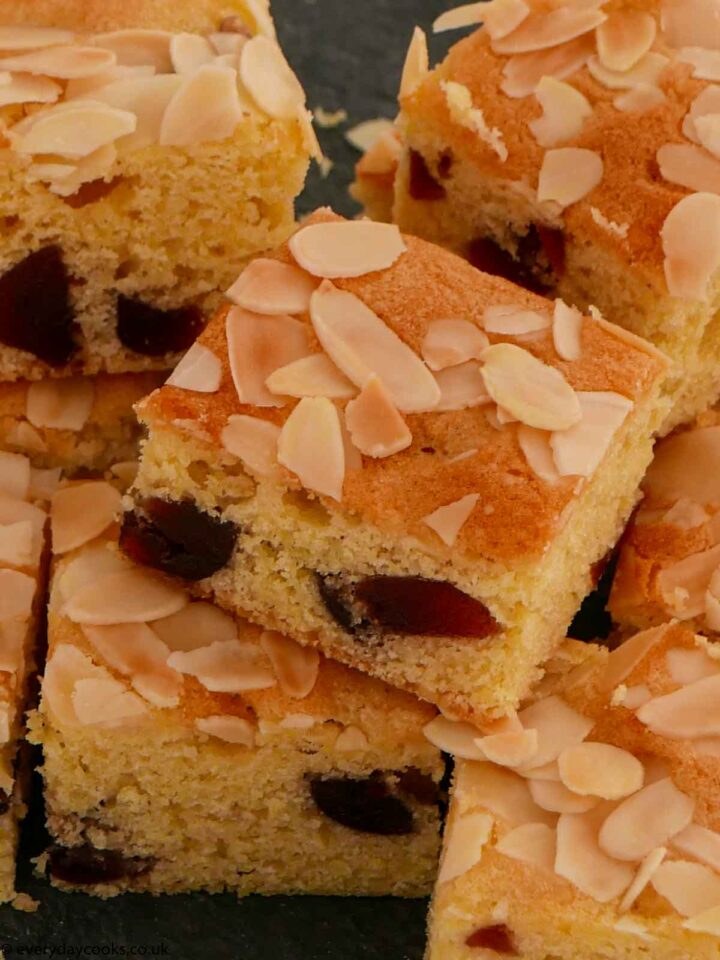 I love cherry cake. I love almonds. And I really love traybakes. Although they aren't the most glamorous of cakes and don't really have the wow factor, they are so practical - and quick and easy to make.
Cut the cake in different sizes
If you're feeding a crowd you can cut up the whole cake into nice even pieces and dish it up. If it's for the family you can cut it as you need it and this Cherry and Almond Traybake even doubles up as a pudding with the addition of some custard.
Key Ingredients in Cherry and Almond Traybake
Cherries - how to stop that sinking feeling
Whenever I mention making a Cherry Cake of any description, people start talking about cherries sinking. There are two schools of thought on preventing this - wash them or coat them in flour.
In fact, I would add a third - don't do anything. I have to say this is occasionally my preferred option, e.g. when I'm in the mood for cake and I don't actually care where the cherries end up.
What makes them sink is the syrup. If you coat them in flour you just bind the flour to the syrup and the cherries are heavier. So cut the cherries up, wash them in tepid water and dry on a clean tea towel.
Halves or quarters?
If you really want a cake with evenly distributed cherries you need to quarter them. Quartering them does mean that a) there are more pieces to get distributed, and b) they are lighter so are less likely to sink.
But if you really love cherry cakes and like a decent piece of cherry, cut them in half. This is my preference - bigger pieces and never mind if they sink, especially in my grandmother's Cherry Cake.
So, as with a lot of baking, you pays your money and takes your choice. For well-distributed cherries, quarter them, wash, and dry. If you don't care, do nothing. Or take my compromise of halving and washing for a decent chunk of cherry.
Ground almonds vs almond flour
I use a lot of ground almond in my cakes and puddings. They add flavour, a denser texture and generally help a cake keep longer. Ground almonds are not the same as almond flour, which is more finely milled from blanched almonds (i.e. the skins have been removed). Ground almonds have a coarser texture and are milled with the skins on.
In many recipes you can use either one, depending on what you have. Generally, I don't use almond flour as I don't need to be gluten-free and I don't want more ingredients in my cupboard or fridge than necessary.
In most of my recipes you could substitute almond flour if that's what you have and/or want to use up. The main exception is if you're making marzipan. Just note that the texture will be different.
Where to store ground almonds - fridge or cupboard?
I keep ground almonds, and all nuts, in the fridge. Nuts contain a high proportion of oil which can go rancid in warmer temperatures. Generally, you can store raw, shelled nuts in a cupboard for up to 3 months, in the fridge for 6 months or in the freezer for 12 months. Useful if you buy in bulk.
Eggs
As usual, you need large eggs for the Cherry Almond Traybake. If you only have medium eggs, choose the smallest and use 5.
Flour
This recipe calls for 175g self-raising flour. If you are using plain flour (as I always do) use 1¾ teaspoons (just under 10ml) baking powder with it in addition to the 2 teaspoons the recipe needs.
Secrets of Success
This is another easy cake, there are only two things to note:
If you use a processor, mix the cherries in by hand or you will have a pink cake with very small pieces of cherry in
Don't overcook the cake - see tips below.
Why is my cake dry?
If your cakes turn out dry, check out my article Why Is My Cake Dry? for some of the most common reasons and the solutions.
What equipment do you need?
You need a large traybake tin 30x23cm/12x9-inch. This is the larger of the two sizes I use for traybakes and this gives 24-30 pieces, depending on how hungry (or how greedy) your guests are.
I line my larger tins with magic liner, which I keep in the tin. The liner is washable with hot, soapy water or in the dishwasher and you don't need to grease it. Failing that, I use baking parchment. For square or round tins I buy the pre-cut pieces, and keep a roll of parchment for other tins like this. I don't usually grease it as it just peels off.
I used a box grater for zesting lemons for years, but now use an IQ lemon zester, which collects the zest and protects my knuckles!
If you like this...
...Why don't you try: