Triple Cherry Cupcakes are ideal for cherry cake lovers (me) and just the thing for a charity Cupcake Day. These are cherry cakes with cherry-flavoured buttercream icing and a maraschino cherry on top.
Charity Cupcake Days
Lots of charities are organising cupcake days, coffee mornings or tea parties - and what a good idea. Eat cake and raise money for a good cause!
Since Cherry Cake is my favourite, I've devised a Triple Cherry Cupcake using cherries everywhere, including cherry brandy in the icing.
Cherry Buns were among the first recipes I cooked as a child. I still have my Good Housekeeping Children's Cook Book and the cakes are based on that recipe with some tweaks. Actually, a lot of tweaks, as the original didn't include the decadence of icing and a cherry on top as well as cherries in the cake. But this is all in a good cause, so it's fine to go over the top.
Charity Tea Party Dates 2023
Note that some web pages are not updated early in the year.
Key Ingredients in Triple Cherry Cupcakes
Glacé Cherries
As with everything, we now have a choice of glacé cherries. You can have the original bright red ones or the darker cherries. I prefer to use the natural-dyed, darker cherries but it really doesn't matter - apart from the colouring if you have a sensitive child. Read the label of red cherries to see which dye they use.
Maraschino cherries
I've used a maraschino cherry on top because they are the perfect size and colour. You could easily use half a glacé cherry instead, especially as this recipe doesn't use a whole tub of cherries.
Lemon zest
I've added the zest of a whole lemon, partly because I like it but also because it seems a waste not to. If you only have half a lemon though, it's fine.
On the topic of not wasting, as you only use the zest of the lemon, you can then cut it into slices and freeze to use in drinks. You don't particularly see the lack of zest when you use them in a G&T.
Cherry Brandy
You could use sieved cherry jam if you prefer, or if children will be eating them, although to be honest there's about ½ teaspoon of cherry brandy per cake so it won't do much harm, but the flavour will be different.
Secrets of Success
The cake mixture (or batter)
Making these Triple Cherry Cupcakes with a standard Victoria Sandwich recipe doesn't really work. The cake is too buttery and not substantial enough. The recipe I used here has more flour than butter and sugar so it gives a slightly denser cake, which supports the cherries better, as well as the icing.
Washing and chopping the cherries
This is one recipe where you do need to quarter the cherries at least. There isn't enough cake to support halves and they sink. They don't get very evenly distributed through the cakes either. You will need to wash and dry them too or they'll sink.
What equipment do you need?
As well as a cupcake/muffin tin and paper cases you will need some version of the following:
Lemon zester - I came late in the day to lemon zesters. I used my old box grater (with a different cutter or grater on each side for any requirement) for years. The last time I used it for a lemon I grated my knuckle so badly that I finally gave in and bought a zester. Why didn't I do it sooner?
Icing nozzles - I have a set of three icing nozzles for piping icing onto cupcakes. They're the only tips you'll need - big enough for cakes, but not so big you end up with more icing than cake! Use the star tip for these cakes
Disposable icing bags - I used to use a nylon icing bag that I washed every time, but that started to seem like too much of a chore with everything else to manage, so I switched to making bags out of baking parchment. It's a good idea but rather fiddly, time-consuming and they can split, so I wasn't any better off. Thank goodness for silicone. A pack of 50 will last for years.
IF YOU LIKE THIS...
...Why don't you try:
Pin for later
Hover over any picture on the page and hit the Save button to pin the image to one of your Pinterest boards.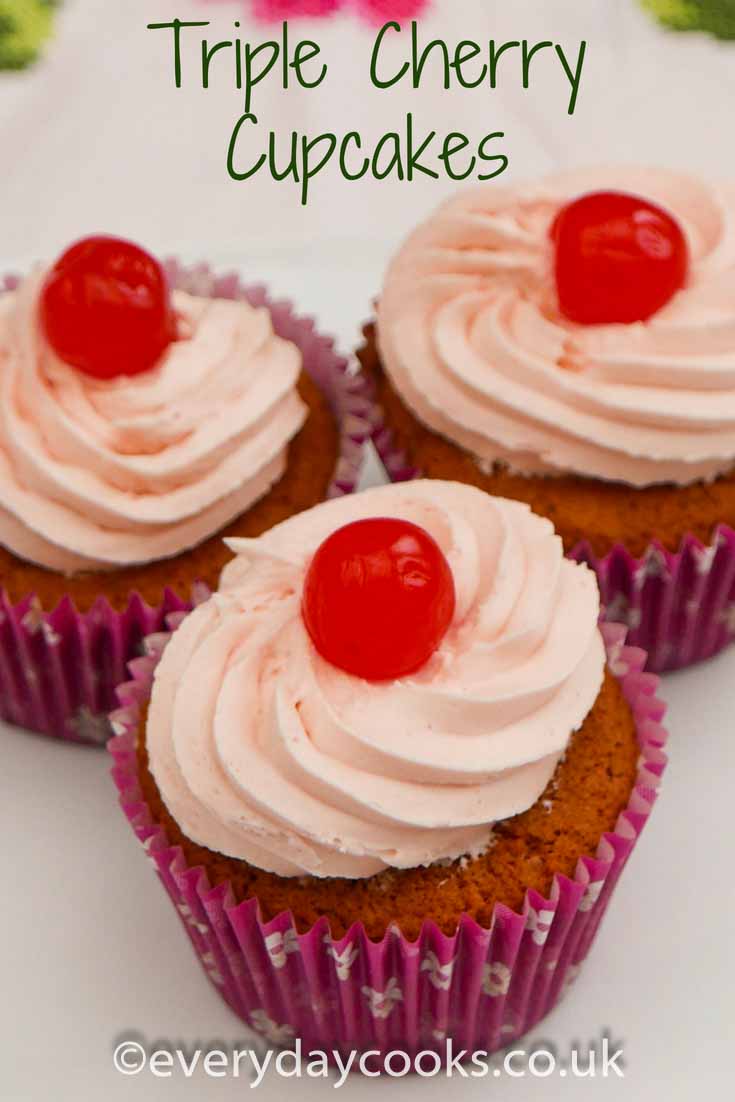 Recipe