This is an easy recipe for jammy buns. It's perfect for children to make and also for birthday parties. It's also pretty scrummy if you feel like eating cake with jam, but you don't want to make a Victoria Sandwich. Essentially these jammy buns are fairy cakes with a jammy surprise in the middle.
I found this recipe again recently, when I fancied something jammy and partly because I was seeing a friend for a walk and it was her birthday, so cake was in order. As she had given me a jar of homemade jam, I thought I'd make some jammy buns using her jam as an appropriate fortification for our trek.
We ate the buns with an excellent cup of coffee in the National Trust café at Avebury before walking to Silbury Hill and then the West Kennet Long Barrow.  It's all well worth a visit if you like a decent walk with some Neolithic monuments on the way. To be honest, I was jolly glad that we had the jammy buns before we left because it's more than a gentle stroll, so don't try it on an empty stomach.
I like to make these as fairy cakes, to keep them small enough not to feel stuffed. (Although, confusingly, I see that some supermarkets have taken to calling fairy cake paper cases cupcake cases).
If you want to be really pedantic, and sometimes I'm afraid I do, this is the difference: a fairy cake is smaller and has, perhaps, a little glacé or buttercream icing; a cupcake is bigger and has lots of frosting; a muffin is even bigger and has a denser texture (and doesn't keep as well).
I must apologise to my children for not making these more often when they were young. It's so easy to get stuck into cooking and baking the same few things, and forgetting all the other easy and delicious recipes, when you're busy at work.
Part of the reason for writing all these down is that they can be reminded of what's possible in a spare half hour.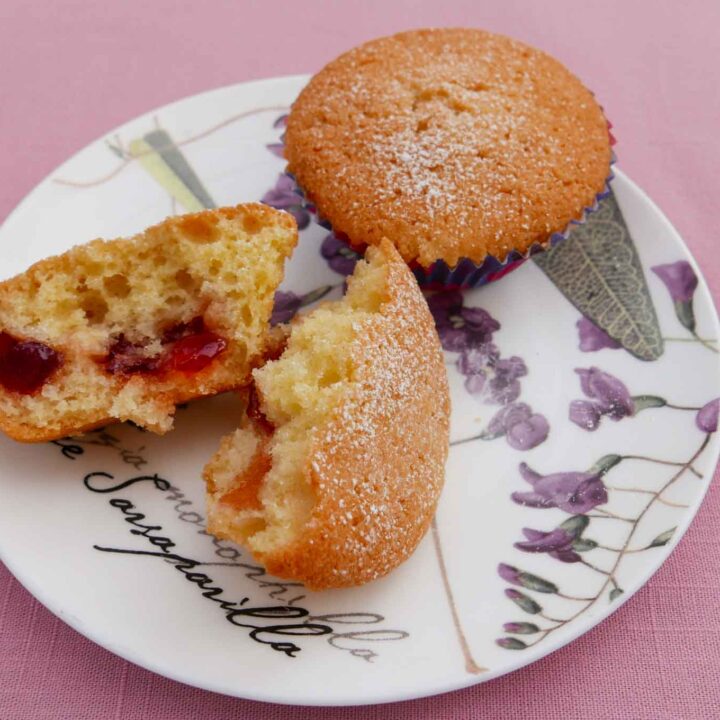 Print Recipe
Jammy Buns
Easy recipe for jammy buns. Ideal for baking with children and for birthday parties. Essentially fairy cakes with a jammy surprise in the middle.
Ingredients
125

g

caster sugar

125

g

butter,

at room temperature

150

g

self-raising flour

1

teaspoon

baking powder

(5ml)

2

large eggs

1

teaspoon

vanilla extract

(5ml)

Jam for the filling

Icing sugar to finish

(optional)
Instructions
Preparation:
Preheat the oven to 200°C/ 180°C fan/ gas mark 6/ 400°F

Put a paper case in each hole of the bun tin - no need for greasing.
For the Jammy Buns:
Put all the ingredients except the jam into a bowl and mix together well with a hand mixer

Put a teaspoonful of mixture into each paper case to cover the bottom and make a slight depression. You should use about half the mixture, maybe a little more

Put a small spoonful of jam into the depression. Add another spoonful of mixture on top of the jam and smooth to completely cover it

Cook for 20 minutes

Depending on your oven, you may need to turn the cakes after 15 minutes to ensure even browning

Remove from the tin and cool on a wire rack

Sprinkle with a little sifted icing sugar before serving.
Notes
Storage:
Jammy Buns will keep for at least a week in an airtight container, longer in the fridge.