Although this is a Luxury Fish Pie, it's easy to make for a special dinner or supper. The pie is filled with an assortment of fish and seafood in a creamy sauce and topped with a layer of grated potato rosti.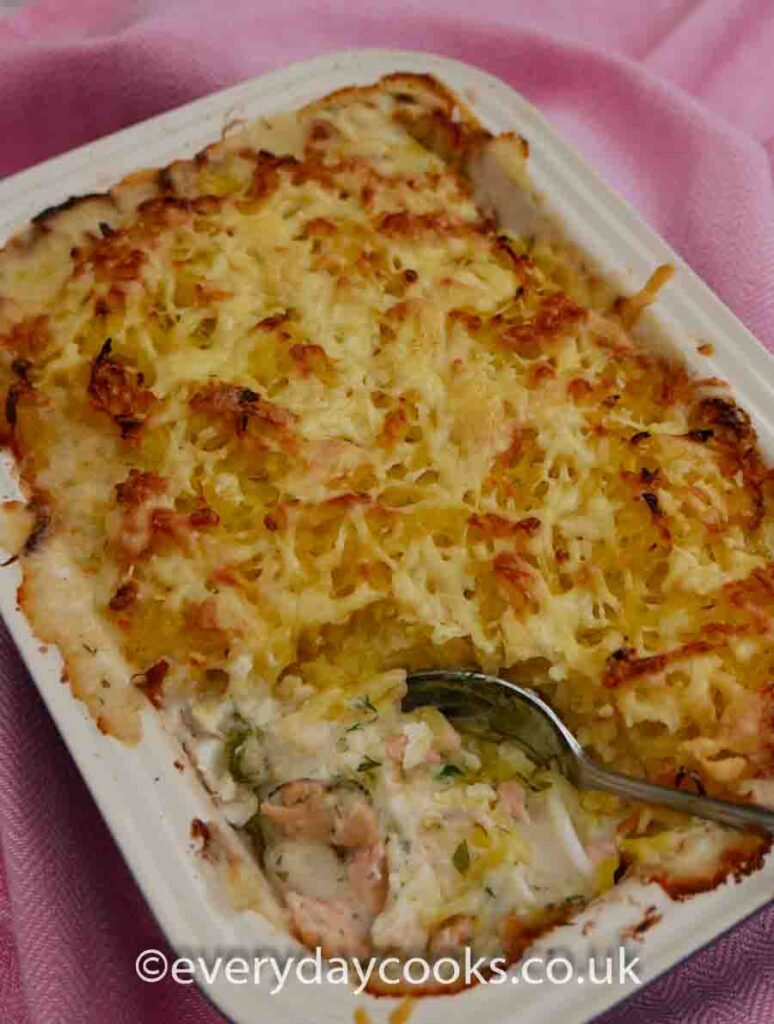 Luxury Fish Pie
This is my ideal recipe when I have friends for dinner. It looks and tastes special, but it's easy to prepare. It does take a bit of time, but some of the preparation can be done in advance if you'll be short of time on the night.
What makes this a Luxury Fish Pie?
A few ingredients turn what would be an everyday fish pie into a Luxury Fish Pie:
Creme fraiche and wine in the sauce gives it a creamy, velvety texture and add a tang to the flavour
A pack of uncooked mixed seafood. Usually, this contains prawns, squid, mussels and scallops, which adds a lot of variety and lifts this from being a run-of-the-mill fish dish. If you keep fish and a pack of seafood in the freezer, you can make a fish pie at short notice.
A rösti topping of grated potatoes is delicious. It takes a bit of extra time, but if you've got it, or you're fed up with pastry, it's worth it.
You could also add smoked fish, such as haddock or salmon fillet, which gives another level of flavour.
How is it an Everyday Luxury Fish Pie?
This is Everyday entertaining - the sort of thing you make when you don't have (or want to spend) a day to cook dinner, but you want a dish to impress.
This is essentially a white sauce, with some additional ingredients (wine and creme fraiche), with a variety of nice fish and seafood in it.
You can make the potato rösti topping in the recipe or, if you're really pushed for time or energy, buy a pack of ready-rolled butter puff pastry, and brush with beaten egg before cooking, as I did in the Chicken and Broccoli Pie. You will have an equally nice looking and tasting pie with a bit less effort.
You'll save 10-15 minutes prep time by using pastry, which might make all the difference!
Serve the pie with buttered cabbage or tenderstem broccoli and carrots.
Helpful Tools
5 bladed herb cutting scissors – Useful for cutting the dill and parsley (or any other herbs you use). Most importantly, they don't cut your fingers.
If you like this...
...Why don't you try: