Salmon and Prawn Quiche is a luxury flan for a special summer picnic lunch or celebration buffet.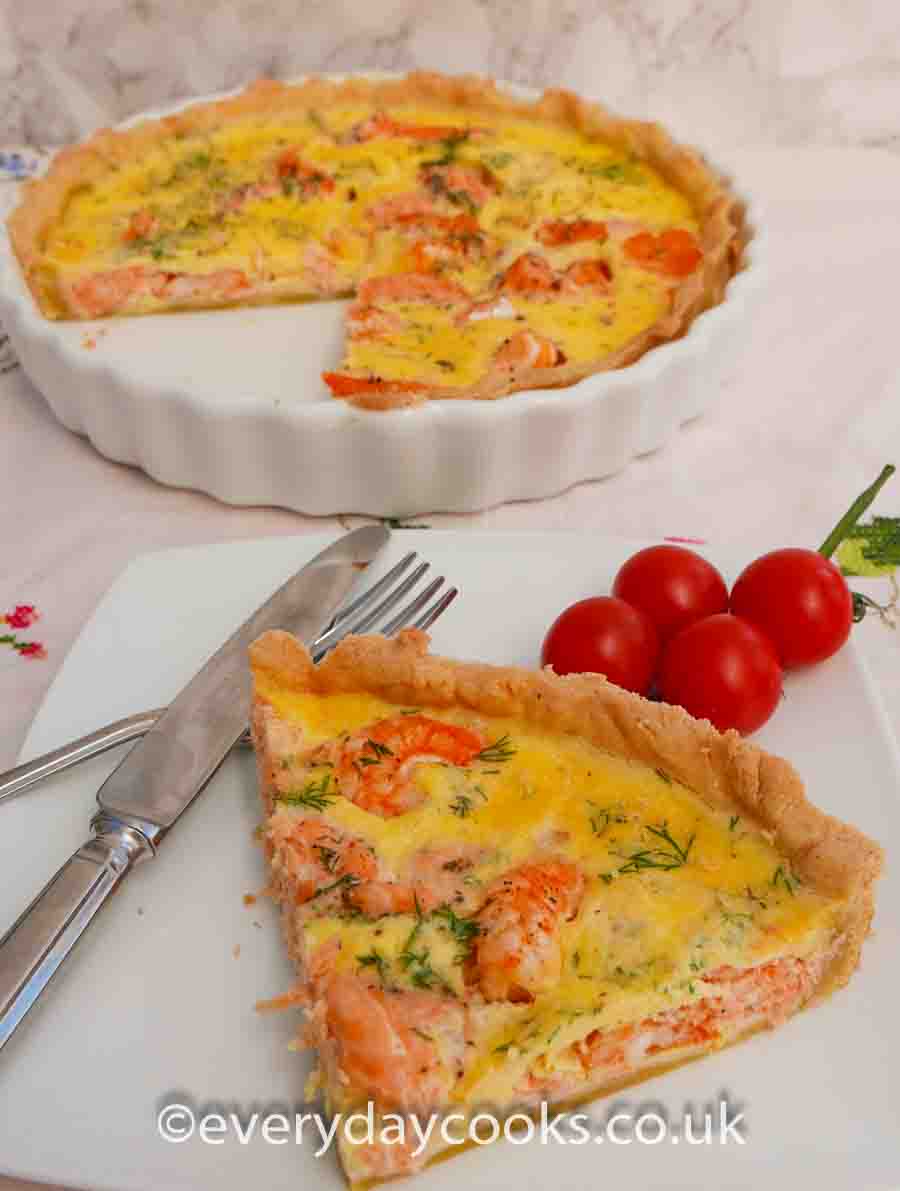 I make Salmon and Prawn Quiche every summer for at least one of our birthday lunches or family gatherings. It's also a favourite for a picnic lunch or supper as the quiche travels well and can be made in a foil flan dish.
This is a rather special quiche as the filling uses cream instead of milk, so it's richer and is perfect for a special occasion. It's a kind of Everyday special, in that the method (and the pastry case) are the usual ones, but by using luxury ingredients you can make it into something very special.
What sort of pastry to use for a quiche?
I always use pâte brisée for quiches. It's a kind of shortcrust pastry, but with an egg yolk added for strength, texture, and flavour. I don't roll it out, just press it into the flan case and blind cook before using.
If you have a method of pastry that works for you, then that's the best thing to use. Pastry isn't my thing. Over the years I just found what worked and I've stuck with it. Using a ready-made pastry case is fine too.
I haven't included the method for the pastry case in the recipe for the Salmon and Prawn Quiche, you will find it here if you want it.
What makes this a luxury quiche?
King prawns for a kick-off. For this quiche, you want raw king prawns. I keep a bag of them in the freezer so they're always around if I need to rustle up a meal in a hurry. Using raw prawns means that they're less likely to overcook. Don't be put off by their grey appearance if you haven't used raw prawns before. They will turn a beautiful pink colour as they cook - like a little culinary miracle.
For the salmon, I use the offcuts from the fillet I trim for a Salmon en Croûte, which I will have frozen. Failing that, or adding to it, will be salmon fillet or offcuts from the fish counter. You could use lightly smoked salmon, or a mix it with unsmoked salmon. Be wary of ordinary smoked salmon - it will make a very rich quiche.
As I mentioned, cream instead of milk in the custard. If you are going to make a luxury quiche with salmon and king prawns, you might as well go the whole hog (to use one of my Dad's expressions) and use cream. It gives a lovely texture and tastes wonderful.
HELPFUL TOOLS
China flan dish - I stopped using metal flan cases when I found this method for pressing out the pastry instead of rolling it out. You don't have to get the quiche out of the dish and it looks so pretty on the table (and they don't have to be white).
5 bladed herb cutting scissors - Useful for cutting the dill or any other herbs you want to use. Most importantly, they don't cut your fingers.
Lemon zester - This makes gathering that zest so easy - and it's another finger-friendly gadget
If you like this...
...Why don't you try: