Tuna and Tomato Quiche is one of my favourite summer meals. It has plenty of filling and flavour and isn't as daunting to make as you might think.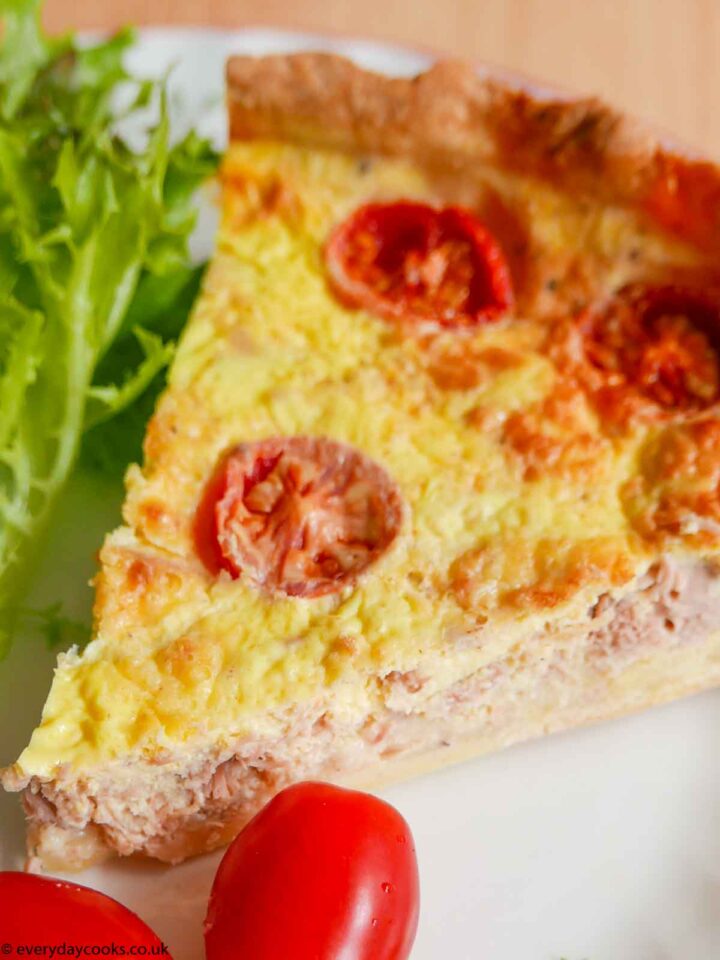 Quiches are so versatile. Once you know the basics, you can put almost any filling in that you like. Tuna and tomato are one of my favourite combinations and I try to always have one in the freezer. This easy tuna quiche recipe will become a staple that you can easily modify using your favourite quiche ingredients.
You can eat quiches hot or cold. They travel well, especially if you make one in a foil flan dish. I pack one, frozen, in the cool box that I take to France for an instant meal when we get there.
The pastry
Make or buy pastry?
Although I'm not a great pastry maker, the pastry used in this tuna and tomato quiche is quick to make (5 minutes in a processor) and doesn't need rolling out.
I've had a go at all sorts of pastry but mostly it's too much of a faff to be bothered with. I've made plenty of shortcrust pastry in my time (the type used for most pies and quiches) but I find it's a bit boring to eat and I'm not good at rolling out. I gave up on the grounds that pastry just wasn't one of my things and a vague belief that I didn't have 'pastry hands' (cold ones, I think).
On the other hand, I've always felt that buying the pastry for quiches was a cop-out, so for years we didn't have them. (I think it's some sort of puritanical thing. Or maybe the spirit of my grandmother rolling her eyes at the thought of bought pastry!)
Puff pastry on the other hand really is too much effort for the end result so I always buy it. (Sorry Grandma!) I prefer to use an all-butter version such as Jus-Rol which is excellent for pies.
A new approach to pastry - don't roll it out
So what made me change my mind about pastry for quiches? About 20 years ago I read a cookbook by Michael Barry. He had a better recipe and a completely different approach to lining the dish, which didn't involve rolling out the pastry. You just press it into a china flan dish and you don't need to pre-cook it (although I always do).
Pastry perfection or good-enough?
If you're not bothered about crisp, pastry on the bottom, don't bother to pre-cook. The quiche will still look good and taste good and the pastry will be cooked. It also serves easily - straight out of the dish. So if you are looking for pastry perfection, this is probably not for you. But if you want to make everyday quiches for your family, which are good enough for guests, and don't take a lot of time and effort, look no further!
The quiche pastry recipe I use is for pâte brisée, a French savoury pastry which is a bit more forgiving than shortcrust. It's stronger and I think it looks and tastes better. Details of how to make the pastry are here but once you've made it a couple of times all you'll need are the quantities.
Quiche fillings
Lots of tuna
If you want a good, satisfying meal without additives, you need to bulk up the other ingredients. I almost always put a layer of grated cheese at the bottom of my quiches - even this tuna and tomato quiche - because it adds to the flavour but isn't necessarily 'cheesy'. I also add more tuna than a recipe often says. Basically, I like to almost fill the quiche dish with my filling and top up with custard to hold it all together.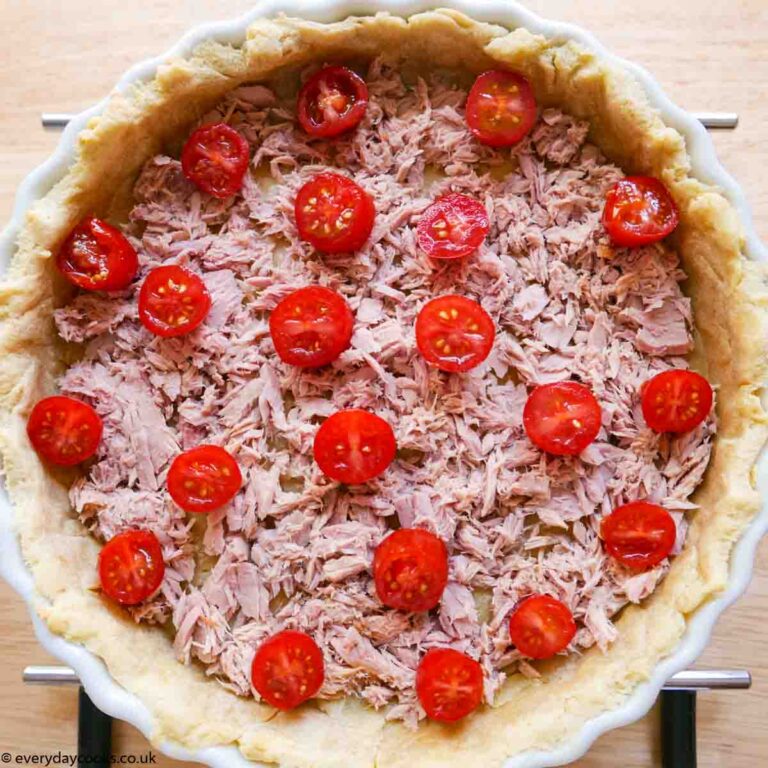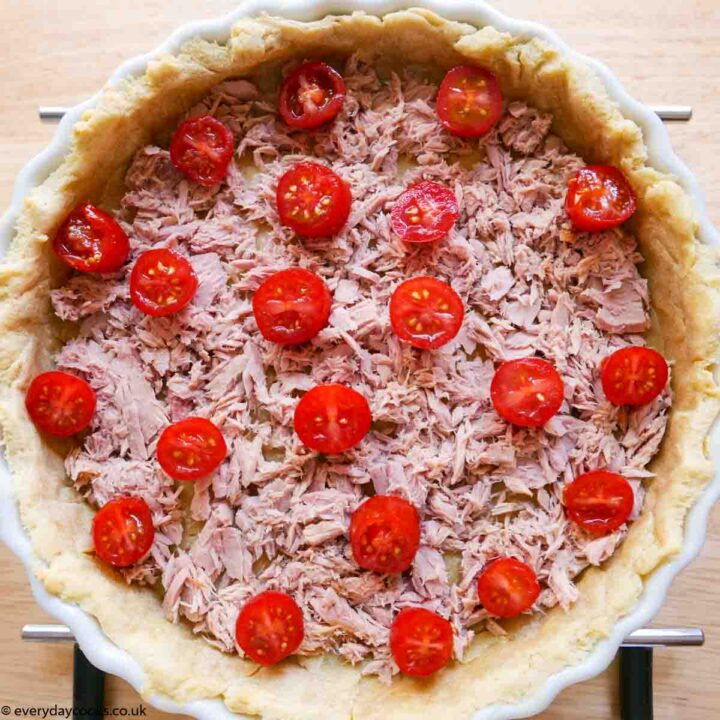 Add some veg - cherry tomatoes
Adding some sort of vegetable, like the tomatoes here, is an easy way to increase your fruit and veg intake. Tuna and tomato quiche sounds like it's meant to be - not as if I've just added something extra to a good old tuna quiche.
Milk and eggs
Quiche fillings can be a bit bland and often a bit short on the good stuff! That's because the 'custard' - the egg and milk part of the quiche that sets - is the cheaper bit. Unfortunately, although those two things are both great sources of protein and other good things, they don't have much flavour in themselves. So the options are to add lots of good tasty filling or loads of flavouring.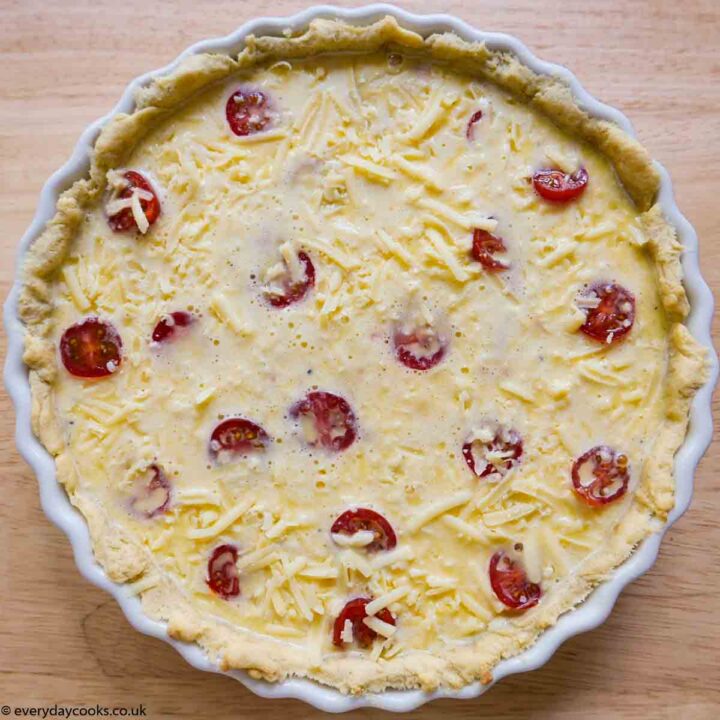 Spice it up
Well you can if you want, I add lots of nutmeg to my quiches and flans. Always freshly ground, for best flavour. Plenty of salt - unless your tuna was in brine - and pepper to bring out the flavour of the fish.
Ring the changes
Instead of tomatoes (or as well as), you could make a Tuna and Sweetcorn Quiche with canned or defrosted frozen sweetcorn
Try tinned salmon instead of tuna
Add your favourite fresh or dried herbs
Make-ahead tips
Almost every stage can be made ahead:
Make the pastry a day or two before you need it and store in the fridge in a plastic box
Alternatively, press the pastry into the flan cases and keep those in the fridge, or freeze for up to a month before using.
If you have time to cook the flan cases, do that and freeze them cooked for a month before using.
One last thought. Although this isn't a particularly difficult or time-consuming recipe, I always make at least two at a time. Doubling up the ingredients to make two quiches is no more effort than one. If you've got a couple of hours at the weekend (and plenty of freezer space) you could make four. At the very least you can make a second pastry case and freeze that, cooked or uncooked.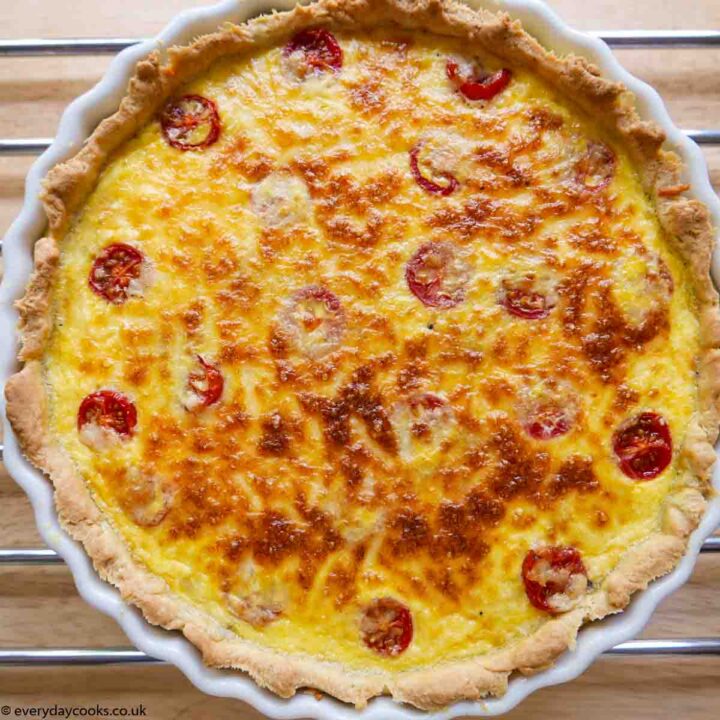 What equipment do you need?
Microplane Spice Mill - I'm a big fan of freshly grated nutmeg and I use a lot of it, especially in quiches. I recently upgraded to a Microplane mill. What a difference it makes - quick and easy to grate as much as you want!
24cm/9-inch China Flan Dish - You can serve the quiche straight from the dish - no worries about turning it out of a tin.
If you like this...
...Why don't you try:
Pin for later
Hover over any picture on the page and hit the Save button to pin the image to one of your Pinterest boards.