Pytt i panna translates as 'small pieces in a pan' and that's just what it is – leftovers or bits and pieces from the fridge fried up in a pan.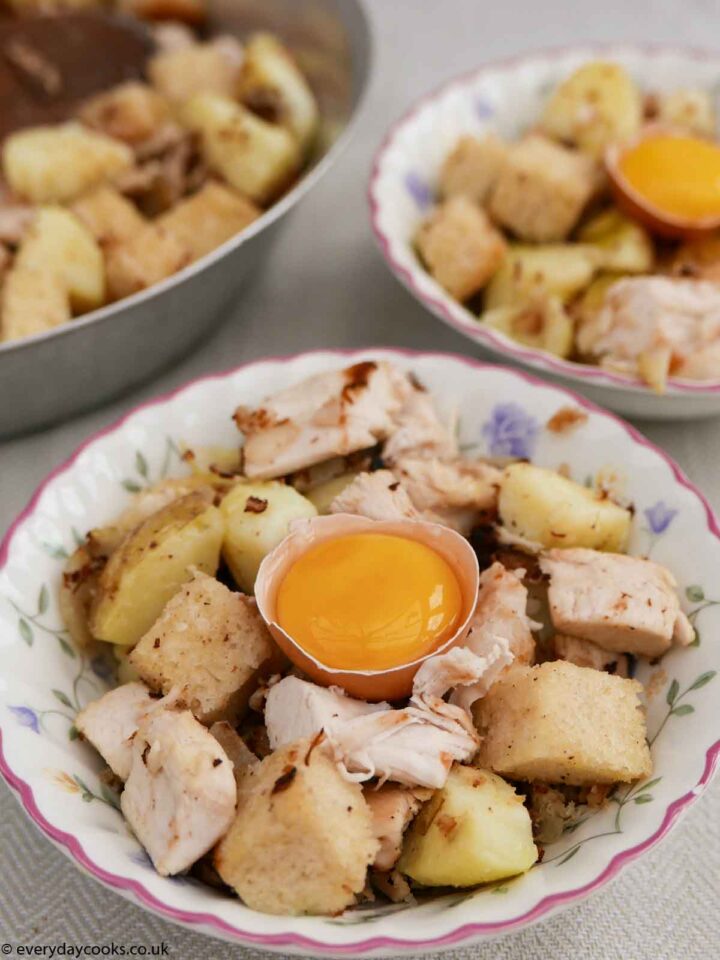 Pytt i panna
Pytt i panna, or pyttipanna is perfect for using up leftovers from a Sunday roast and any orher cooked vegetables sitting in the fridge.
Key ingredients in pytt i panna
Cold roast meat
My mother always used lamb - partly because we did different things with other leftover meats - but you can use any meat, preferably roast. I've used chicken in this recipe. In Scandinavia, where the recipe originates, you would use any leftover meat and/or sausage.
If you don't have enough left over from the joint, you can add some sausage - either a Continental type, e.g. chorizo, or a couple of (cooked) good old British bangers.
Cooked vegetables
Definitely potatoes and onions, and after that, anything you have leftover from previous dinners, or any veg that you want to add.
Bread
I like to have cubes of bread in mine, but if you want to cut the carbs a bit you could put in carrots instead.
What's the raw egg yolk for?
When all the cooking is finished the hot mixture is spooned into bowls and a raw egg yolk put on the top. Each person stirs the egg into their bowl of pytt i panna and the heat from the meat and vegetables cooks the egg and stops the fried dish being dry, as it otherwise would be. You don't taste the egg - and it isn't raw by the time you eat it, so give it a try!
If you like this…
…Why don't you try: