Iced Ginger Cake is a lovely warming cake, just the thing with a cup of tea after an autumn walk.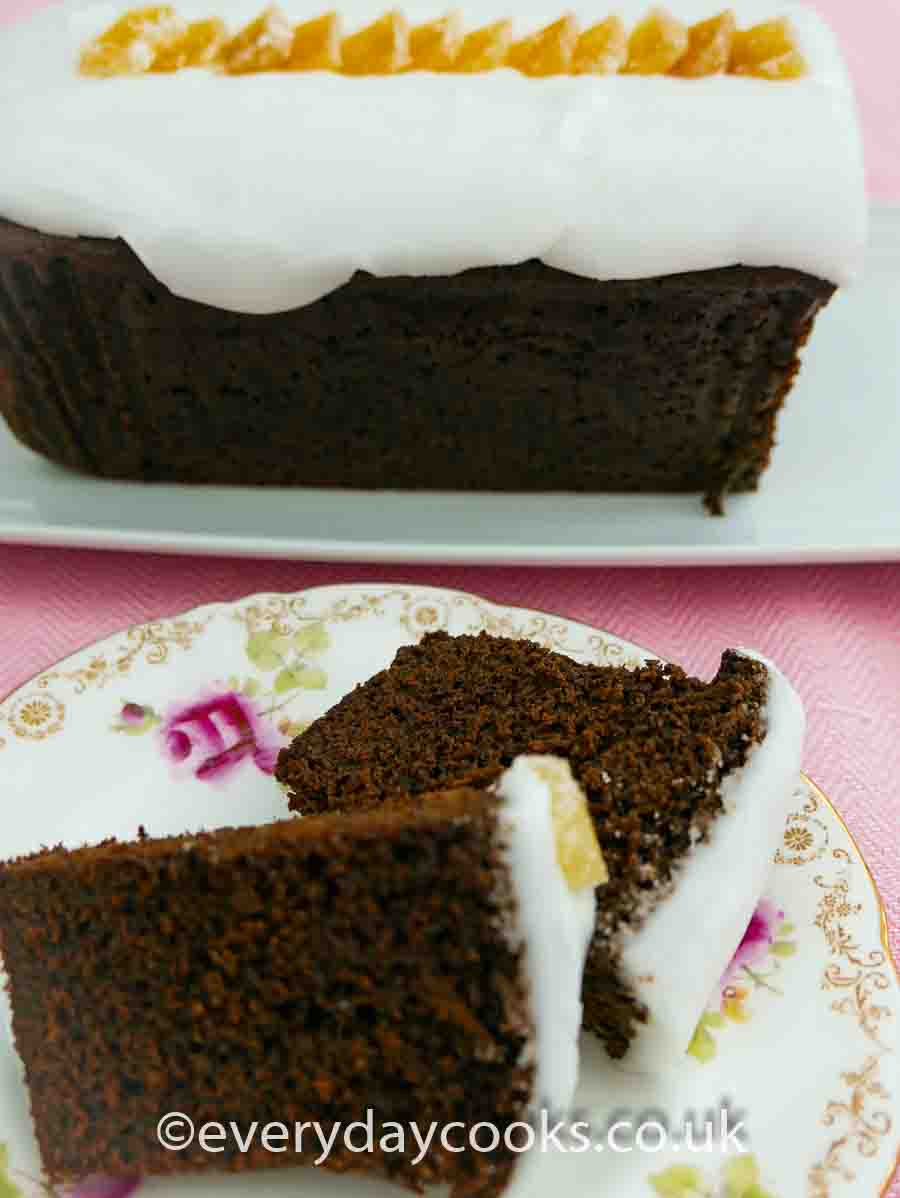 This cake bring back memories of Guy Fawkes Night when half the village (it seemed) would get together and have an outside party round the bonfire. The only food I remember are the baked potatoes in foil and Iced Ginger Cake. Probably not quite this recipe, as my mother didn't make that cake, but something very similar.
How much ginger to use?
In the recipe, I've said 2-3 teaspoons of powdered ginger. I use 2 ½ and the cake isn't overly hot. If you like a spicier cake, add more, but if you only want a hint of ginger add a little less.
I've also added a teaspoon of mixed spice. You can buy this or make your own. Don't miss it out, as it enhances the ginger without adding specific flavour itself. It sort of gives the ginger some extra depth.
Do you have to ice the cake?
Not at all! This cake is fine as a moist Ginger Cake without icing. On the other hand, if you like icing, add it on. Although I love all sorts of ginger cakes, an Iced Ginger Cake just seems that bit more special and icing it only takes five minutes.
How easy is it to make Iced Ginger Cake?
Essentially, this is a 'Melt & Mix' recipe. You melt the butter, treacle and golden syrup and mix in everything else. Pour the mixture into a lined tin and cook for a long time.
When the cake has cooled, mix icing sugar and hot water, pour over the cake, and it's done. No excuses not to get mixing and treat everyone to a warming ginger cake this weekend.
HELPFUL TOOLS
Baking parchment loaf tin liner – A liner stops the cake sticking and keeps the tin clean – so less washing up. You could store the cake in the liner until you're ready to eat it, keeping it nice and moist.
Make sure you buy the right size for your loaf tin. Old fashioned loaf tins are squarer and deeper (and better for bread, I think) than the others which are good for cakes.
IF YOU LIKE THIS...
Why don't you try:
Recipe