Sticky Gingerbread Traybake is an old-fashioned teatime favourite. Ice it if you like, or eat it plain.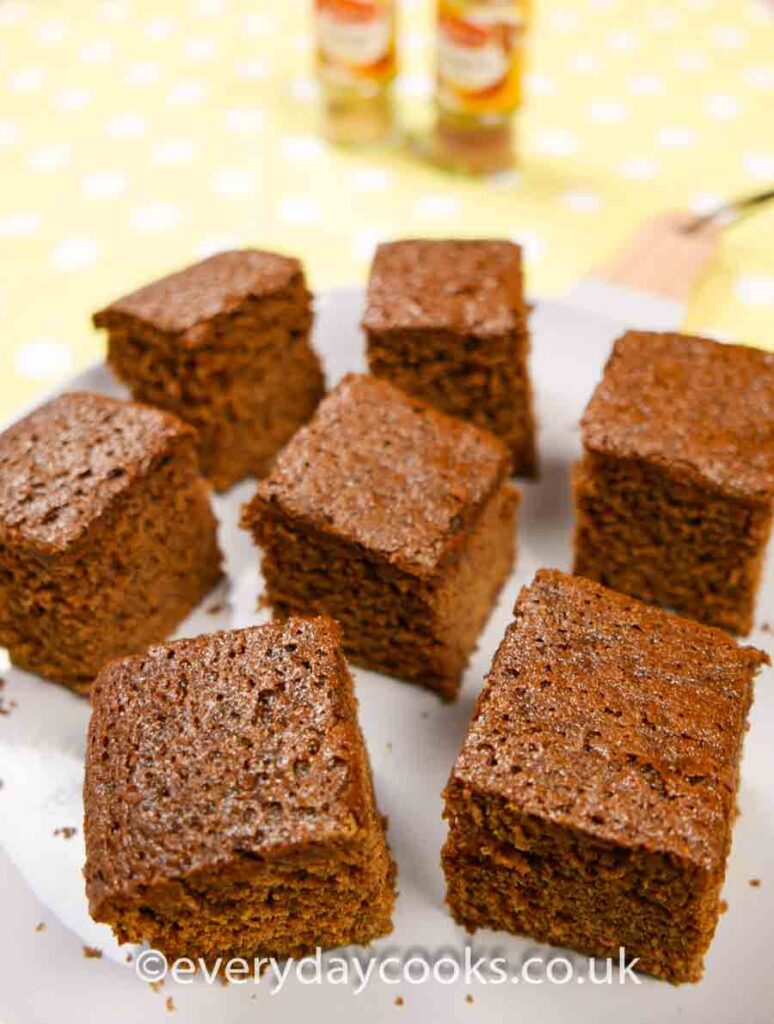 Gingerbread Traybake
To ice or not to ice
If you're a ginger cake aficionado, this is another plain, but satisfying cake to add to your repertoire. If you really like icing, or you're eating the cake soon after making, add some glace icing (icing sugar plus water).
If I want to take some Gingerbread Traybake out and about, e.g. for a picnic or to eat when walking the hills, then I keep it plain - less mess. Just wrap in foil and eat as required.
How hot is your ginger?
I'm not a great abider by Best Before dates. Often they're there to cover the supplier and they are always talking about quality, not safety, of food. (Use By dates are different - they are concerned with safety and tell you when the food might go off.)
But when it comes to spices, particularly ginger, I'm a bit more vigilant - which to me means:
If it's 6 months over it's fine
If it's a year over, use more
If it's two years over, replace it.
Ground ginger definitely loses its fire with keeping, so if yours is a bit past it - use more or buy some more.
For more details about food labelling see this excellent article from the NHS.
Is my tin big enough?
The mixture in this recipe completely fills the tin. It doesn't really rise (despite all that baking powder), so you're okay, but every time I make it I think I've used the wrong tin!
How long will Gingerbread Traybake keep?
This is one cake that gets better with age. I quite like it when it's first made, but 2 weeks later it's my favourite thing. It gets moister and stickier as it ages - yum! I keep mine in a plastic box in the fridge and expect it to last for 3-4 weeks at least.
What equipment do you need?
30x23cm traybake tin - This is the tin that I use for large traybakes, e.g. for entertaining or bake sales and it's just the right size for this Gingerbread Traybake recipe. You can cut the cake into about 24-30 pieces.
Magic liner – Cut to fit the traybake tins and roasting tins you use most. You wash it every time. Nothing sticks and it doesn't need greasing
If you like this...
...Why don't you try: