A step-by-step guide that shows you how to spatchcock chicken, which isn't as complicated and time-consuming as it sounds.
It took me years to attempt to spatchcock a chicken but since I have, I have rarely cooked one without doing this.
What is a spatchcock chicken?
Essentially the chicken has its backbone removed so that it can lie flatter on the roasting tin and cook more quickly.
Most (if not all) of my roast chicken recipes will require a spatchcock chicken, so here are the steps to take to start you off.
Equipment
You will need a chicken and a pair of poultry shears You could try using scissors but there is some bone to cut through so shears or secateurs are easier.
How to spatchcock chicken
1. Place the bird breast down on the work surface.
2. Cut out the backbone with shears
I find that doing half from each end works best.
3. Turn the chicken over and press firmly on the breast with the heel of your hand to flatten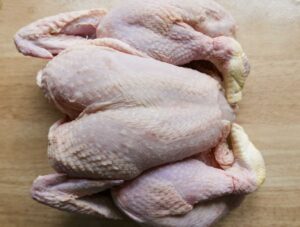 You may need both hands and you may hear a crack as the chicken flattens - that's fine.
What do you do with the backbones?
Freeze the backbone to use to make chicken stock when you've collected a few.
How do you cook a Spatchcock Chicken?
Now you're all done and ready to cook. See the recipe for Quick Roast Chicken for basic cooking information and enjoy!
If you like this...
...take a look at more tips and techniques: