A pretty, traditional pink and yellow check sponge Battenberg Cake, sandwiched with jam and covered in marzipan, is a classic English cake for teatime. And it's easier to make than it looks.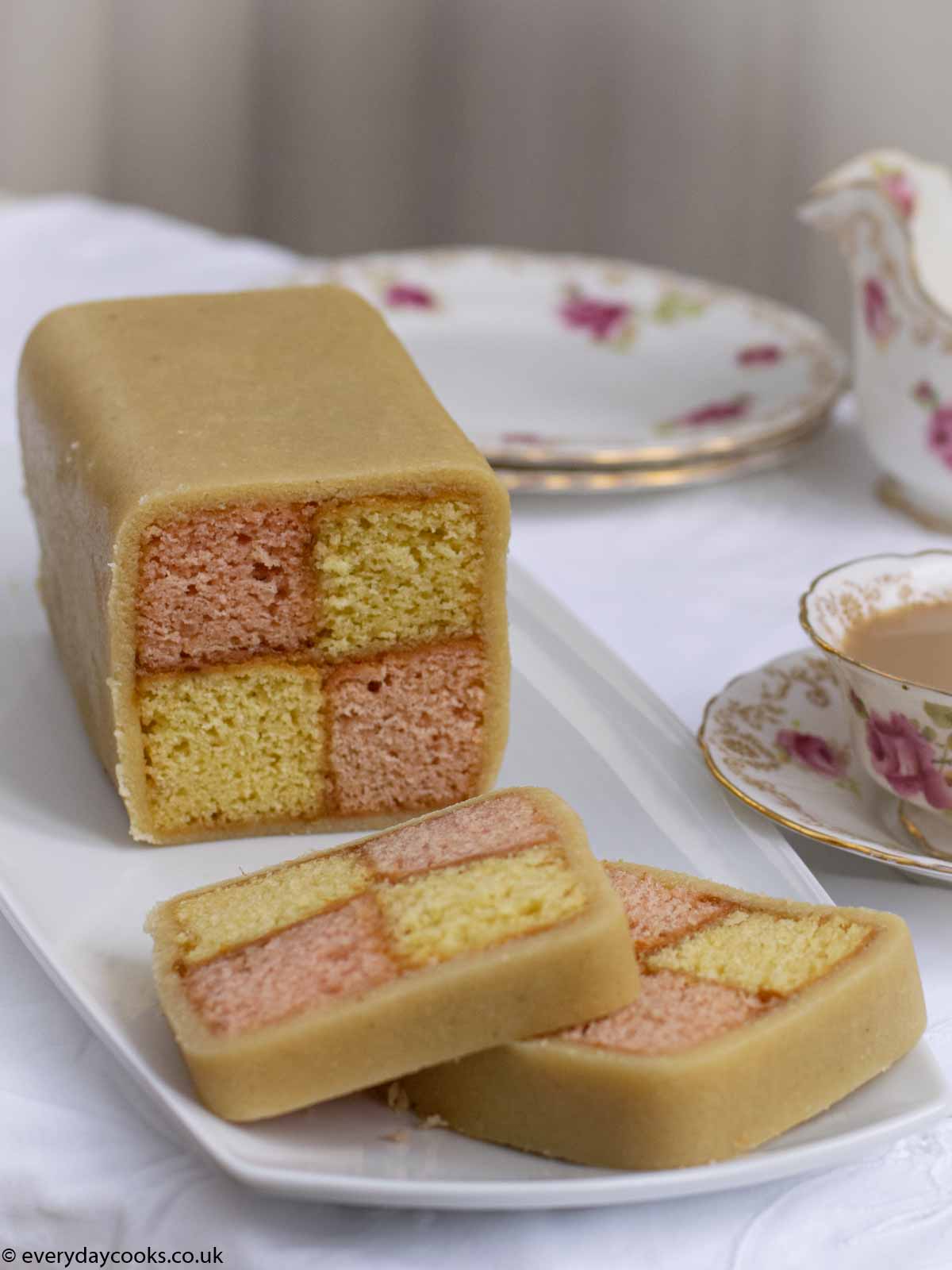 The only cakes I'm tempted to buy are a Battenberg (or Fondant Fancies). When I do, I'm usually disappointed by the cake and the marzipan, and resolve to only make them in future. When I do make one, I'm reminded that this Battenberg recipe is quite easy to make. Just be warned that it can look pretty scrappy before you give it a final trim and the beautiful cake emerges.
Why is called a Battenberg Cake?
The origin isn't clear, although this marzipanned cake is first mentioned in the late 19th century. It has been associated with the marriage of Queen Victoria's granddaughter, Princess Victoria, to Prince Louis of Battenberg in 1884. It became very popular in the first part of the 20th century, probably because it was easy for bakers to make and store compared to a round cake.
It's also called a Pink and Yellow Cake or a Church Window Cake in some areas.
At a time when my mother made all our cakes (up to six a week), the only one she ever bought was a Battenberg (although she occasionally made this too).
Key ingredients in a Battenberg Cake
Marzipan
This cake is largely about the marzipan. Making your own is not difficult - it takes about 10 minutes. My marzipan recipe gives you more details, and instructions are included in this recipe too.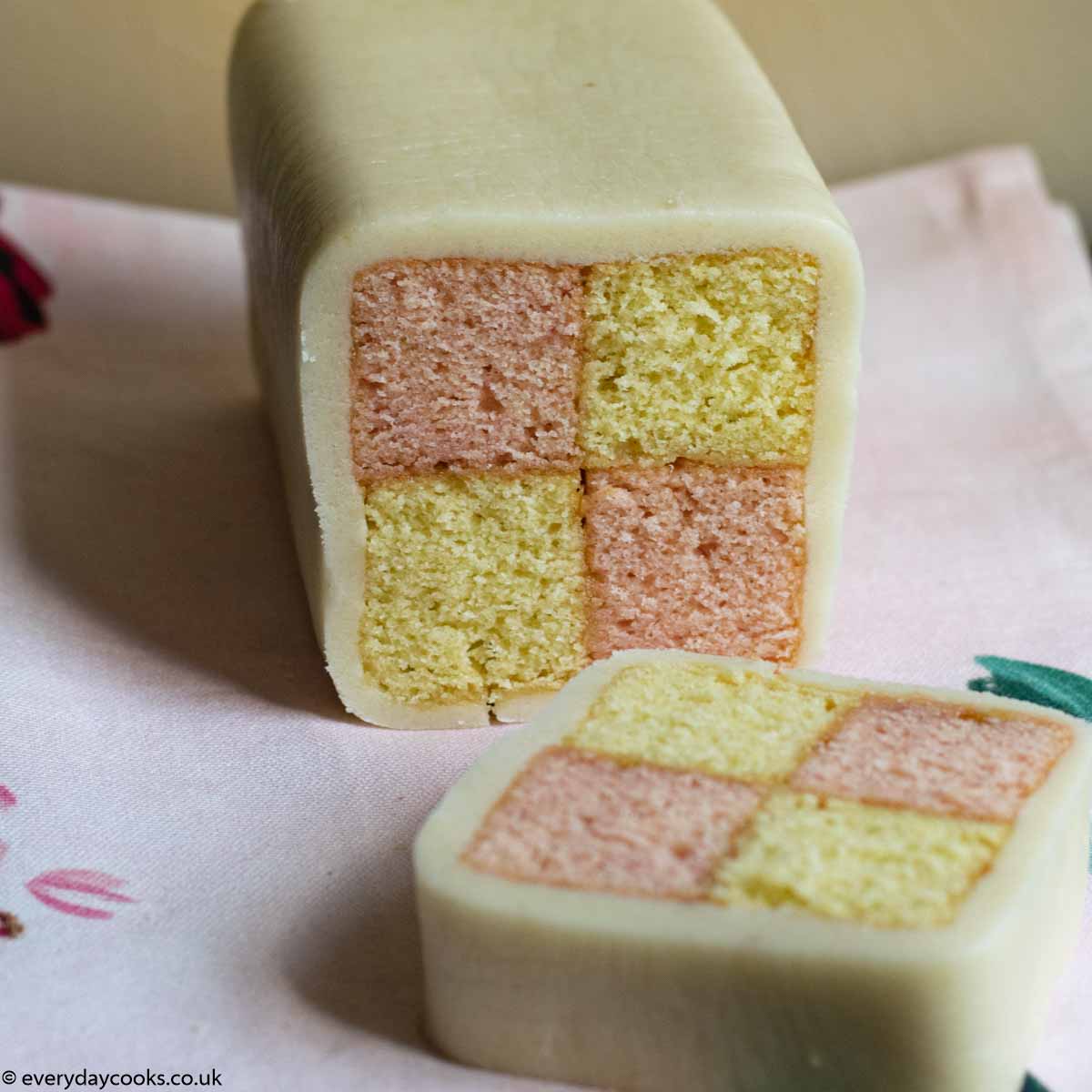 Jam
You use jam to sandwich together the cake layers. I like to use apricot, but if I'm making raspberry cakes (see below) I use raspberry jam. Cherry is another nice option.
You can sieve the jam to make it completely smooth, but just taking the big bits out works okay. You do want to warm it gently, though, so that it sticks better.
Pink colouring
You can buy natural colourings in most supermarkets. They may not give a very vivid pink colour but they are probably better if you're making this cake for children to eat. Brighter colours are available if you don't mind the odd additive (and if you do, try checking out the label for a bought cake). Note that the colour may look slightly peachy but looks pinker when it's cooked and cut.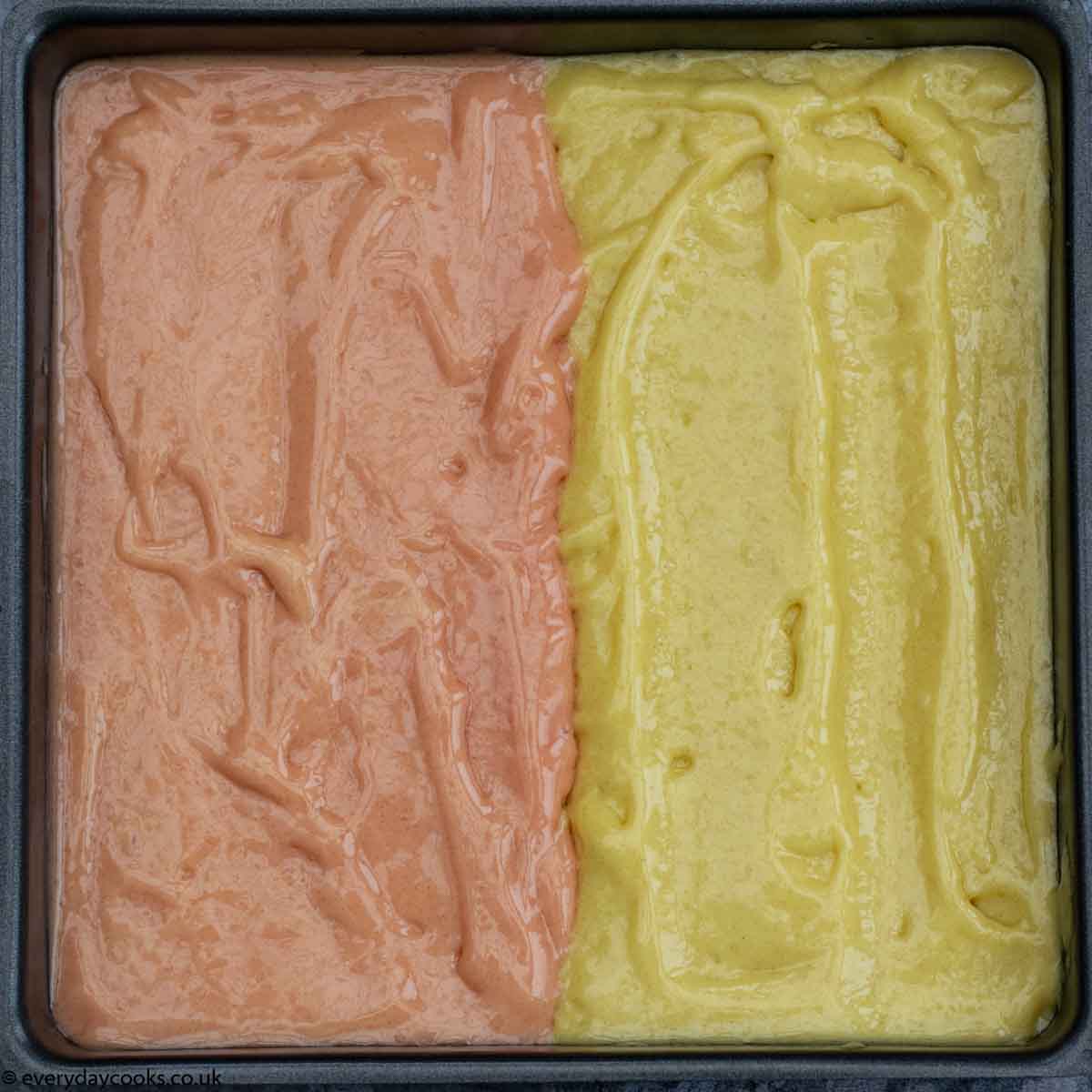 If you prefer you can use dried raspberries to colour and flavour the cake in a completely natural way - see below.
Ring the changes
White or golden marzipan?
If you buy the marzipan, it's just a matter of selection. If you make it, use egg white only for white marzipan. For golden marzipan, the egg yolk is doing the colouring so the final colour does depend on your eggs. Either make a double quantity with a whole egg (less golden) or just use the yolk and a tiny bit of the white, if necessary, for the most golden colour.
Make your own marzipan?
It might sound like a faff to make your own marzipan, but it's only mixing and it takes under 10 minutes. The end result tastes better than bought marzipan (and you know what's in it), so it's worth giving it a go.
Flavour your layers
Use dried raspberries instead of pink colouring
If you want to flavour the pink cake, you can use 20g freeze-dried raspberries, crushed and sieved, instead of the colouring. This does elevate your Battenberg to a whole new level. (Mr Kipling definitely doesn't do this!) It has the advantage of no colouring too.
(And if you wonder if you would ever use dried raspberries in any other recipe, try White Chocolate and Raspberry Cookies or you can add them to breakfast cereal or ice cream.)
Almond extract or vanilla for the yellow cake
Flavour the yellow cake with vanilla or almond extract - whichever you prefer. If you're interested, extract is made from the plant, e.g. vanilla pod or almond, and essence is often synthetic, which is why I specify extract.
Secrets of success
Get the cakes in the oven quickly
My first memory of making Battenberg Cake as a child with my mother was a lesson in what happens to cake batter if you don't cook it straight away.
When Mum came to colour the pink cake she found that my brother had taken the colouring to school. She cooked the yellow cake and had to wait an hour to colour and cook the other. It turned out much smaller as the air in the cake mixture had escaped. I learned two lessons from this:
Cook the cake as soon as it's mixed
Get all the ingredients ready before you start (also called mise en place)
Making a two-colour cake in one tin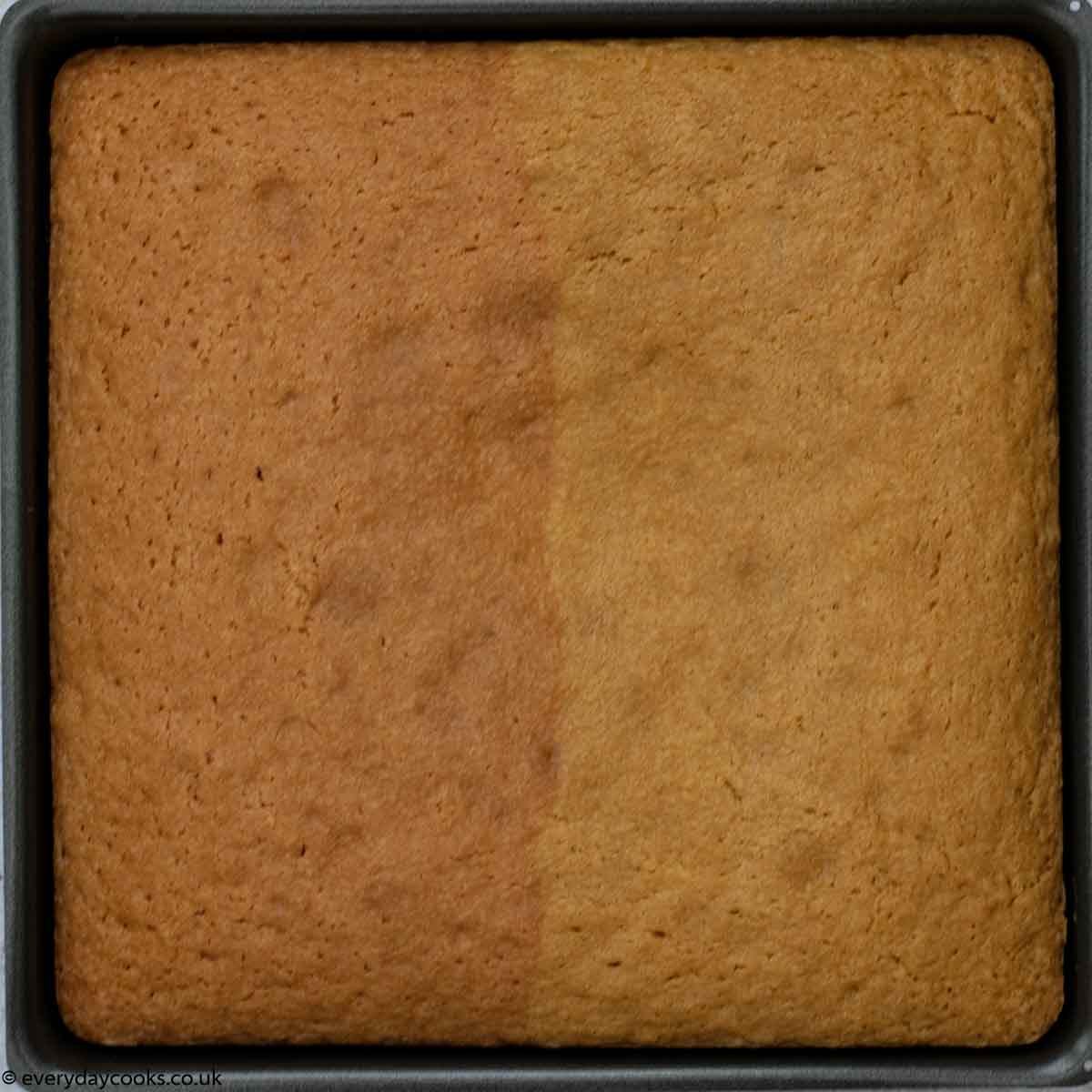 There are a few options here:
Buy an adjustable, multi-size cake tin, but unless you're planning on making lots of cakes of different sizes (or lots of Battenbergs) it isn't vital.
Make a divider for your square tin out of foil and separate the colours, which TBH I find a bit of a faff - but craft stuff isn't really my thing.
My preference is to just bake both colours side-by-side in a square tin. They don't really run into each other and you will have to trim the cakes anyway. Keep it simple!
Using two tins
Another option, if you have them, is to use two 2-lb loaf tins to make the cakes separately.
Trimming the cakes
You will have to trim the cakes to make them the same size with straight sides:
You start with two rectangular cakes about 10x20 cm (4x8 inches). Trim the edges if necessary to get a consistent height across the cake.
Cut each in half down the length to give 4 cakes of 5x20 cm (2x8 inches). Or, more likely, they will be a bit smaller. Use a ruler to make the cakes the same size.
If you're fussy you can cut the cakes so that the height and width are the same. I don't always bother, although I do prefer the neatness of a square cake.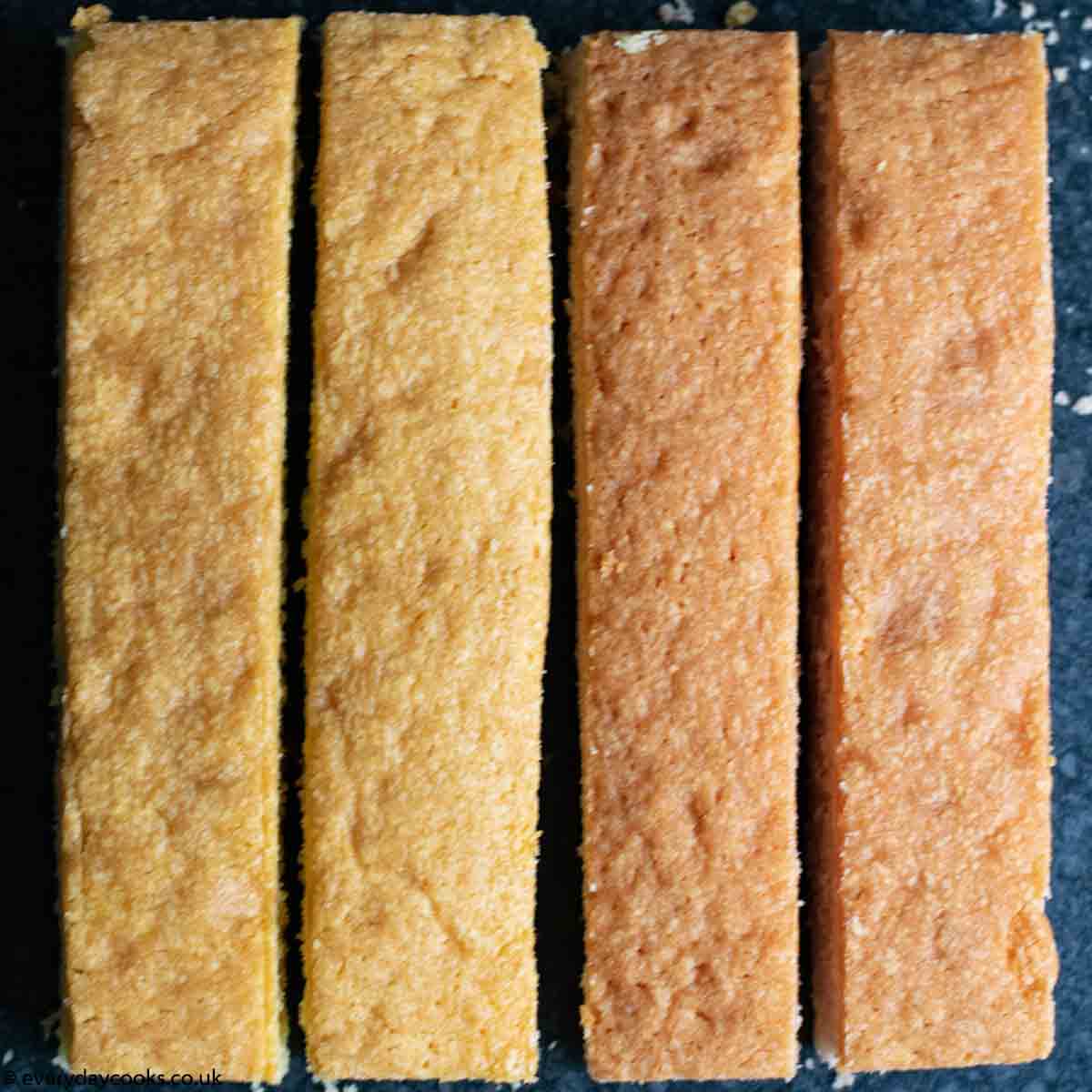 What do you do with the cake trimmings?
The easy answer is to eat them. Very nice with a cup of coffee - even nicer dunked. Alternatively, cut the pieces into squares, or make into cake crumbs, and use in a trifle. They will keep for up to a month in the freezer.
These are the trimmings from the cake made in two loaf tins.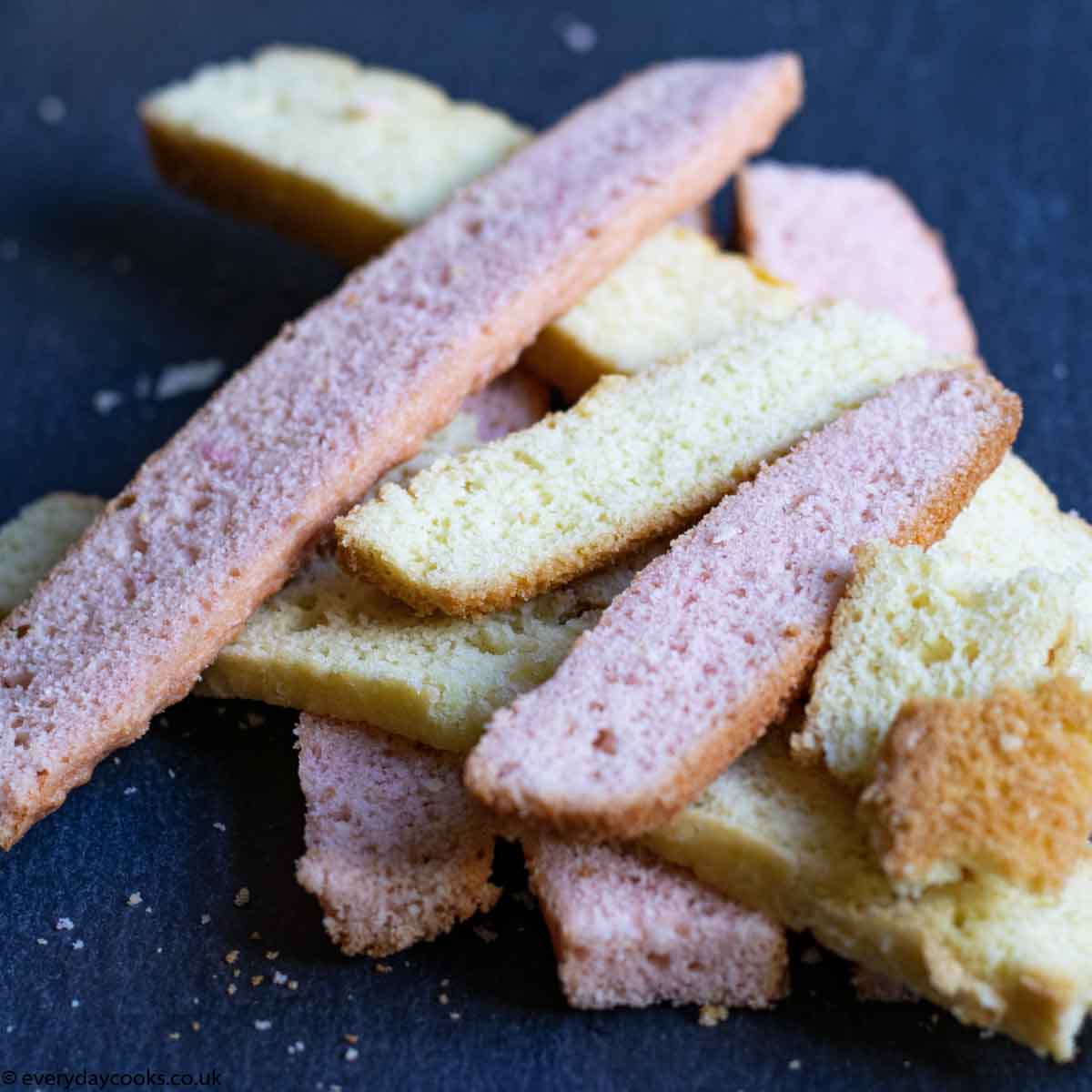 Getting the marzipan on straight
This isn't difficult, but you get the best results with a little planning:
Roll out the marzipan between 2 sheets of clingfilm. This way the marzipan won't stick to the worktop or board and you can wrap it without leaving finger marks (or holes).
Watch the middle of the marzipan or it will end up thicker than the ends
Cut the marzipan to size. Measure all the way around the cake and cut the marzipan about 1cm (½ inch) bigger. The other dimension is the length of the cake. It will be about 20x30 cm (8x12 inches), probably a bit shorter. Put the cake in the centre of the marzipan (having removed the top sheet of clingfilm first)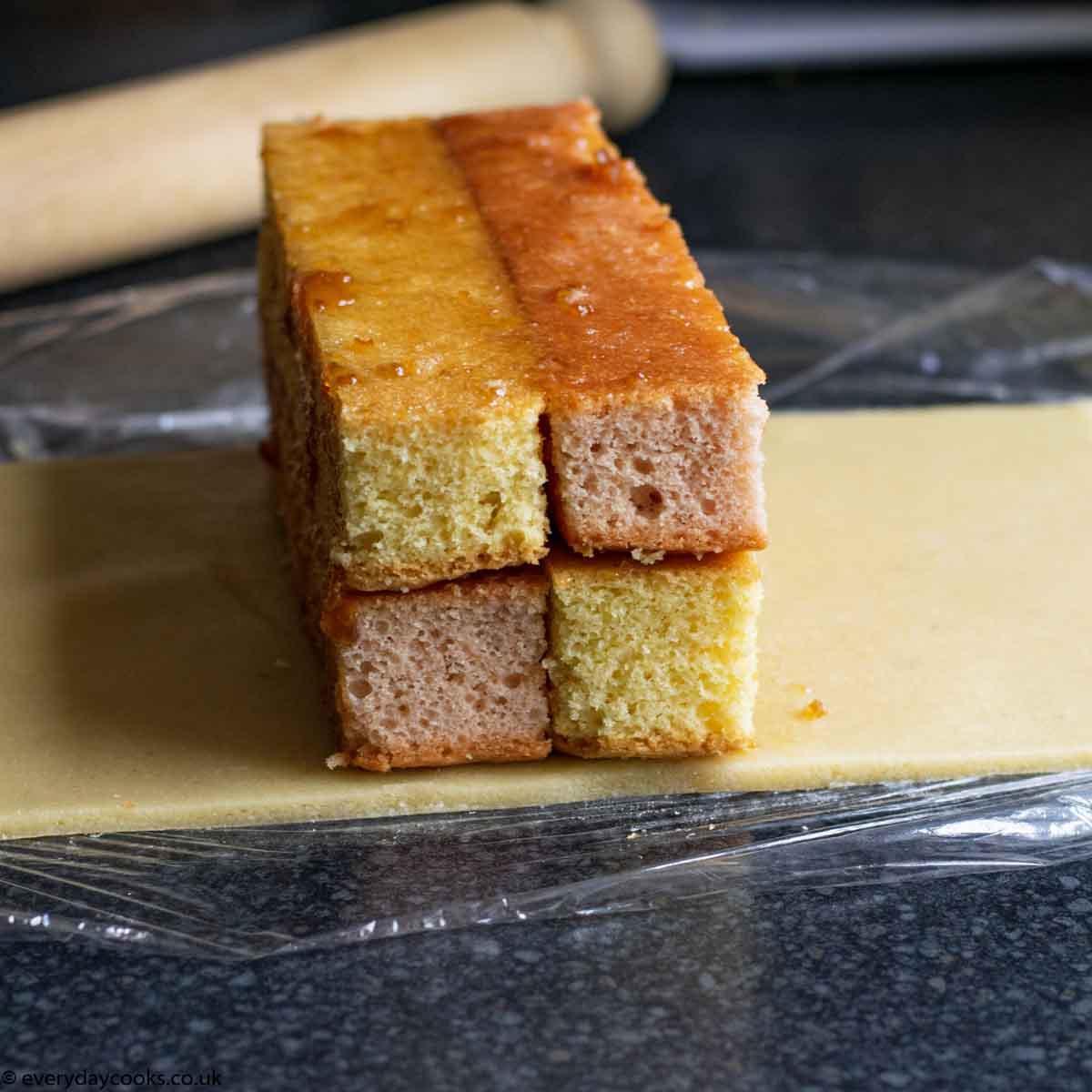 The trick to the marzipan is getting it wrapped tightly enough around the cake.
Lift both edges of the marzipan using the clingfilm. Pull them tightly up and over the cake, gently smoothing the marzipan onto the cake with your hands. Press into the cake slightly so the marzipan sticks, then unpeel the cling film.
At this stage, the cake will probably look very untidy
If the sides don't meet, use your fingers to slightly stretch the marzipan and smooth it together so that you don't see the join (see below)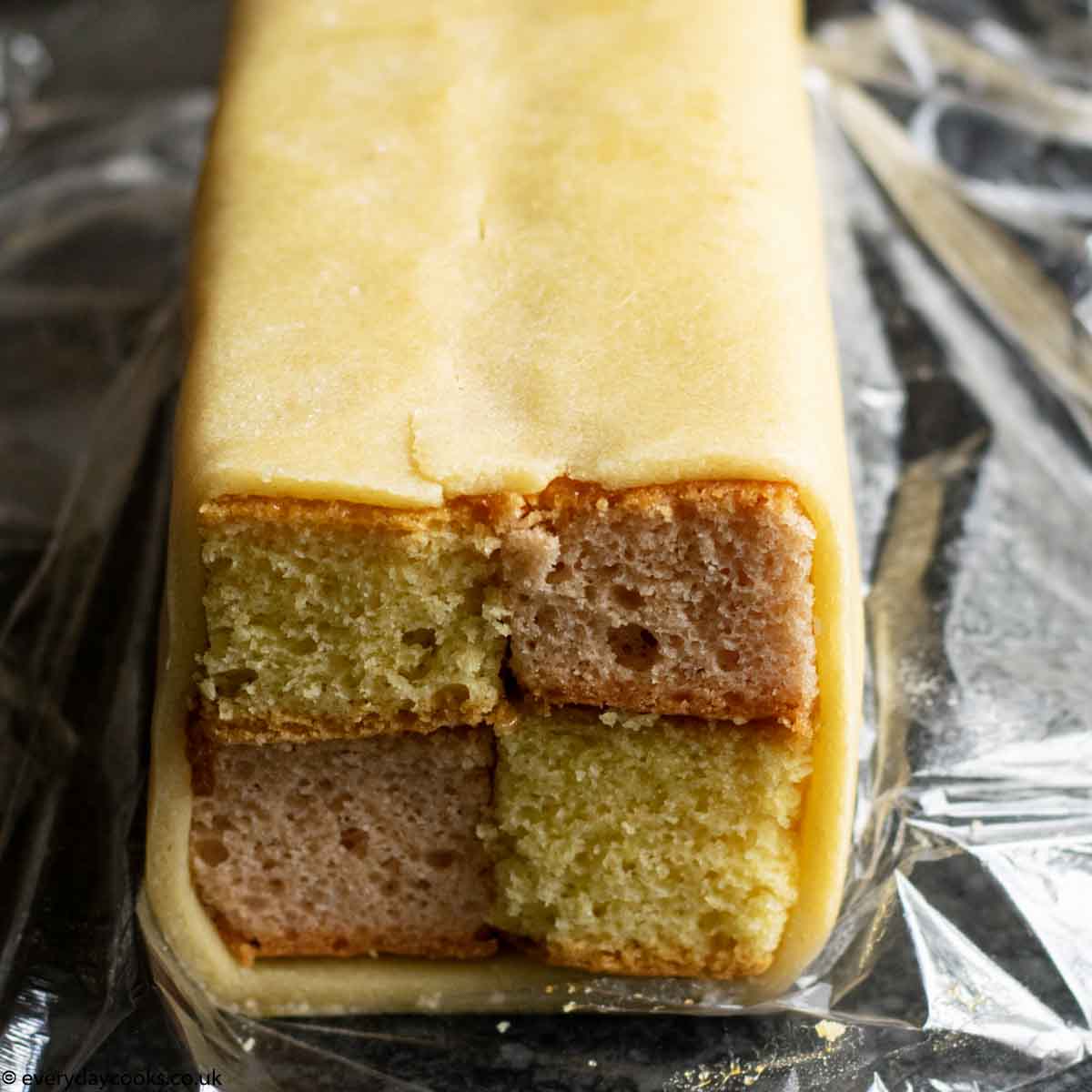 Put the cake in the fridge for an hour or so if you have time so that it cuts cleanly. Trim the ends off to neaten and you will have a beautiful cake.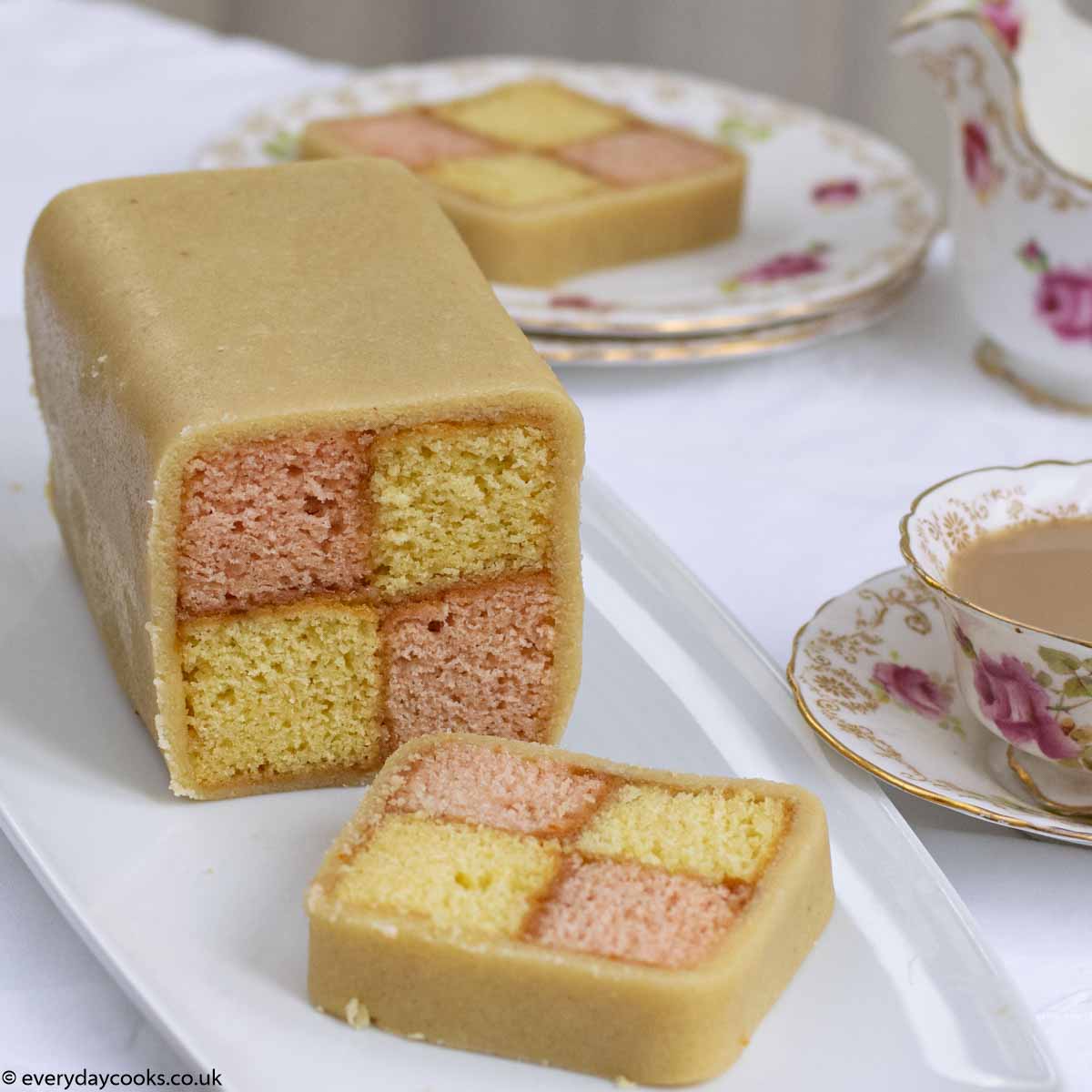 Why is my cake dry?
If your cakes turn out dry, check out my article Why Is My Cake Dry? for some of the most common reasons and the solutions.
How long does a Battenberg keep?
Up to a week in the fridge in an airtight box.
Can I freeze my Battenberg Cake?
You can freeze the cake. It keeps well for up to a month. After that the texture may be a little dry. Wrap in foil or a beeswax wrap and put in a plastic box to keep at its best.
What equipment do you need?
Baking tin
You need a tin or two. If you have 2 2-lb loaf tins that is probably the easiest option. Otherwise a 20cm (8-inch) square cake tin or traybake tin will work. I line this with a baking parchment square so that the cake comes out easily.
If you plan on making several Battenberg Cakes or you want to save space by only having one square cake tin, you could invest in a multi-size cake tin, which has adjustable sides.
If you like this...
...Why don't you try: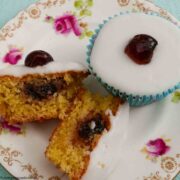 Cherry Bakewell Cupcakes have an almond cake with raspberry jam, iced and topped with a cherry.
Iced Cherry Cake, made in a loaf tin, is a favourite for afternoon tea. Easy to make using the all-in-one method, this cake will keep for a couple of weeks.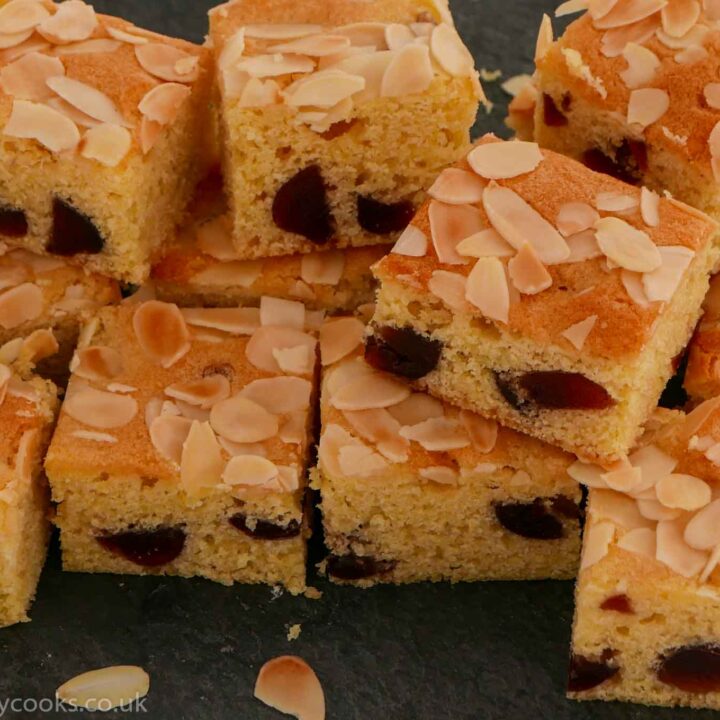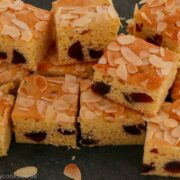 Quick and easy Cherry and Almond Traybake. Great for tea or pudding.
Pin for later
Hover over any picture on the page and hit the Save button to pin the image to one of your Pinterest boards.
Recipe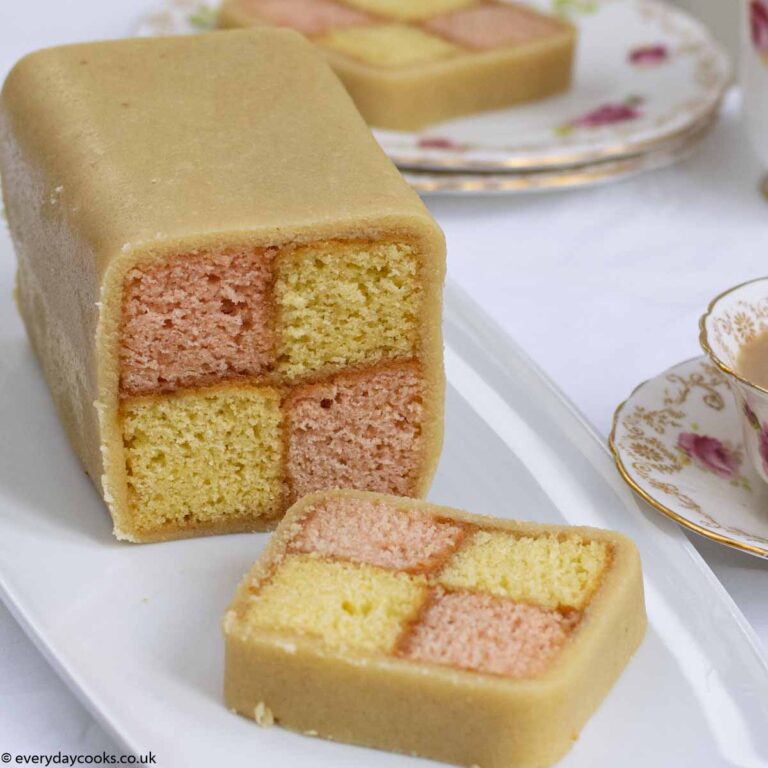 Print Recipe
Easy Battenberg Cake
A pretty, traditional pink and yellow check sponge Battenberg Cake, sandwiched with jam and covered in marzipan, is a classic English cake for teatime. And it's easier to make than it looks.
Ingredients
For the cake:
200

g

butter

200

g

caster sugar

3

large eggs

½

teaspoon

almond extract

(2.5ml)

220

g

self-raising flour

1

level teaspoon

baking powder

(5ml)

Red or pink food colouring
To decorate:
100

g

apricot jam

450

g

marzipan,

bought or homemade
For the marzipan, if making:
200

g

ground almonds

100

g

caster sugar

100

g

icing sugar

1

egg,

separated

1

tablespoon

lemon juice, brandy, or amaretto

(15ml)
Instructions
Preparation:
Preheat the oven to 180°C/ 160°C fan/ gas mark 4/ 350°F

Line the base of the tin(s) with baking parchment (not necessary for loaf tins if they are non-stick).
To make the cake:
Put all the cake ingredients, except the colouring, into a large bowl or mixer/processor and beat well until smooth. (Butter, sugar, eggs, almond extract, flour, baking powder)

Divide the mixture in two, weighing to make sure they're even. Spoon half the mixture into one side of the tin and level the top. Quickly mix the colouring into the other half of the mixture until you have an even pink colour and spoon into the other side of the tin, carefully levelling the top.

If you are using 2 tins, put one colour cake into each tin.

For a single cake, bake for 30-35 minutes. For 2 loaf cakes, bake for 25-30 minutes

The cake is ready when a skewer comes out clean or the top bounces back when you press it gently with your finger. Cool in the tin for at least 15 minutes then transfer to a wire cooling rack.
For the marzipan, if making:
If using a food processor, blitz the dry ingredients briefly. Otherwise, sift the icing sugar and thoroughly mix together with the caster sugar and ground almonds.

Add the egg yolk and lemon juice (or spirit) and mix. Add enough egg white to make a smooth, dry paste. If the marzipan gets too sticky, add more ground almonds.
To assemble:
Make sure the cake is completely cool.

Cut the pink cake from the white one if necessary. Place both cakes on a board and trim the sides to give straight edges and to make the cakes the same size. Cut each cake in half lengthwise to give four equal strips

Warm the jam in a small pan or microwave. Roll out the marzipan between 2 pieces of clingfilm and trim to make a rectangle about 20cm x 30cm. Remove the top piece of clingfilm

Spread each piece of cake with jam on all the long sides and sandwich together in alternating pairs

Place the cake in the middle of the marzipan and wrap it up tightly using the clingfilm to pull the marzipan up and round, smoothing it on to the cake with your fingers. The edges should meet in the middle of one side. If you have a gap, smooth the marzipan edges together with your fingers. Trim the edges of the marzipanned cake to neaten.

See the post for detailed instructions.
Notes
Everyday Cooks tips
Flavour the layers:
Use almond or vanilla extract in the yellow layer
Crush and sieve 20g freeze-dried raspberries into the pink layer instead of colouring
Use raspberry jam to sandwich the cakes together.
Storage:
Keep in an airtight box in the fridge for up to a week
Freeze for up to a month. Wrap in foil or beeswax wrap and store in a plastic box.