Heart-shaped rose-scented Valentine Biscuits with pink icing and sprinkles. How romantic is that?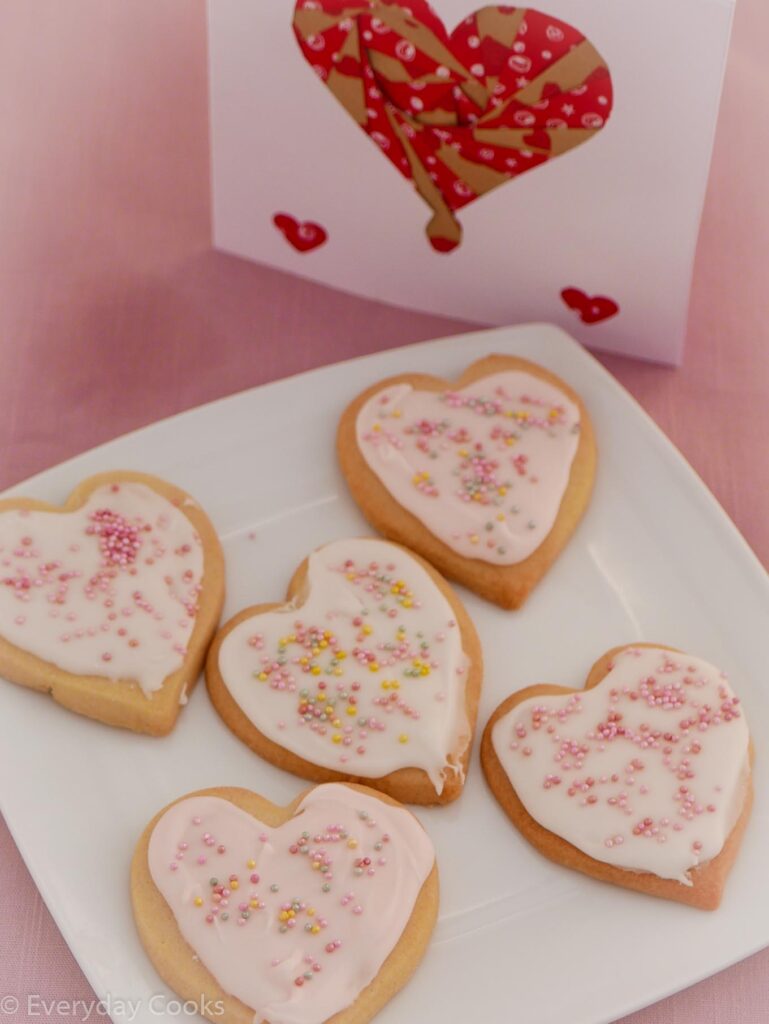 I don't always bother to make something special for Valentine's day. I think I got out of the habit when work was very demanding and didn't ever get back into it. These days, though, I like the idea of celebrating small events with special food, so here we are with Valentine Biscuits.
Key Ingredients in Valentine Biscuits
Butter
Butter always tastes best and you know what's in it. Enough said.
Rice flour
Rice flour gives a soft texture to the biscuits. You could use semolina for a slightly crunchier biscuit but if you have neither, just use flour.
Rosewater
I'm rather partial to using rosewater, e.g. in Strawberry and Rhubarb Crumble, and the idea of rose biscuits for Valentines Day appeals. If you don't have any, use any flavour that you like, e.g. orange or lemon zest or extract, or vanilla extract.
Dried egg white
Using dried egg white in the icing gives it more body, like Royal Icing but without the faff. If you really don't like the idea or don't have any, you could use water and icing sugar to make Glacé Icing
Colouring
I try to avoid unnecessary colouring, so a little on a biscuit isn't going to hurt. You can buy natural colouring, as I have often done when the children were small, but do check what's in the colouring if anyone has allergies e.g. some contain nut extracts.
Sprinkles
The idea of using sprinkles on an adult biscuit seemed a bit absurd but the choice is enormous so you can find something you like (or have left over).
Secrets of Success
Make a cheat's version of Royal Icing
One of the reasons I don't often ice biscuits is that Glacé Icing (icing sugar and water) can be runny and unstable in warm weather. Royal Icing gives a better consistency, but it seems a big effort for biscuits.
I've read about adding dried egg white to the icing to make a kind of faux Royal Icing, so I thought I'd give it a go. (Having got over my initial reaction of Who in their right mind would use dried egg whites?)
Having tried it, this has become my preferred icing for biscuits and cookies - definitely worth keeping sachets of dried egg-white in the store cupboard.
Enjoy decorating your biscuits
I have in my mind that you have to pipe an outline on biscuits and then fill it in with icing. In fact, I know this is the best way to do it, but I didn't and these aren't Instagram-ready perfect biscuits. But they are delicious and your loved one will thank you.
What I learned
Sprinkles are very useful in disguising less-than-perfect icing-in-a-hurry
Dried egg white is not a dodgy, alien substance that only inferior cooks use. It's actually ideal for adding to Glacé Icing to stop it spreading everywhere (because I really cannot bring myself to make Royal Icing from scratch for biscuits)
Food colouring - especially two drops of a natural one - is not going to kill me or my loved ones, and looks rather pretty.
What equipment do you need?
Making Valentine Biscuits was also an excuse to buy a set of Tala heart cutters. I used the smallest size for my biscuits, and I'm thinking of uses for the others.
If you like this...
...Why don't you try: