Very easy Valentine cupcakes, using a standard chocolate cake recipe with fruit-flavoured buttercream. Perfect for a Valentines Day tea or as dessert.
Looking for an Easy Valentine Cupcake
When I started looking on Pinterest for easy Valentine cupcake recipes I found myself spending ages marvelling at a) the ingenuity of some cooks and b) what some people call easy.
I was quite taken with a couple of ideas. One of them was to overfill the paper case, cut off the excess when it was cooked and cut out a heart shape, then spread a layer of frosting over the cake and replace the top so that you can see the pink heart. I thought I'd give those a go, but it didn't quite work out.
First, I only had cupcake/muffin cases that looked suitably Valentine-ish. I prefer to make smaller fairy cakes because I think they're a better size to eat. Although I put lots of mixture in the cases, I found I hadn't overfilled them, so the cake just came to the top of the case. Normally, this would be perfect but not this time.
A Modified Butterfly Cake
I tried cutting the top off but it was a mess, so I thought I'd cut out the top the same as for Butterfly Cakes, which gives a cone shape in the cake. I levelled off the top piece and cut out a heart shape. It all crumbled because the top was crisp. Not a problem, cutting the rest out from the soft underside was successful.
I spread some buttercream on the cake and planted the cut-out heart on top. Bit of a disappointment. What looks perfectly acceptable on the table can look a bit untidy in a photograph. Photography isn't my strong suit and I know I have to make an effort for Pinterest etc. but I don't want to spend ages making things look nice just for the picture. I feel very strongly that I don't want to be misleading about how long recipes take and how straightforward they are. I don't want to call this a recipe for Easy Valentine Cupcakes and then take half an hour titivating the cakes for the photo.
Pipe the Buttercream
Today's compromise was to pipe the buttercream onto the cakes, which actually was a better idea anyway. Maybe sometimes I'm just too lazy. I did get a bit carried away with icing the first cake, which ended up being about 50% buttercream, so I had to cut down a bit to make it more palatable (for me) and to have enough for all the cakes.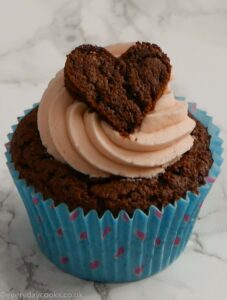 Because I have an aversion to using loads of food colouring, I figured that red jam (any flavour) would be a good addition to the icing. You have to sieve the jam first or you would have speckles in the buttercream - although that might look quite nice. Alternatively, you could use a seedless jam like I did. Actually, mine was strawberry and rhubarb that a friend made. The rhubarb means that the jam isn't so sweet, which gives a nice sharp flavour to the buttercream. My dear friend isn't a particularly keen cook (but you should see her patchwork!), so the jam might be an easy recipe. If so, you'll see it here soon.
If you like this...
...Why don't you try: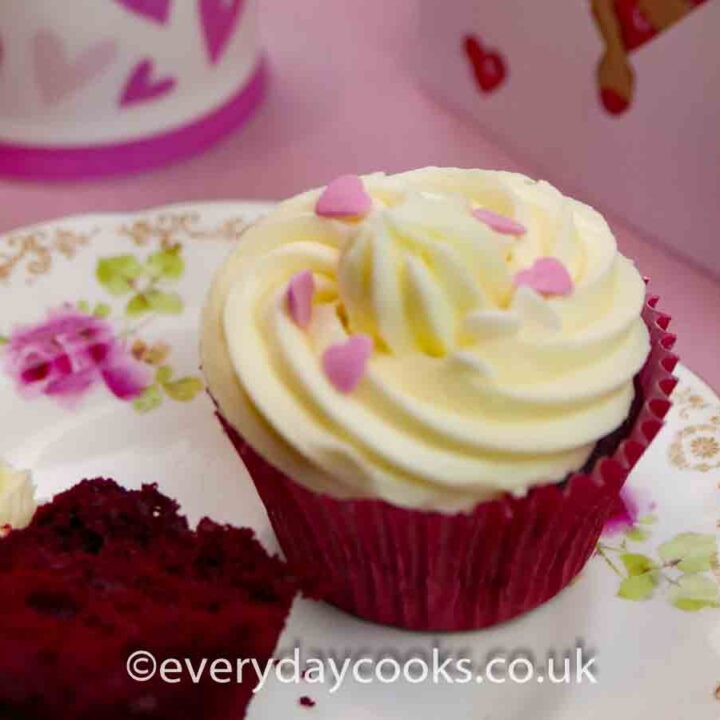 Red Velvet Valentine Cupcakes, with a cream cheese frosting - rich, red, and decadent.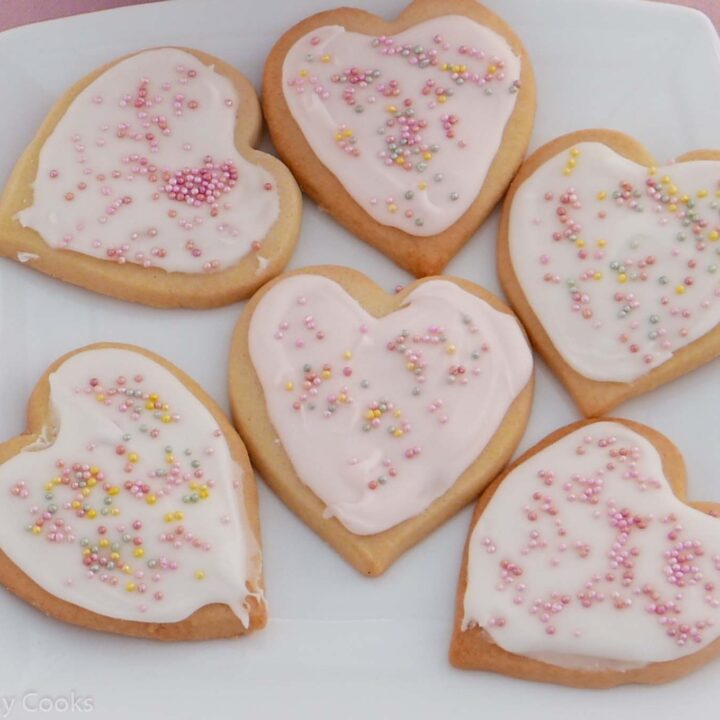 Heart-shaped rose-scented Valentine Biscuits with pink icing and sprinkles. How romantic is that?
Valentine Jammy Dodgers are vanilla biscuits with a jammy heart centre.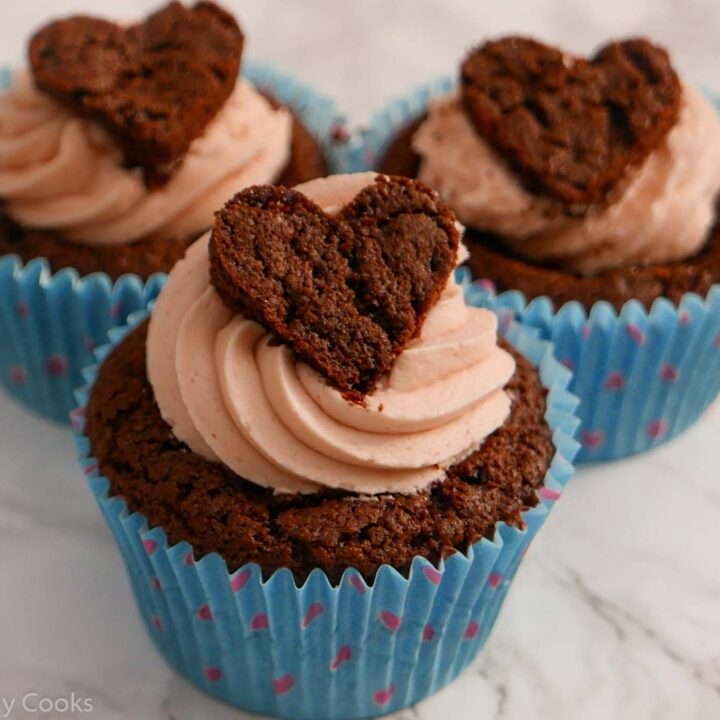 Print Recipe
Easy Valentine Cupcakes
Very easy Valentine cupcakes, using a standard chocolate cake recipe with fruit-flavoured buttercream. Perfect for a Valentines Day tea or as dessert
Ingredients
Same weight of:
150

g

caster sugar

150

g

butter,

at room temperature

25

g

cocoa powder,

the darker the better

125

g

self-raising flour

1

teaspoon

baking powder

(5ml)

1

teaspoon

vanilla extract

(5ml)

Large pinch of salt
For the buttercream:
75

g

butter,

at room temperature

150

g

icing sugar

2

tablespoons

red jam,

rounded tablespoon (45ml) - see note

Red colouring
Instructions
PREPARATION:
Preheat the oven to 190°C/ 170°C fan/ gas mark 5/ 375°F

Line the muffin tin with 10 paper cases
For the cakes:
Beat the cake ingredients together thoroughly

(Butter, caster sugar, eggs, cocoa, flour, baking powder, salt, vanilla extract)

Divide the mixture between the paper cases

Cook for 15-20 minutes until the cake surface springs back when you touch it lightly with your fingertip

Leave in the tin for 5 minutes, then remove and leave to cool on a wire rack.
For the buttercream:
Sieve the jam (if using)

Beat the softened butter and jam (if using) with an electric hand mixer. Add the icing sugar gradually, beating well as you go

Add 2 drops of colouring if you want and mix in well. Add more colouring to get the colour you want
To decorate the cakes:
Cut the tops off the cakes using a sharp knife. You will have a cone-shaped hole in the cake

Trim the lid to flatten it a bit and cut a heart shape out from the underside

Pipe a swirl of buttercream into the cake. Position the heart shape onto the cake
Notes
Jam: Any red jam will do. If you want an even colour you will need to sieve it to remove the fruit or you can use a seedless jam. Using jam means that you need less food colouring, but you could do without.