This is an everyday chocolate sponge cake that I make whenever I feel the need for something chocolatey, but not too rich. I've often used it as the base for a chocolate birthday cake as it's quick and easy to make.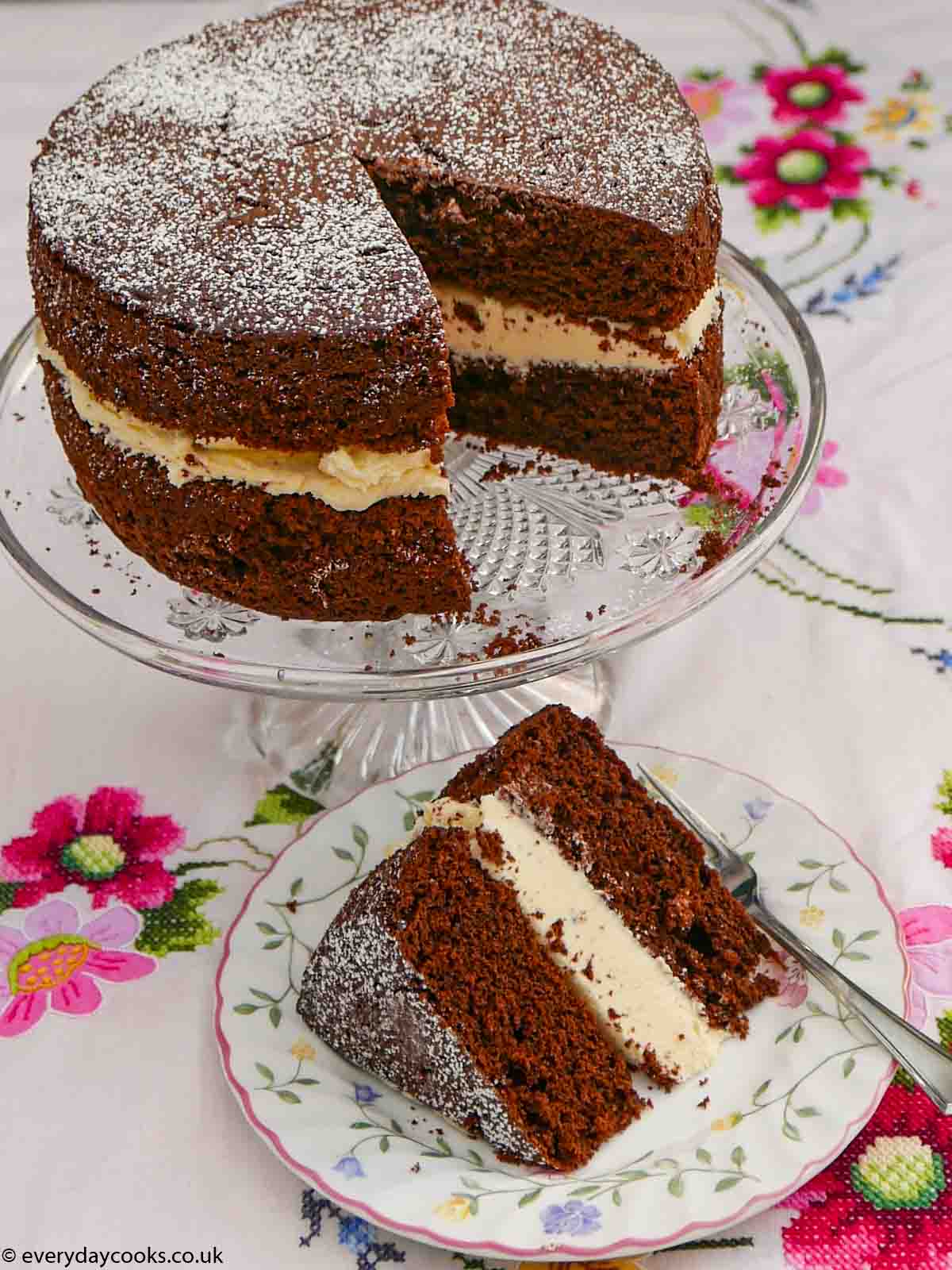 This chocolate sponge cake recipe is a variation on a Victoria Sandwich cake, using the all-in-one method, so it's a nice easy cake to make. Essentially, you just substitute cocoa powder for some of the flour and make it in the usual way.
This isn't a rich chocolate cake but it tastes very good. It's one of the best cakes I know, because what makes a good cake isn't how elaborate it is but, rather, the quality of the ingredients.
It's a simple chocolate cake with buttercream filling, vanilla in this case, but you could easily make it chocolate or coffee instead.
Key Ingredients in Chocolate Sponge Cake
Cocoa
It's worth using good quality cocoa in chocolate cakes. It's tempting to buy a cheaper brand for cooking with but you're paying for the quantity of cocoa solids. The more you have, the better the cake will taste, making this easy chocolate cake into a really tasty chocolate cake.
The main thing though is not to use drinking chocolate because it is largely sugar and milk powder.
Butter
I take a different approach to butter and sometimes use a cheaper brand than I would eat, but I do always use butter because it tastes better and you know what's in it.
What if you don't have large eggs?
The only thing to say about eggs is you need large ones to get the ratio of ingredients right.
If you don't have large eggs, you can revert to the gold standard for this type of cake. Weigh the eggs in their shells then use the same weight of butter, sugar and flour+cocoa (i.e. the flour and cocoa together equals the weight of the eggs).
Ring the changes
Make a smaller or larger cake
This recipe is for an 18cm (7-inch) chocolate cake. To make it bigger or smaller use these quantities, which work for all cakes based on a Victoria Sandwich recipe, including Coffee Cake and Lemon Drizzle Cake.
15cm (6-inch) cake - 2 large eggs, 125g butter and sugar, 20g cocoa, 105g flour, 1 teaspoon baking powder.
20cm (8-inch) cake - 4 large eggs, 250g butter and sugar, 35g cocoa, 215g flour, 2 teaspoons baking powder.
If you want a square cake, use this formula:
18cm (7-inch) square cake = 20cm (8-inch) round cake
15cm (6-inch) square cake = 18cm (7-inch) round cake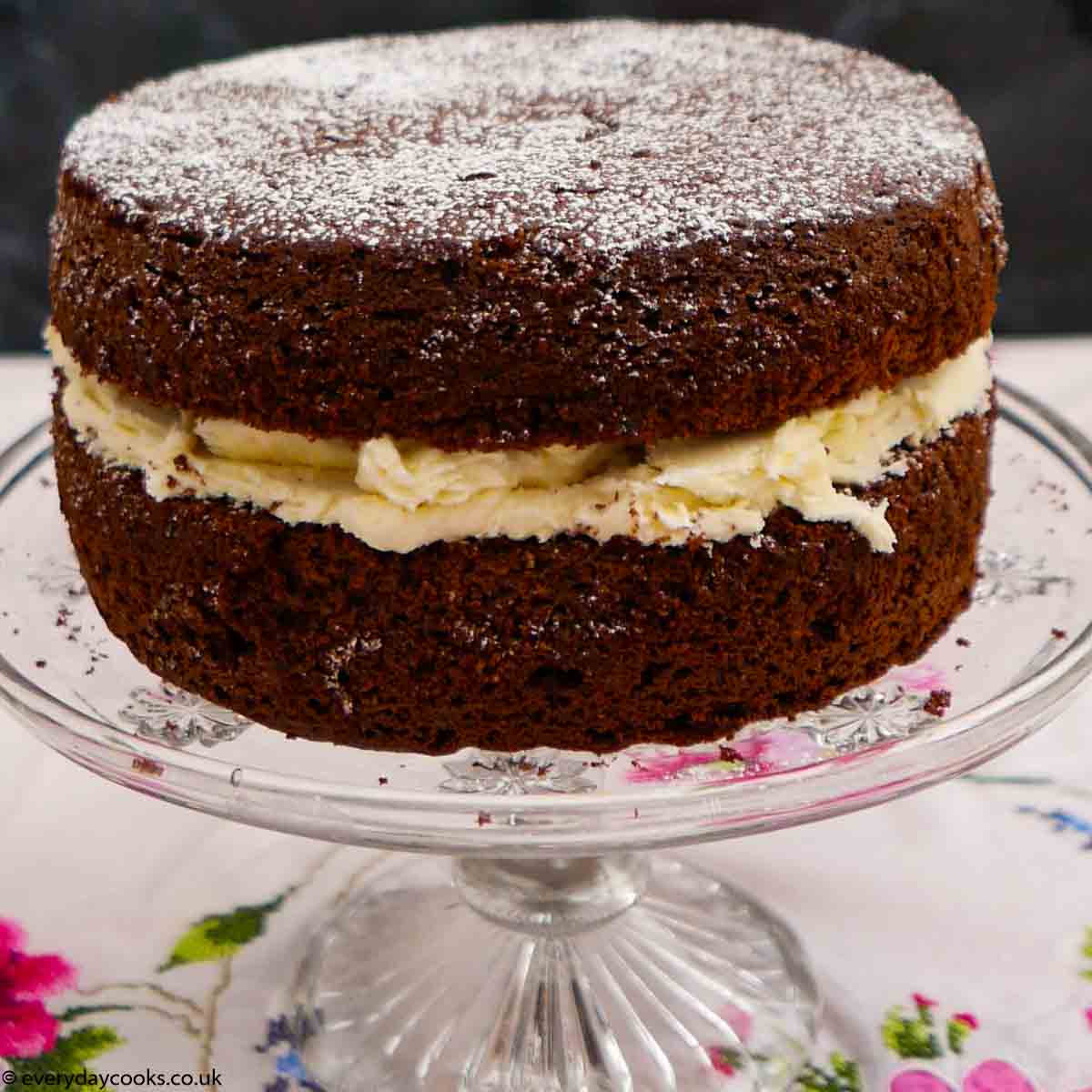 Change the filling
You can make a chocolate cake with a fresh cream filling or, as in this recipe, buttercream.
For coffee buttercream icing, add 2 teaspoons of instant coffee dissolved in as little hot water as it takes.
For chocolate buttercream, use 20g cocoa instead of 20g of icing sugar.
I tend to make a lot of buttercream for this classic chocolate cake because we like it. You could get away with less, or you could spread a layer over the top as well and run a fork through to get a pattern.
Secrets of Success
Like most of my baking, this is an all-in-one recipe for chocolate cake, making it almost foolproof. The key is to mix the ingredients well enough so that they are completely combined, but not to over-mix them by leaving the processor or mixer on for too long.
You need soft butter
All-in-one recipes need soft butter. Room temperature is fine unless you have a cold kitchen. Some brands of butter soften at a higher temperature than others, so it may need a little help.
Why is my cake dry?
If your cakes turn out dry, check out my article Why Is My Cake Dry? for some of the most common reasons and the solutions.
How long will it keep?
The cake keeps well for up to a week in an airtight box – preferably in the fridge.
Does a chocolate sponge cake freeze?
The un-iced cakes can be frozen for up to a month. Wrap and store in an airtight plastic box.
What equipment do you need?
Baking parchment circles – Such a simple idea. Gone are the days when you had to draw round the base of the cake tin and cut out your own parchment circles. A pack in mixed sizes lasts for years.
Splatter lid – This saves your kitchen surfaces from being covered in icing sugar. Cover your mixing bowl with the lid, poke the beaters through the hole and keep the ingredients safely in the bowl and your worktops clean.
Magimix Food Processor – Of course, any processor will do, but I can recommend the Magimix, having had the same one for 25 years. It's needed a couple of new bowls and lids in that time, but the motor is still going strong.
If you like this...
...Why don't you try:
Pin for later
Hover over any picture on the page and hit the Save button to pin the image to one of your Pinterest boards.
Recipe