Valentine Jammy Dodgers are vanilla biscuits with a jammy centre in a heart shape. Easy to make with children or make for your own Valentine.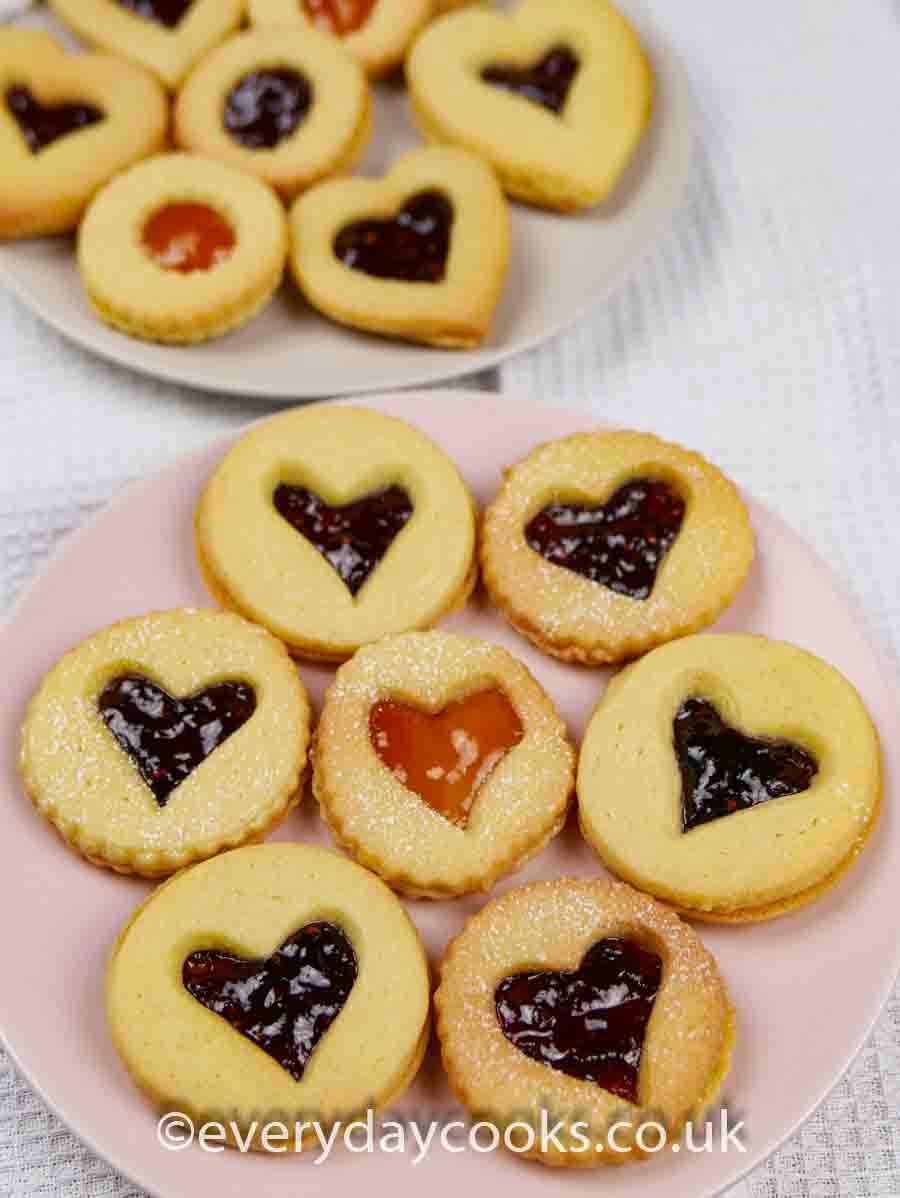 Valentine Jammy Dodgers
I intended to make heart-shaped biscuits only, but when I was in IKEA this week, I saw that they had some round Jammy Dodger-type biscuits with hearts cut out of the centre. They looked so appealing that I thought I'd give them a go and actually, I think I prefer them! Anyway, whichever you like, it's only a matter of choosing your cutter.
These biscuits are a basic vanilla and butter biscuit, which isn't too rich. Adding the jam makes them a bit more special. I've used mostly strawberry and raspberry jam, with the odd apricot one thrown in as it is Keith's favourite!
Do I need a mixer to make the biscuits?
No, but it takes the hard work out of it. You need to beat the butter and sugar thoroughly and then beat in the egg, so some serious elbow-power is needed. I sometimes have to remind myself that when I cooked biscuits as a child the most assistance I had was a whisk with a handle to turn (but I preferred a wooden spoon), so it really shouldn't be a deterrent to make these by hand.
A point to note is that the butter needs to be soft, or you're making more work for yourself.
Do I need a heart cutter for Valentine Jammy Dodgers?
You can use whatever cutters you have. If you make, or intend to make, lots of biscuits, then it's worth investing in some fancy cutters, but otherwise, a set of round cutters is a good bet. They can have a crinkly edge or a plain edge - I've used both here. It's nice to have a heart cutter for the centres - as it is for Valentine's Day - but, really, just making the biscuits is a lovely gift for someone (and I hope they're very grateful!).
Helpful Tools
If you like this...
...Why don't you try: