I know fondant icing looks great on a Christmas cake, but it's a bother to make so royal icing gets my vote most years. And yes, you can buy it, but if I've actually managed to make a cake, I don't want to spoil the home-made flavours with bought icing. Just call me picky.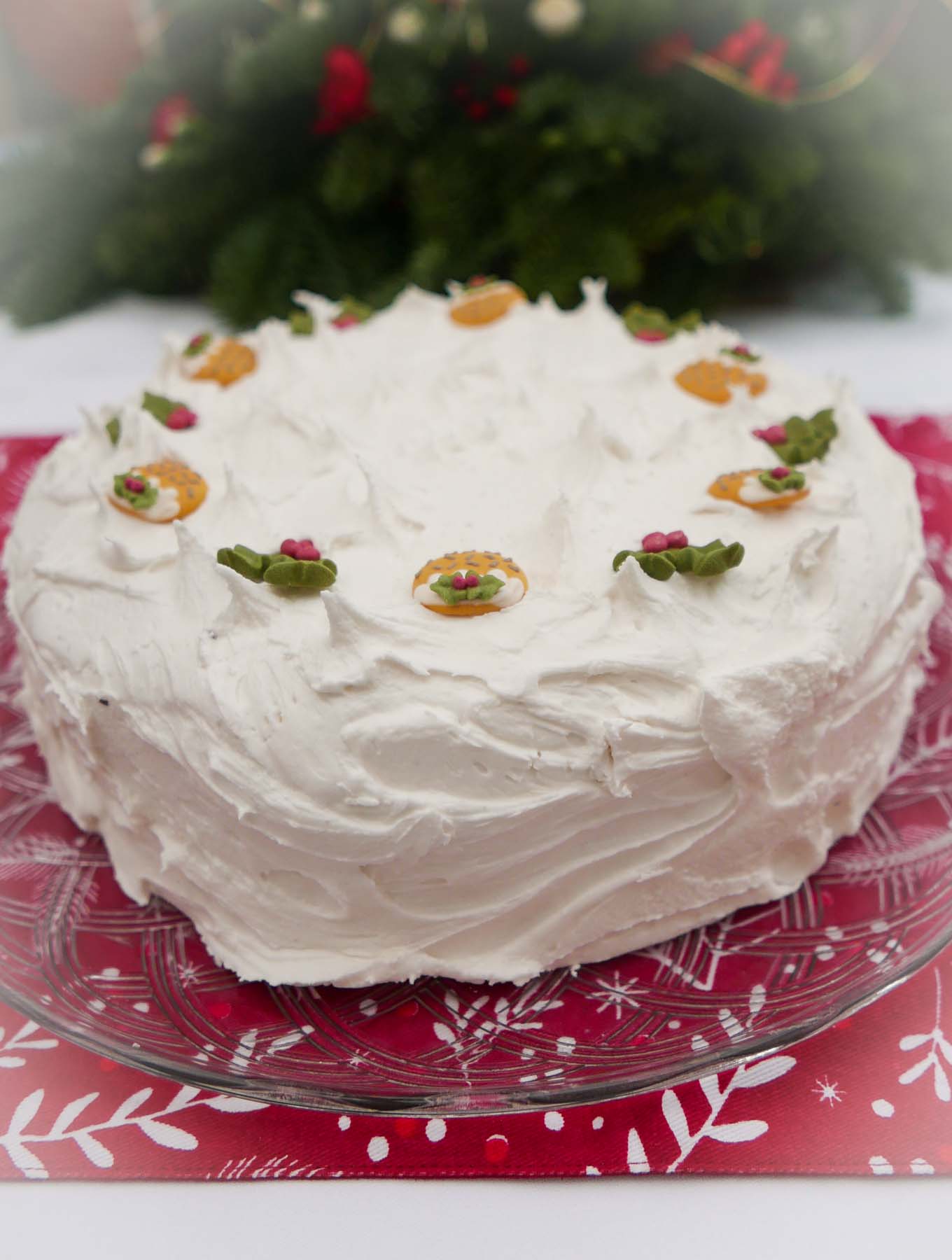 Royal icing is so forgiving. If you are in a hurry - think late on Christmas Eve - you can mix it up, slap it on, and find something in your cupboard to decorate the cake with.
Key ingredients in Royal Icing
Icing sugar - to sieve or not to sieve?
If the icing is freshly bought and opened you might feel you don't need to sieve it. If you have the tiniest doubt, get the sieve out. You don't want any lumps on your Christmas Cake
If you don't have a cover on your mixer, I strongly recommend a splatter lid which will help avoid icing sugar everywhere.
Are egg whites safe?
Use fresh eggs as the cake may last a few weeks. Sugar is a preservative so nothing will go off. In the UK it is perfectly safe to eat raw eggs that are British Lion stamped.
If you have any doubts or want more information, see the NHS guidance on eggs.
Glycerine - animal or vegetable?
Glycerine is used to soften the icing, which would otherwise get very hard. It used to be made from animal fat, but these days most of it is vegetable in origin. Do read the label if it matters to you.
Dr Oetker glycerine is vegan and widely available.
Flavourings
You can use a couple of teaspoons of lemon juice to counteract the sweetness. Or you could try a teaspoon of rosewater or orange flower water for a subtle flavour.
As I put all these in my marzipan, I don't add anything extra to my icing - but feel free.
Secrets of Success
Don't rush adding the icing sugar! Add a spoonful at a time to get the right consistency and avoid covering your kitchen in a layer of fine white powder.
How to decorate your Christmas Cake
For years I had a pack of Santa candles that I looked at every December and ignored. One year I finally put them on the cake, burned them and threw them away. One small step towards the ongoing decluttering!
Edible and inedible decorations
A quick trip to the supermarket usually yields some type of sugar Christmas cake decorations like these sweet holly and pudding buttons - with the bonus that you can eat them and you don't have to find a home for them after Christmas.
For more selection look early or go online - Amazon has a good variety of Christmas cake decorations.
Ribbon around the sides?
If you have a little more time, you could add a red or gold ribbon around the side of the cake.
If you find it slips around, add a few dabs of icing to the underside and it will stick to the cake. A pin under the bow also helps - but do remember to remove it before anyone eats it!
The sad truth is that my family will look at the cake, say something nice and then the children will eat something else because they don't really like fruit cake. That said, they are more likely to try this lighter fruit cake than a traditional matured one, which is definitely for an older generation only, apparently.
If you like this...
...Why don't you try:
And if you want a quick and easy recipe for marzipan:
Pin for later
Hover over any picture on the page and hit the Save button to pin the image to one of your Pinterest boards.