Salmon and Broccoli Bake is a quick and easy, low carb meal. Everything you need for dinner in one dish.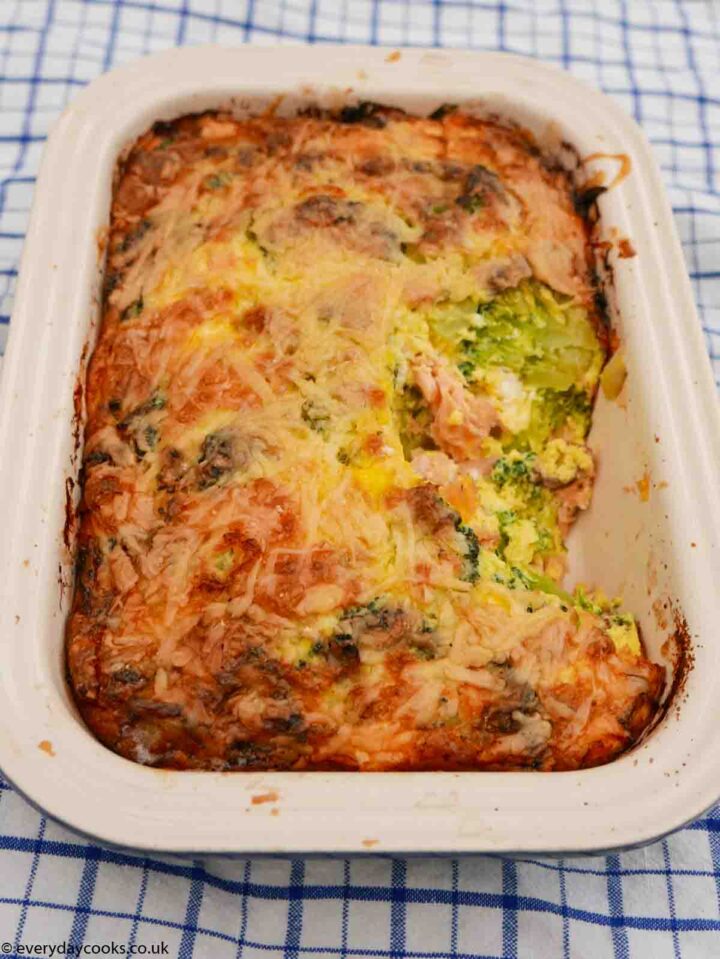 Eating low-carb
Let's be honest, if you're going low-carb you're going to up the amount of fat and/or protein in your dinner. In this case, it's both.
I think we have different metabolisms and digestive systems, so different foods suit us. I know that a heavy carb meal is not ideal for me. That doesn't mean that I don't occasionally indulge in a plate of pasta, but I don't feel great afterwards and my inclination anyway is more towards fat and protein.
Of course, that's ideally combined with a lot of vegetables and Salmon and Broccoli Bake is a recipe that has loads of broccoli in it so that you don't need any extras. I should say that I don't eat this kind of meal every day. Mostly if I want a low-carb day, it's a Baked Salmon Fillet with a plate of steamed vegetables and some home-made mayonnaise to keep up my olive oil intake.
Key Ingredients in Salmon and Broccoli Bake
Hot-smoked Salmon
I use hot-smoked salmon fillet in this recipe. It's quite rich and has quite a strong taste. It's not always easy to get hold of, so I'll use lightly smoked salmon fillets instead sometimes. Fish isn't the only source of protein, so there isn't loads - about 250-300g, depending on the sie of the fillets.
Feta cheese
The saltiness of the cheese works well with smoked salmon and stops the whole dish being too rich.
Eggs and cream
There's a lot of cream in this recipe. The thing is it's low-carb and milk isn't. It uses 6 eggs too - so plenty more protein there.
In general, I would say this is a good meal if you're entertaining and want a meal with no carbs. And it's always a good idea to have one recipe like this in your repertoire so that you can cater for any type of eater.
Secrets of Success
Don't over-cook the broccoli before it goes into the dish. Other than that, it's a pretty forgiving recipe.
Is Salmon and Broccoli Bake gluten-free?
None of the ingredients contains gluten.
What equipment do you need?
If you like this...
...Why don't you try:
Pin for later
Hover over any picture on the page and hit the Save button to pin the image to one of your Pinterest boards.