Paprika Chicken Casserole is a variation on Basic Chicken Casserole, which can be made ahead and put in the oven on a timer. Dinner ready when you get home!
Paprika Chicken Casserole
I love a meal that I can prepare ahead and put in the oven on the timer at the beginning of the day, knowing that I'll come home to dinner ready to eat. Paprika Chicken Casserole uses the Basic Chicken Casserole as its base and takes only about 15 minutes to put together. Leave in the fridge overnight and put it in the oven in the morning with the timer set for 1 ½ hours. You'll come home to the warming smell of dinner already cooked. Just stir in soured cream and serve with rice. Add some frozen peas to the rice if you want more veg. And if you're late the casserole won't spoil. The worst that will happen is that you need to heat it up a bit more.
To make this as easy as possible, I've used a jar of roasted peppers, which I usually keep in my store cupboard. At least I think I do. When I came to make this I found that when I'd picked up the peppers I had not seen the word piccante. Oops, instead of sweet peppers I had bought chilli peppers. They are hot. I reckon they'll last for some time because we don't eat much hot food. One or two per dish is all I'll need.
I bought the jar from my favourite Italian deli, The Pasta Shop in Peterborough. If you're in that area, do visit. It's been owned by the same family for generations, and it was a favourite place for my Dad to shop. We often went over there when I visited. I stock up on 5-litre cans of olive oil and buy tinned tomatoes by the dozen every time I go. Clearly, I should read the labels a bit more carefully though. It's very easy to get carried away by all the delicious looking food. In particular, I buy pizza dough and 'all the doings' to make pizza at home.
So I'm afraid it was Waitrose to the rescue and a jar of roasted red peppers from there to add to my casserole. I like using paprika in recipes, especially as you usually need to use quite a bit so I don't feel it languishes in the cupboard for too long. I prefer the mild version, and these days I buy smoked sweet paprika (La Chinata is my favourite). Of course, if you like more spice in your food, you could use hot paprika or a mixture of the two. Just make sure to read the labels!
The other ingredients are always in my cupboard - tinned tomatoes and tomato puree. I use little tins of puree (140g) for big batches of Basic Bolognese, for example, and tubes when I just want a small amount. The opened tube will keep in the fridge for months.
So, in theory, all I had to buy was the soured cream, otherwise you can use crème fraiche, Greek yoghurt, or in an emergency add a few drops of lemon juice to double cream until it thickens. A soured cream emergency - definitely a first world problem.
If you are at home cooking this to eat tonight and you want it quicker, you could heat it in a saucepan for about 30 minutes instead of in the oven. Either way, another way to eat chicken casserole.
Paprika Chicken Casserole is one of four variations on the main recipe Basic Chicken Casserole. Other recipes are Chicken Cobbler, Chicken and Leek Pie and Moroccan Chicken.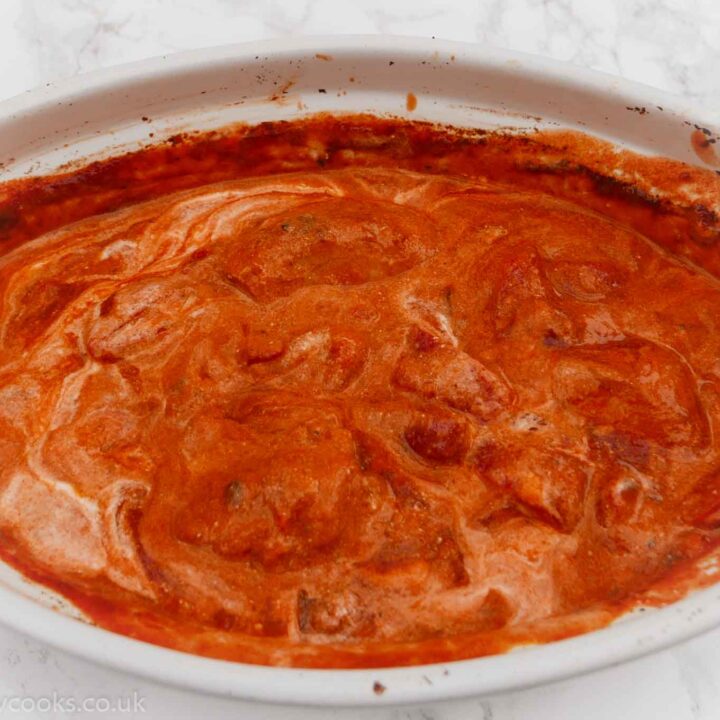 Print Recipe
Paprika Chicken Casserole
Paprika Chicken Casserole - chicken and roasted red peppers in a rich tomato sauce with soured cream. Ideal to prepare ahead and cook on the timer.
Ingredients
1

tablespoon

paprika,

level tablespoon (15ml) (see Note)

1

x 400g can chopped tomatoes

1

tablespoon

tomato puree,

heaped tablespoon (40ml)

300

g

jar roasted red peppers,

about 200g net weight of peppers

1

portion of Basic Chicken Casserole

150

ml

soured cream
Equipment
1-litre casserole dish with a lid
Instructions
Preparation:
If you are cooking immediately, set the oven to 190°C/ 170°C fan/ gas mark 5/ 375°F (see Note)

If your tomatoes are watery, drain some of the liquid off

Drain the peppers and slice thinly. Discard the seeds if you feel inclined
For the Paprika Chicken Casserole:
In a medium-size bowl, mix the paprika with the tomato puree, slowly adding in the juice from the tomatoes. Add the tomatoes and sliced peppers to the mixture

Mix all this with the Basic Chicken Casserole in the casserole dish

Cook in the oven for 1 ½ hours

When the casserole is ready, add the soured cream, stir through and serve.
Notes
Paprika: I use smoked sweet paprika, but use hot paprika if you want more fire
Make ahead: If you aren't cooking immediately, put the casserole in the fridge until you're ready. Cook for an extra 15 minutes from cold, or put in the oven in the morning and set the timer for later
Serving Suggestion: Serve with rice and peas