Light Simnel Cake is not as heavy as a traditional fruit cake, but has all the flavour and fruit - and lots of marzipan. Make for Mothering Sunday or Easter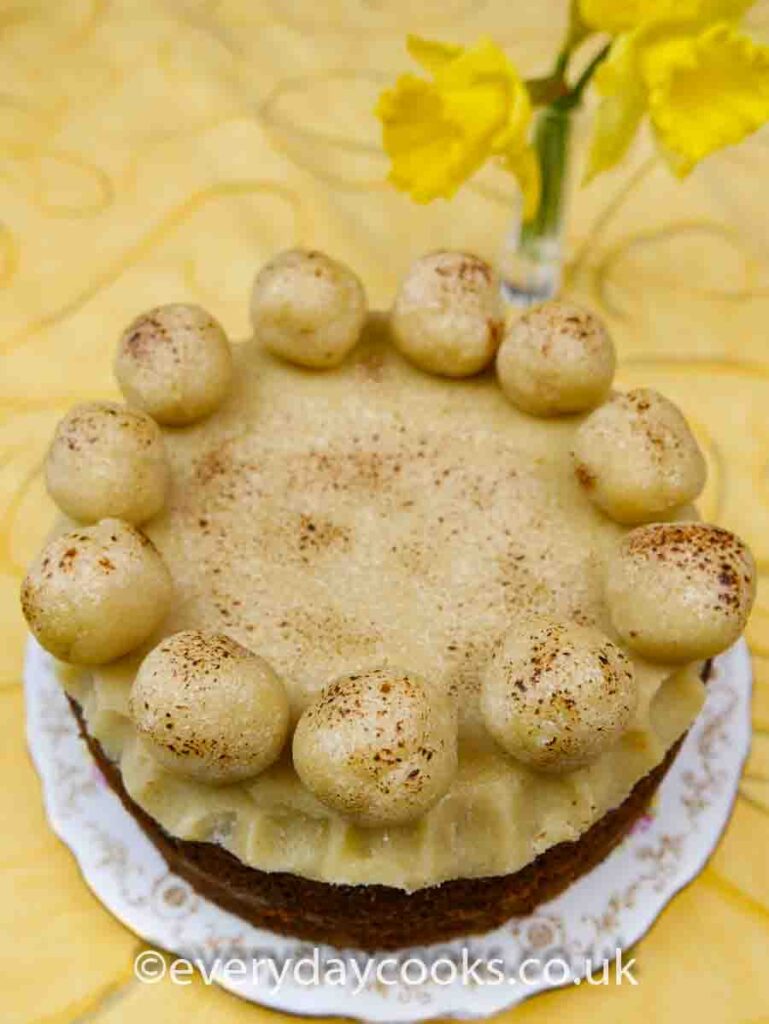 Light Simnel Cake
Simnel Cake was traditionally taken by servant girls to their mothers on Mothering Sunday, which falls three weeks before Easter. It's usually a fruit cake with a layer of almond paste, or marzipan, in the middle and another on top. It's decorated with 11 balls of marzipan, one for each disciple - apart from Judas Iscariot, who is persona non grata at this point.
Simnel Cake can also be more of a general Easter cake - to celebrate the end of Lent and the return to eggs and sugar - and this light version is ideal for either occasion.
Although any fruit cake will do, there are some ingredients that make this a special cake:
Marzipan
Marzipan, or almond paste, is an essential part of a Simnel Cake. You could make the marzipan (1 quantity is what you need), or you can buy it, in which case you need about 1kg. Any leftover can be kept in the fridge for a week or so until needed next, made into shapes like petit fours - or Marzipan Stars - or it's a good excuse to make some Simnel Cupcakes. You can use more or less of the amount you have, depending on how much you like marzipan.
To get the right sized circles for inside and the top of the cake, I put the ball of marzipan on a silicone baking mat so it won't stick, and pat with the flat of my hand until it's about the right size and shape. Then I put a baking parchment circle of the right size on top and use a rolling pin to correct the shape. If you want to be exact, roll the marzipan a bit bigger than the parchment circle and use a knife to cut out the shape.
Dried Fruit
I've used cherries, raisins and candied peel, soaked in brandy, but you can use any combination of dried fruit that you like (or have in the cupboard). Similarly, you can use any spirit for soaking the fruit. The alcohol will be burned off in cooking so the cake won't contain any, but the flavour will remain.
Flavouring
I've kept the flavouring lighter than I would in a Christmas Cake with less mixed spice, plus the zest of an orange and some juice to add a bit of zing. Really, it's all about the fruit and feeling that spring is on the way, so nothing heavy is required!
Helpful Tools
Kitchen Blow Torch - The easiest way to brown the top of a cake like this is with a blow torch, preferably one intended for the kitchen. If you are buying one, do make sure it has a safety catch so that it can't be accidentally switched on. The flame wouldn't come on anyway, but you don't really want a cupboard full of butane gas.
If you like this...
...Why don't you try: