Gluten-free Easter Nest Cake is made with ground almonds instead of flour. It has a whipped-cream and chocolate topping with a nest of chocolate flake and mini eggs.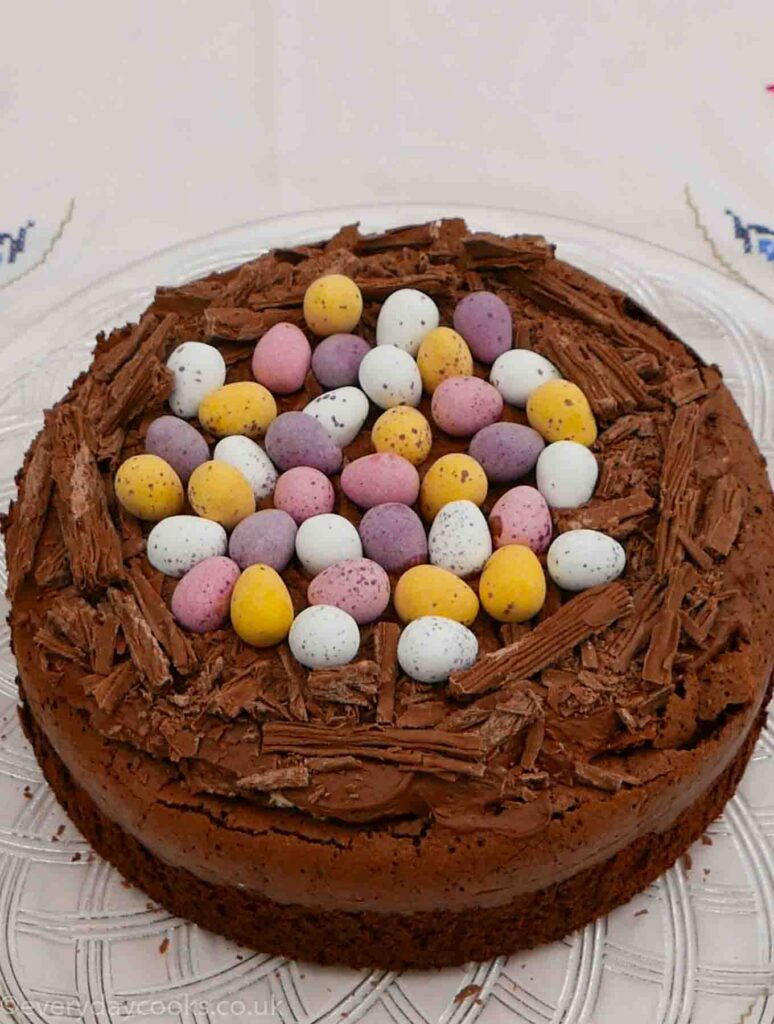 Easter Nest Cake
Easter Nest Cake is an alternative to a traditional Simnel Cake for Easter, although I suppose if you were really traditional you would have given the Simnel Cake to your mother three weeks earlier on Mothering Sunday, as I did with my Orange Simnel Cake. As the Easter Nest Cake is lovely for dessert too, I suppose you could have both cakes at Easter.
Gluten-free Chocolate Cake
The basic cake is one that I've made many times, as I have a few friends and relations who have coeliac disease. I think it's a real bonus to have a recipe like this that is good on its own, rather than always adapting recipes with flour.
If you are making the Easter Nest Cake for someone with coeliac, do check that the chocolate and chocolate eggs you use are gluten-free and haven't been made in an environment that processes wheat products. Fortunately, the allergy labelling on UK and EU products is very clear about this.
The cake is quite light without flour, and the raising comes from the eggs, which are separated and the whites whipped separately. The trapped air then expands as the cake cooks. It's baked in a 20cm deep round cake tin and can look a bit shallow before it's cooked - but it will rise! As always, line with a baking parchment circle. If your tin is a good quality you won't need to grease the sides, which is better for this cake.
How to successfully melt chocolate
The chocolate flavour is all from melted chocolate. I used to melt chocolate in the microwave - and it is quicker - but it's safer to melt over a pan of hot water because it's more controlled.
It does add an extra 10 minutes or so to the preparation, as you have to do two lots of melting, but you can prepare everything else while it's slowly doing its thing. Another advantage is that melting chocolate slowly means that it's less likely to be very hot, so you don't need to cool it for so long,
But I'm also an advocate of doing what works for you, so if you swear by the microwave - carry on.
The secrets to chocolate melting success over water are:
Don't let the bowl touch the water. Use a much larger bowl for the chocolate than your saucepan
Don't let the water boil (although this isn't immediately terminal as long as 1. is observed).
For detailed instructions on ways of melting chocolate see How to Melt Chocolate
What's on top of Easter Nest Cake?
The topping for the Easter Nest Cake, and the base of the nest, is whipped cream mixed with more melted chocolate - there is a lot of chocolate in this cake. I used chocolate with 50-60% cocoa solids for this but when I make the cake for a dessert without the Easter Eggs I often use a darker chocolate. Then just crumble flakes for the nest and place as many little chocolate eggs in the nest as you can. And enjoy. Happy Easter!
If you like this...
...Why don't you try: