Fruit Bundt Cake uses dried fruit for a light, dramatic-looking cake with glace icing. Perfect if you want a special fruit cake without marzipan and icing.
I love a Bundt Cake and have a small, but increasing, collection of Bundt tins. I also love fruit cake, but there aren't many recipes around for bundt cakes using dried fruit. So after much experimenting, here is my Fruit Bundt Cake recipe.
You could make this a bundt Christmas Cake, if you want a light fruit cake without marzipan or thick icing, but this cake is good at any time of year.
Key Ingredients in Fruit Bundt Cake
Dried Fruit
Any mixture of dried fruit that you like is good in this cake. I've used raisins, dried apricots and cherries because that's what's in my cupboard at the moment. Keep the total amount to 300g.
If you're using glace cherries you don't need to wash them because the fruit will be soaked in brandy or fruit juice before it goes into the cake.
Orange Juice & Orange Extract
The orange juice can be out of a bottle or freshly squeezed - if you really want to (sometimes I do and sometimes I just want the cake made!)
Orange Extract has a concentrated orange flavour, which adds to the orange juice. If you don't have any extract, use the grated zest of an orange.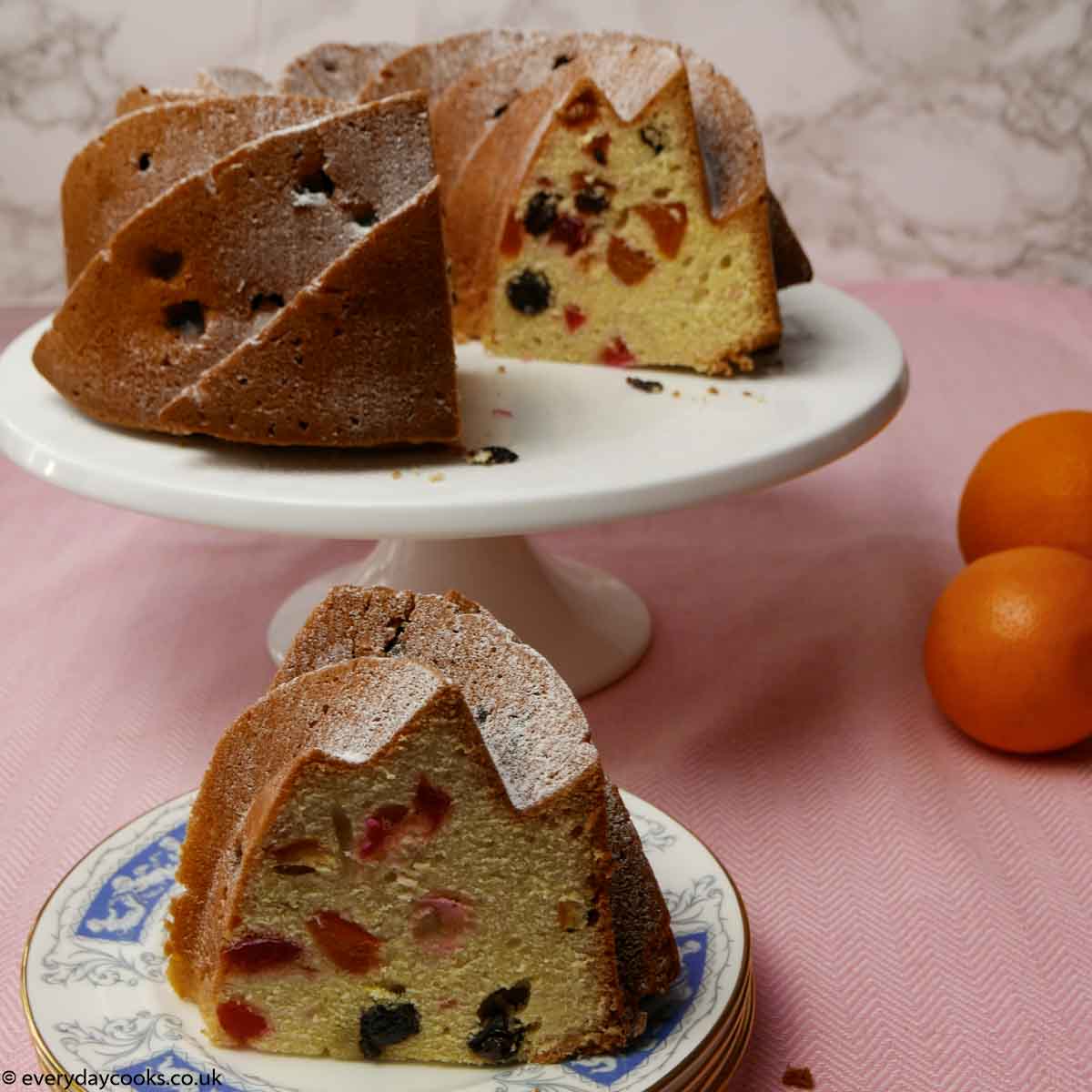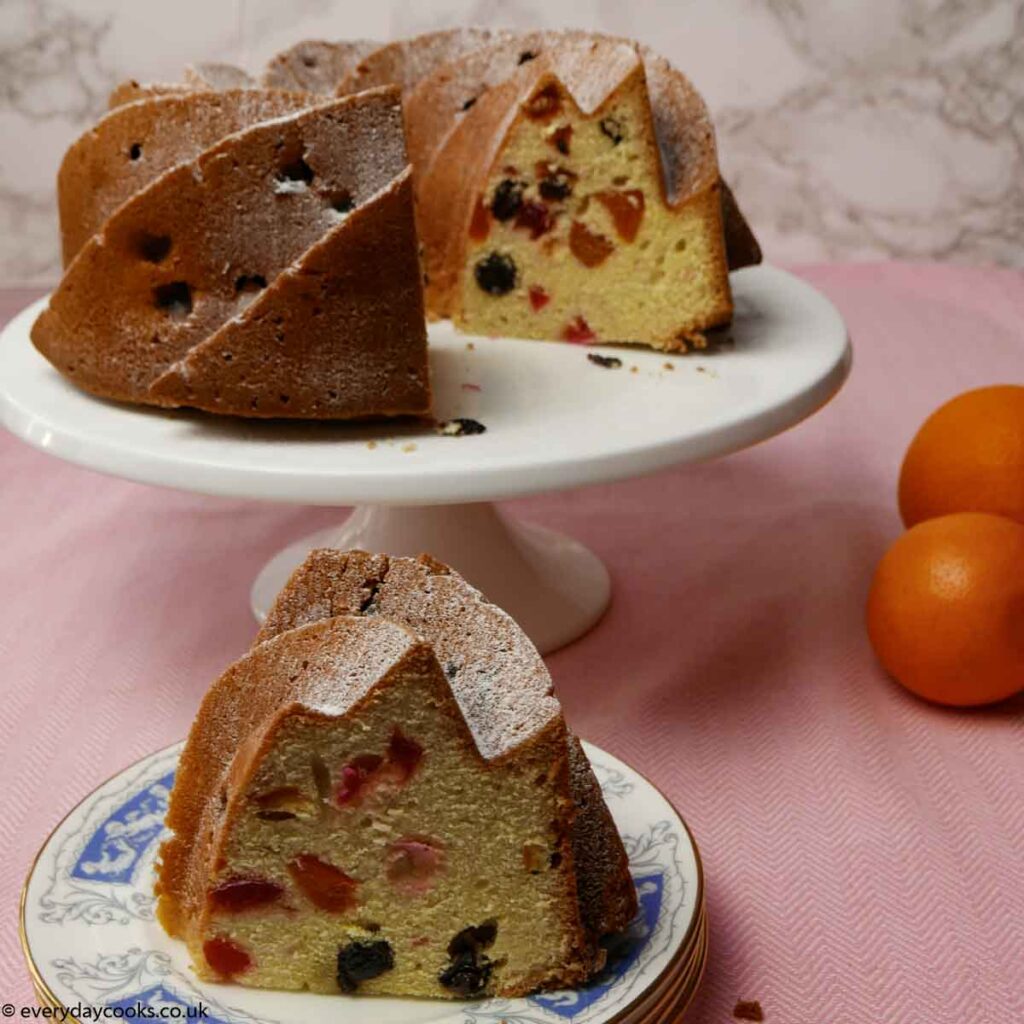 Secrets of Success
Butter and eggs at room temperature
If you forget to take the butter out of the fridge, warm it on defrost in the microwave for 30 sec at a time, but stop before it starts to melt.
Eggs can be put in a bowl of warm water - not hot or they might start to cook. And, you need large eggs for this recipe.
Greasing the tin properly
I haven't ever had a cake sticking in a Bundt tin. I attribute that to a meticulous routine and Cake Release Spray. In theory, you can use melted butter or oil and flour to get the same result, and if you know this works for you, then fine. But I haven't tried it and I shan't bother because the spray does the job perfectly!
Before you get to that though, your tin must be scrupulously clean. That means hot water and dishwashing liquid and a tiny brush to get into all the crevices. Ideally, you will have done that last time you used the tin, but do check again.
Once you are satisfied the tin is clean and thoroughly dry (use a low oven if necessary), spray all over, again right into the crevices, with the Cake Release Spray. Then put the tin upside down on the draining board so that the oil drains out and doesn't accumulate in the points. Err on the side of over-spraying as the excess will drain off.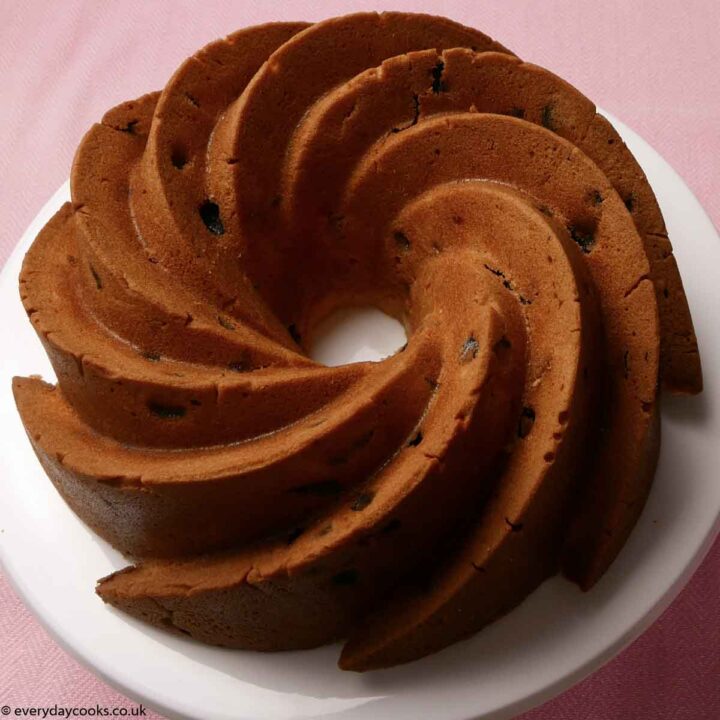 To ice or not to ice?
The choice is yours. I've seen similar cakes to this with a buttercream frosting, but that rather spoils the lines of the cake, which for me is the point of making a Bundt cake - to demonstrate that you got it out of the tin intact.
Of course, if you didn't get it out of the tin in one piece, a buttercream frosting is ideal as it will hide the evidence.
If you're in a hurry or don't like icing, just sift some icing sugar over and the cake will still look stunning.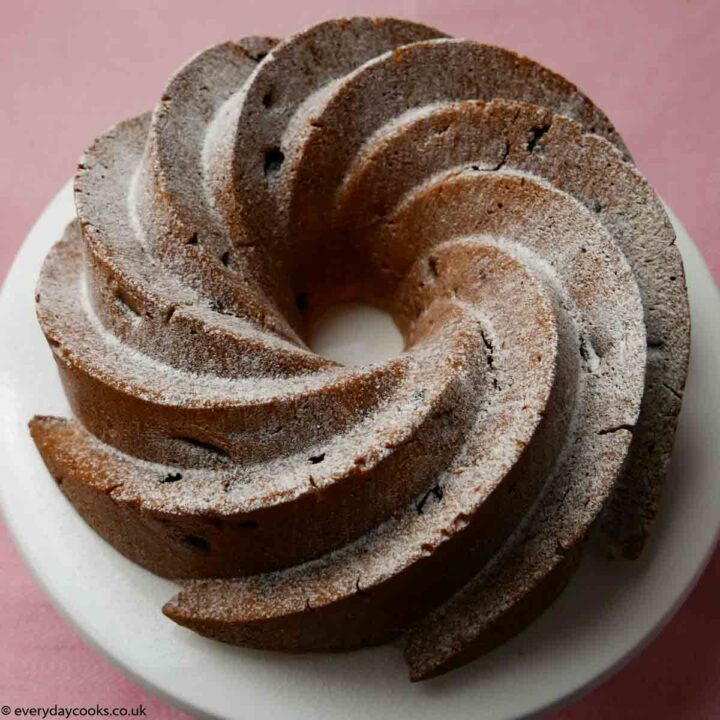 Icing the Fruit Bundt Cake with glace icing
For this shaped cake a little glace icing, made thin enough to drizzle but thick enough not to run straight off, is my preference. It shows off the shape of the cake quite simply.
If the icing isn't the right consistency when you put it on, adjust it until it feels right. If you use hot water to make the icing it will need leaving the icing in the bowl for 5 minutes to thicken slightly before you use it.
What else do you need to make a Fruit Bundt Cake?
Bundt Tin
Bundt tins are made to hold a specific volume of mixture, typically 6, 8, 10, or 12 cups. This translates approximately as 1.5 litres, 2 litres, 2.5 litres or 3 litres, which doesn't help much if you are converting a UK recipe. A 20cm (8-inch) deep round cake tin holds about 2.5 litres.
Unlike British cake tins, you can't tell the size of a Bundt tin by its diameter. All mine are the same size when you measure them across the top, but the amount of cake mixture that they need is very different.
My tins are all Nordic Ware bundt tins. They are expensive but will become family heirlooms as they are so robust. The design you choose doesn't matter, but make sure the size is right. You need a 2.5-litre or 10-cup cake tin for this recipe.
The tin I've used is a Heritage Bundt Tin. Just be aware when buying that the same design can come in different sizes, so choose the one you want or adapt the recipe.
If you like this...
...Why don't you try:
Pin for later
Hover over any picture on the page and hit the Save button to pin the image to one of your Pinterest boards.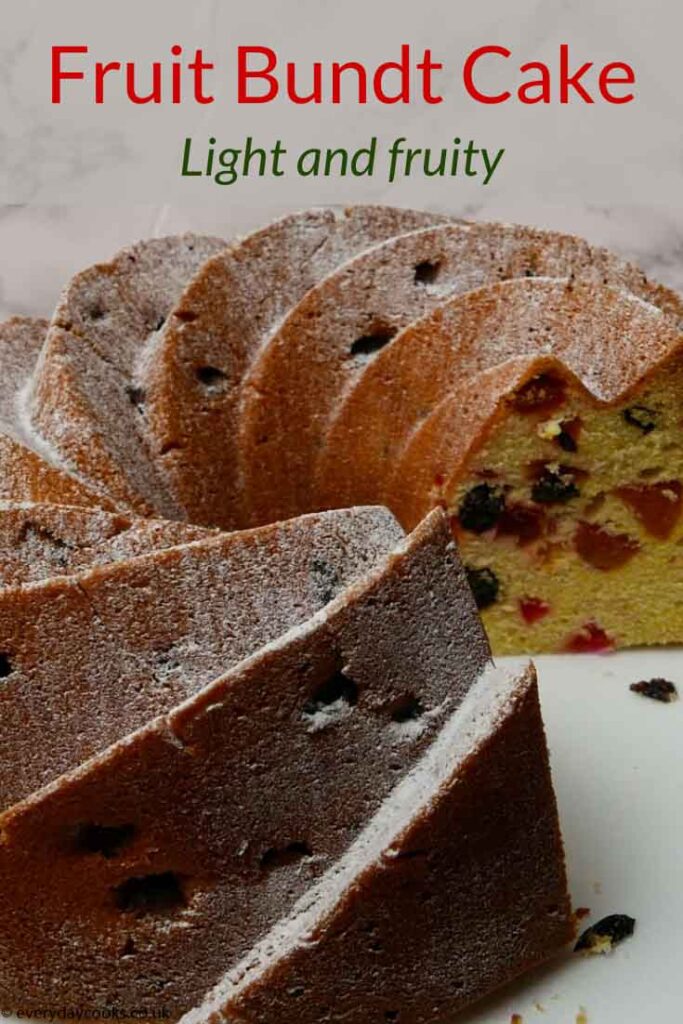 Recipe