Alas, I cannot claim that there is any special skill needed to make this spectacular-looking Christmas Bundt Cake (or any other Bundt cake for that matter). All it takes is a special tin. Otherwise, you just beat all the ingredients together and stick it in the oven. The ideal cake for an Everyday Cook and definitely a Christmas treat.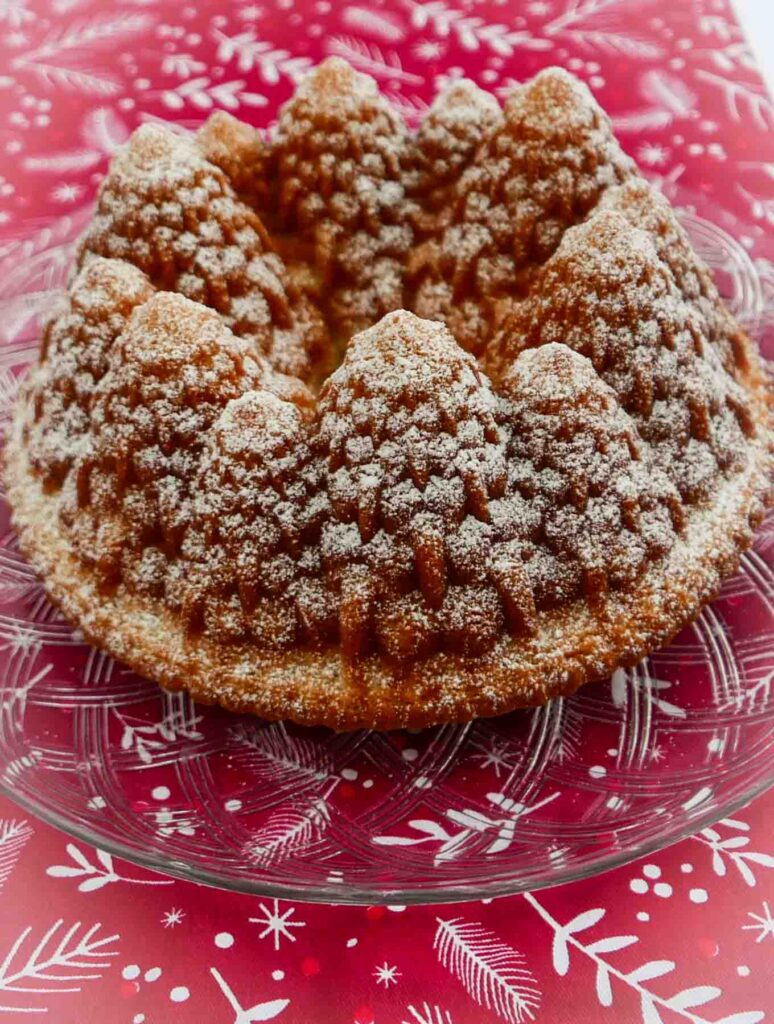 Christmas Bundt Cake
Buy a good tin
I'm all for getting the most effect from the least effort and the Christmas Bundt cake definitely does that. Bundt cakes, if you haven't come across them, are very popular in the United States, but we don't see very many of them in the UK. The recipes I use are all-in-one, so very easy. The magic is all in the tin, but you do get what you pay for. I only use Nordic Ware Bundt tins, because they are heavy duty and always produce a lovely looking cake. I've never had a problem with the cake sticking. I'm sure some of the other brands are fine, but I'm sticking with what I know! The one I've used for the Christmas Bundt cake is really called a Pine Forest Bundt tin.
Grease the tin thoroughly
The second piece of magic was recommended to me by a friend when I made my first Bundt cakes (baby roses for my daughter's wedding). That is a can of Cake Release Spray. You need to shake the can very well, but then you just spray it into every nook and cranny. I then leave the tin to drain over the sink while I make the cake. While I think this stuff is brilliant, I don't use it for other cake tins because I prefer to stick to butter.
One reason I think that we don't see Bundt cakes often in the UK is that there are very few recipes written for the European baker. Not only do U.S. recipes use cups for dry ingredients, but they measure butter in sticks. It is just too much effort for me to translate. I do have measuring cups - which I often use - but, for me, they're just a quick way to measure 125ml for example.
The other problem is that the actual ingredients are slightly different. The flour that you buy in the UK has slightly different properties, which can affect absorption of liquid. Anyway, suffice to say, nowadays I have the time to play with recipes and find something that works, so a Bundt cake is on the menu more often.
I've started making this Christmas Bundt cake for Christmas Eve supper. It looks great and isn't much effort. It has a lovely vanilla flavour, but you could use cinnamon if you want something more Christmassy. The cake also freezes well, so you could make it early for Christmas. I serve it with a fruit compote. If I'm in the mood I'll make my own, but Bonne Maman have some very good varieties. I rather like the cherry one because it looks quite festive. You could also add some crème fraîche, or in our case, clotted cream. Keith comes from Devon, so no Christmas is complete without pots of the stuff!
If you like this...
...Why don't you try:
Recipe