Strawberry Vodka is a pretty, pink vodka. Drink with tonic, or in a fruit punch or cocktail, and plenty of ice.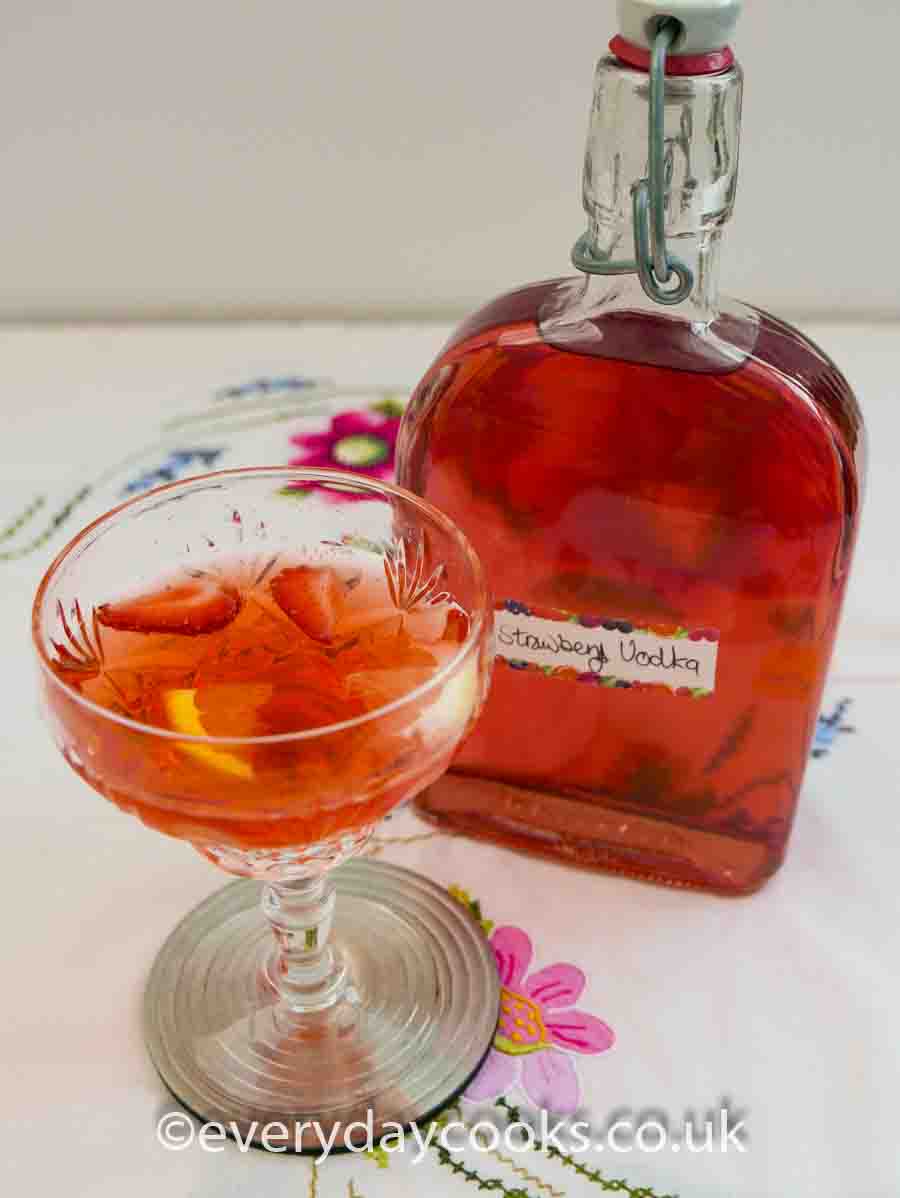 Strawberry Vodka
Fruit gin/fruit vodka?
I've made plenty of fruit gins - raspberry, strawberry, rhubarb, sloe, damson - and enjoyed them all, but a friend recently told me that she doesn't like gin so how about some strawberry vodka?
The method for making fruit gin or fruit vodka is the same, so I was happy to comply. To be honest, you can't tell the difference in appearance between the Strawberry Gin and this Strawberry Vodka, but of course, you can tell the difference in the taste. So if you are making both, make sure you label them while you remember which is which!
Key ingredients in Strawberry Vodka
Strawberries
You want ripe strawberries. The really best flavour comes from strawberries that are just about to go over. Not bad, just 'overblown'. Probably slightly past where you would eat them - although they taste fantastic, but they're beginning to feel a little soft.
If you aren't sure about leaving them that long, just ensure they're ripe.
You could use frozen strawberries, but you will need to cut them in half before they totally defrost or they'll be too mushy.
Vodka
Don't use expensive vodka, because the strawberries will over-ride the delicate flavour that you're paying for.
But don't use cheap vodka that will give you a headache if you drink it! The best compromise is a supermarket own-brand such as Waitrose or Tesco.
Sugar
Granulated/ordinary sugar is fine for fruit gins. If you've only got caster sugar, that's fine too.
The amount of sugar in the recipe is 100g for one litre of vodka. It's worth tasting the finished product before you decant it to check for sweetness.
If your strawberries weren't very sweet, or if you prefer a sweeter drink, just add some more sugar - this time preferably caster sugar which will dissolve quicker - and shake until it's fully dissolved.
Other fruit vodkas?
Raspberry is good. I'm not sure about rhubarb, so haven't tried it (but Rhubarb Gin is wonderful!). I've heard good things about Pineapple Vodka, so that's next on my list.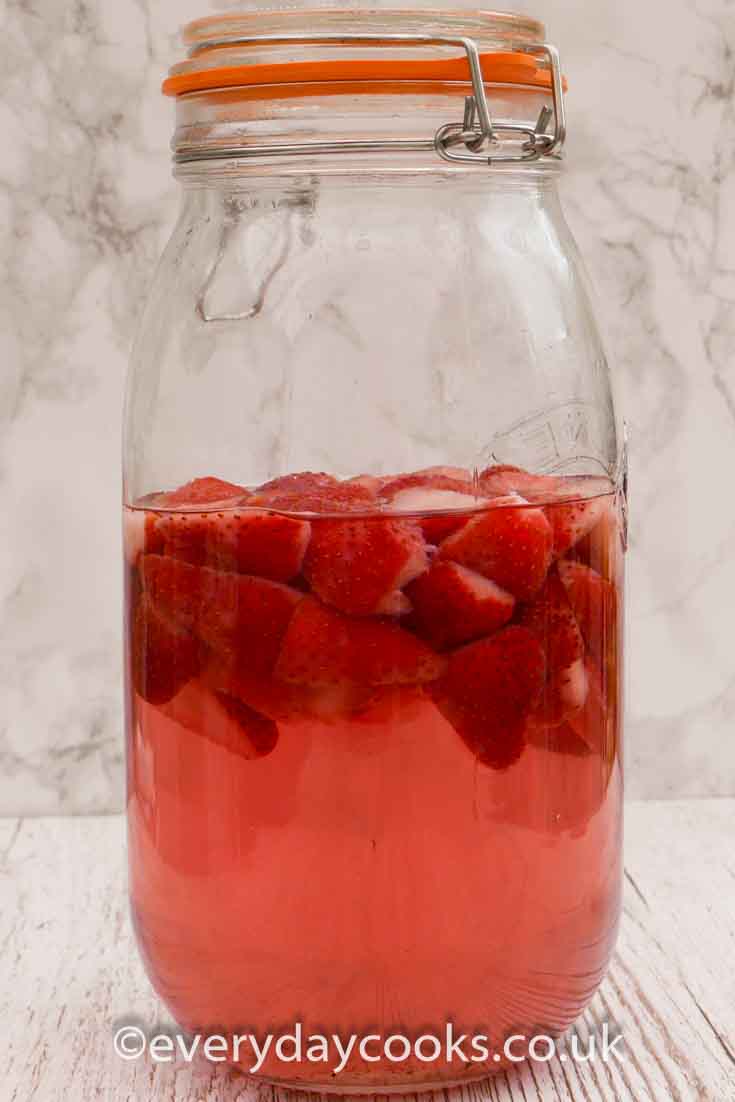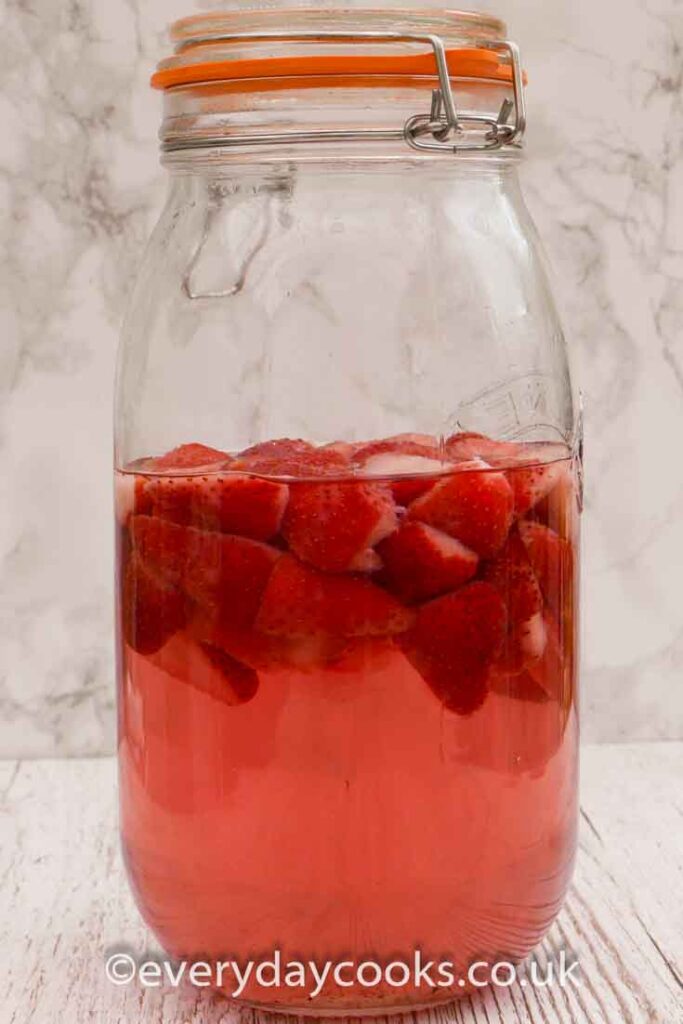 Is it hard to make Strawberry Vodka?
In a word - No. It's just three easy steps:
Prepare the fruit - wash and halve the strawberries
Mix everything together in a large Kilner jar or a bottle
Shake it every time you see it for a day or two until the sugar has dissolved
Then wait for a couple of weeks for the magic to happen. If the weather is exceptionally warm, the Strawberry Vodka may be ready in as little as 10 days!
How do I drink Strawberry Vodka?
You can drink this neat as a liqueur, or add a mixer like tonic or soda to make a long drink.
I'm taken with the idea of making a few different types of fruit vodka, e.g. with blackberries and raspberries, and blending them to make something new. Once you get started, the possibilities are endless
What else do you need to make Strawberry Vodka?
Sloe Gin kit – Not exclusively for Sloe Gin (or even fruit gin). This kit contains a 2-litre Kilner jar (ideal for use with a litre of vodka or gin), a funnel and some small bottles for storing your finished Strawberry Vodka, or to give away as presents. (If I'm keeping it for home consumption only, I put it back into the bottle. You will have a little left over, but you do need to test it, of course!
If you like this...
...Why don't you try:
Recipe