Strawberry Gin is a pretty, pink gin. Just the thing for a long summer drink with tonic, or in a fruit punch or cocktail, and plenty of ice.
I love fruit gins and, in an English summer, there are so many native fruits to choose from. A summer fruit gin feels a bit lighter than an autumn fruit gin and is perfect for cocktails and punches, whereas I tend to use Sloe Gin or Damson Gin more as liqueurs and usually drink them neat.
This year, the growing conditions have been perfect for strawberries. Apparently, the cold spring weather, combined with the rain and then sun in late May/early June has provided an ideal environment for strawberries, which are bigger, juicier and sweeter than usual. And there's a bumper crop so they are cheaper. No excuse not to buy some for a bottle, or so, of lovely Strawberry Gin.
How ripe should the strawberries be?
Usually, I look out for strawberries just going out of shelf-life, which are often reduced, or I'll use up fruit that's just beginning to soften. If your strawberries are hard or barely ripe, leave them out of the fridge for a day or so before using. Alternatively, you could freeze them. When strawberries are frozen they burst their cell walls, which is why they get soft when defrosted. Not good for eating raw, but perfect for making gin.
What sort of gin to use for fruit gin?
The more expensive the better? NO! You don't even need to use a branded gin. The fruit flavour and the sugar overtake the nuances of an artisan gin. Save it for a nice G&T.
The cheapest gin you can find? Again NO! You want a London Dry gin. This refers to the way the gin is distilled, i.e. with the botanicals that give it that distinctive flavour. Cheap gin that isn't London Dry is distilled and then has flavour added.
So the answer is - a supermarket own-brand London Dry gin.
How much sugar is in fruit gin?
I tend to put a little less sugar with summer fruit gins as the fruit is generally a bit sweeter, and also because the fruit is more delicate than the heavier sloes and damsons of autumn.
If you prefer a sweeter drink, taste the gin just before it's ready and add more sugar if you want to. It's a good idea to do this anyway because tastes vary and so does the fruit! If you find you've got a batch that's too sweet, make another one with less sugar and blend the two.
How long does it take to make Strawberry Gin?
It only takes a few minutes to prepare the gin, then usually a minimum of two weeks for the fruit flavour to meld with the gin. However, in the very warm weather we've been having, I've found the Strawberry Gin is ready in 10-15 days.
If you leave it for more than a month, nothing bad will happen - gin and sugar are both preservatives - but the colour sometimes starts to go a bit dull. 2-4 weeks is ideal - time to prepare one batch while you drink the previous one.
How to drink Strawberry Gin
Strawberry Gin is lovely in cocktails and fruit punch. You can drink it neat as a liqueur, or in a Strawberry Gin and Tonic. For this, I prefer a tonic that is slightly less sweet such as Fevertree Naturally Light, as the gin is already sweetened.
What other fruit gins can you make?
I always make Sloe Gin, and usually Damson Gin, in the autumn. Spring is the time for Rhubarb Gin. In the summer it's Strawberry Gin, Raspberry Gin and Strawberry Vodka. I'm thinking about some Blackberry Gin for August/September - if I can spare the blackberries from the crumbles (or I could just pick more).
HELPFUL TOOLS
Sloe Gin kit - Not exclusively for Sloe Gin. This kit contains a 2-litre Kilner jar (ideal for use with a litre of gin), a funnel and some small bottles for storing your finished gin, or to give away as presents. (If I'm keeping the gin for home consumption only, I put it back into the bottle. You will have a little left over, but you do need to test it, of course!)
If you like this...
...Why don't you try:
Rhubarb Gin is a pretty, pale pinkish gin with a hint of fruit.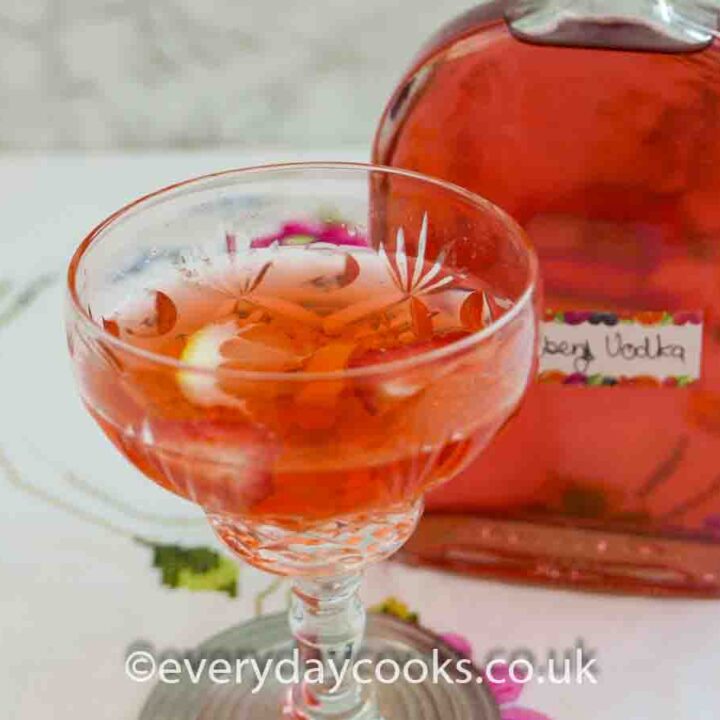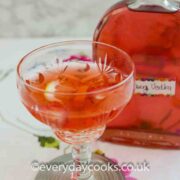 Strawberry Gin is a pretty, pink gin with a fresh fruity flavour.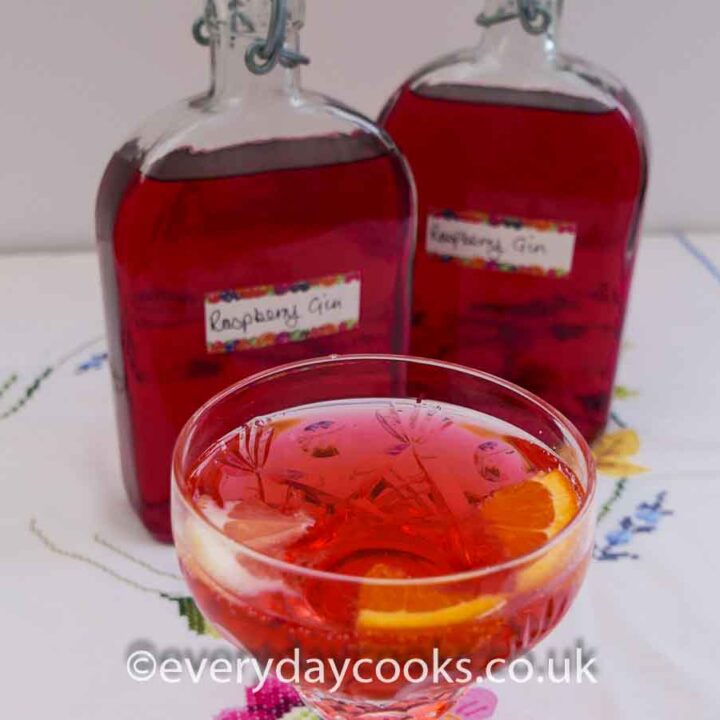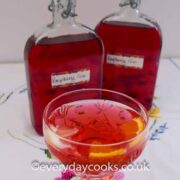 Raspberry Gin is a pretty, dark pink gin with a fresh fruity flavour. Make this with frozen raspberries at any time of year.
Recipe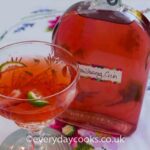 Print Recipe
Strawberry Gin
Strawberry Gin is a pretty, pink gin with a fresh fruity flavour.
Ingredients
150

g

strawberries

½

litre

50cl London Dry gin (see note)

50

g

caster sugar
Instructions
Preparation:
Rinse the Kilner jar with boiling water to sterilise
To make the Strawberry Gin:
Cut the strawberries into halves - quarters for larger ones

This helps the flavour permeate the gin

Put the sugar and gin into the Kilner jar, close the lid and give it a good shake

The sugar won't be totally dissolved, but it's a good start

Add the strawberries to the Kilner jar and shake again

If the sugar hasn't dissolved, either shake the gin every day until it has dissolved OR keep it out for the first day and shake every hour or so

Leave in a dark place for 2-4 weeks

If the weather is very warm, reduce the timings to 10-15 days

Use a sieve over a large jug to remove the fruit, using a funnel pour into a bottle or bottles for storing.
Notes
Everyday Cooks tips:
Strawberry Gin will keep for up to a year. After that, the colour begins to change, but it still tastes good!
You don't need to use expensive gin – a supermarket brand of London Dry gin is fine (I use Waitrose London Dry Gin)
Quantities:

1 litre of gin will need 100g sugar and 300g strawberries
A bottle of gin (70cl) needs 75g sugar and 225g strawberries