When you need a treat, try a mug of Spiced Hot Chocolate - warm and restorative. Add some rum or brandy for extra fortification.
Spiced Hot Chocolate
Spiced Hot Chocolate uses the Mixed Spice recipe that I keep in my spice cupboard - mostly for fruitcakes, but ideal for this. Add it to cocoa powder with a little sugar for a hot chocolate mix to use for yourself, or give away as presents.
Key ingredients in Spiced Hot Chocolate
Mixed Spice
I make a batch of Mixed Spice every few months because I use it quite a bit - mostly in fruit cakes - and because I'm not very keen on cloves, which can be overpowering in readymade mixes, so I don't add any to mine.
If you buy mixed spice, rather than making it, you may want to start with a little less and see how you go.
Cocoa
The better the brand, the nicer it tastes, as a rule. I like Green & Blacks or Menier, but any good brand is fine. Don't use drinking chocolate because it's mostly sugar and milk powder.
Sugar
I err on the side of caution, so add more sugar if you like a sweeter drink. You could use Xylitol if you're looking for a low-sugar alternative.
How do you make the mix into a drink?
Put the hot chocolate mix into a mug and add a little hot water from the kettle - just enough to mix to a paste. Add hot milk gradually and stir. I do like some cream on top and, if I can be bothered, a little grated nutmeg.
If you want a real winter warmer, add a nip of the tipple of your choice - brandy is mine.
What else do you need to make Spiced Hot Chocolate?
Mini Spice Jars are perfect for holding just enough spice mix for two mugs of hot chocolate. If you want to give a friend, daughter, or your mum a little fortification at Christmas, you could mix up a batch of Spiced Hot Chocolate mix and give it as a present.
A China Mug - A luxurious drink always tastes better in a china mug!
If you like this...
...Why don't you try: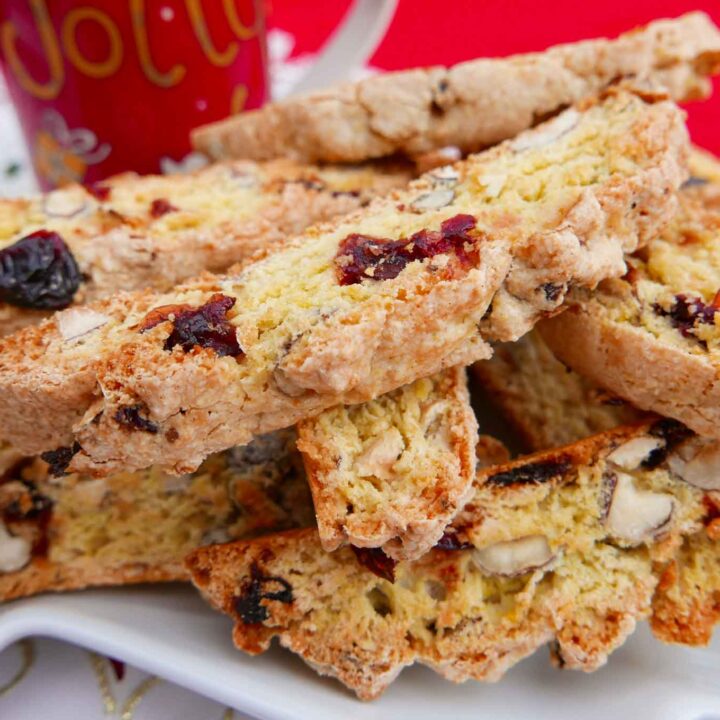 Cranberry and Hazelnut Biscotti are perfect with a cup of tea or coffee and they aren't overly sweet. Biscotti are easy to make and will keep for at least a couple of weeks.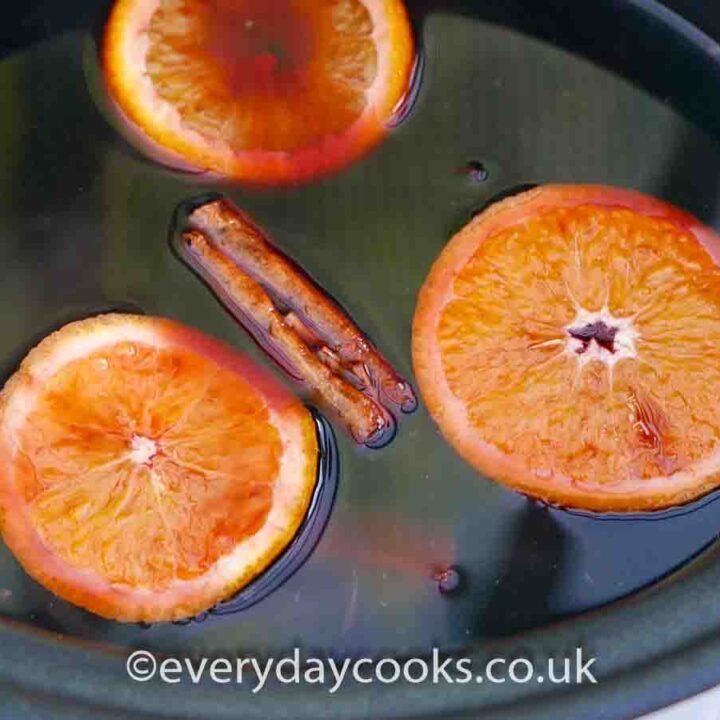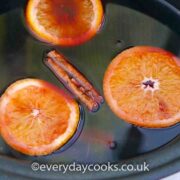 Mulled wine is Christmas in a glass. This easy slow cooker version will keep hot and won't spoil – however long you leave it.
Cranberry and orange Christmas Shortbread dipped in white chocolate. Quick and easy to make.
Recipe
Print Recipe
Spiced Hot Chocolate
When you need a treat, try a mug of Spiced Hot Chocolate - warm and restorative.
Ingredients
200

ml

milk

2

heaped teaspoons

cocoa powder

(30ml). See note

½

teaspoon

sugar - you may want more later

(2.5ml)

½

teaspoon

mixed spice

(2.5ml)

1

tablespoon

rum or brandy - optional. See note

(15ml)
Instructions
For the Spiced Hot Chocolate:
Heat the milk in a saucepan or the microwave. About 2 minutes in the microwave

Don't let it boil over

Mix the cocoa, sugar and spice in a mug

Add a little very hot water and mix to a thick cream

Not too much water but enough so it's easy to mix in the milk

Gradually add the hot milk, stirring as you go

If you like, add brandy and/or cream to finish

Grate a little nutmeg on top
Notes
Everyday Cooks tips:
Cocoa powder: Use the darkest cocoa powder you can find. Don't use hot chocolate powder because it has sugar and milk powder in it, so you won't get a strong enough flavour
Brandy/rum : 15ml is a little over half a unit of alcohol
Make a batch of cocoa/spice/sugar mix and package in little jars as gifts and write the instructions on  the gift tag