Rhubarb Gin is easy to make and takes only 3-5 weeks to mature. Try adding fresh ginger for zingy Rhubarb and Ginger Gin.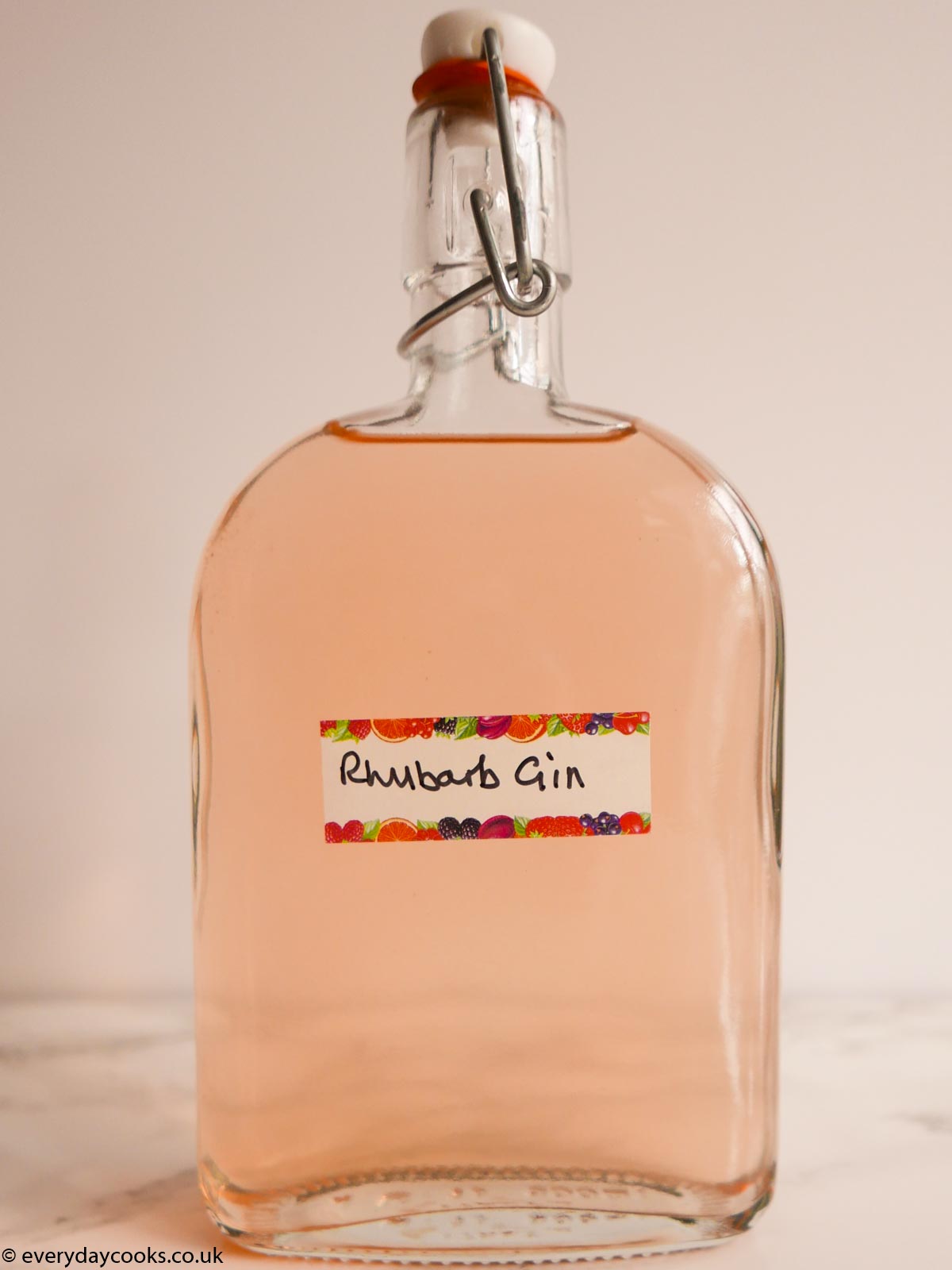 I remember being very proud of my first batch of Sloe Gin, made when I was about 22. It was the first thing I had made that my mother hadn't. Now I make all sorts of fruit gins.
When I first tasted rhubarb gin I liked it but I couldn't bring myself to buy any when I knew I could make it. So here we are. It's as easy as all fruit gins and it only takes a month to mature. The acidity of the rhubarb works well with gin and it isn't too sweet.
Key ingredients in Rhubarb Gin
Gin
The gin I use is any basic supermarket brand, although I like Waitrose London Dry Gin. There really isn't any point in buying expensive gin because you are masking the taste of all those beautiful botanicals with the fruit.
Having said that, I always buy London or Dry gin which is distilled with juniper and botanicals rather than just having the flavouring added.
Rhubarb
It's worth slicing the rhubarb length-wise as well as chopping it up. Rhubarb skin is tough so exposing the inside gets more of the flavour in. A few weeks is all you need to mature rhubarb gin. This batch had about a month, but I wouldn't leave it much longer because the colour starts to get duller.
Pink or green rhubarb?
The flavour of the gin isn't affected by the colour of the rhubarb, but the colour is. If you're looking for that delicate pale pink, use pink rhubarb
Use up the gin-soaked rhubarb
You will be left with some rather tasty rhubarb. I found I could eat it raw as the gin and sugar had really penetrated into the flesh. It's also rather nice in a Strawberry and Rhubarb Crumble.
Ring the changes
Rhubarb and Ginger Gin
Adding fresh ginger gives a bit of zing to your rhubarb gin. Use about 5cm (2 inches). Cut it into slices and add in with the rhubarb. There's no need to peel the ginger, but I'd give it a wash first.
Rhubarb and Raspberry Gin
As these fruit gins need different times to mature, I make them separately and blend when they're ready. Raspberry Gin is ready in only a couple of weeks.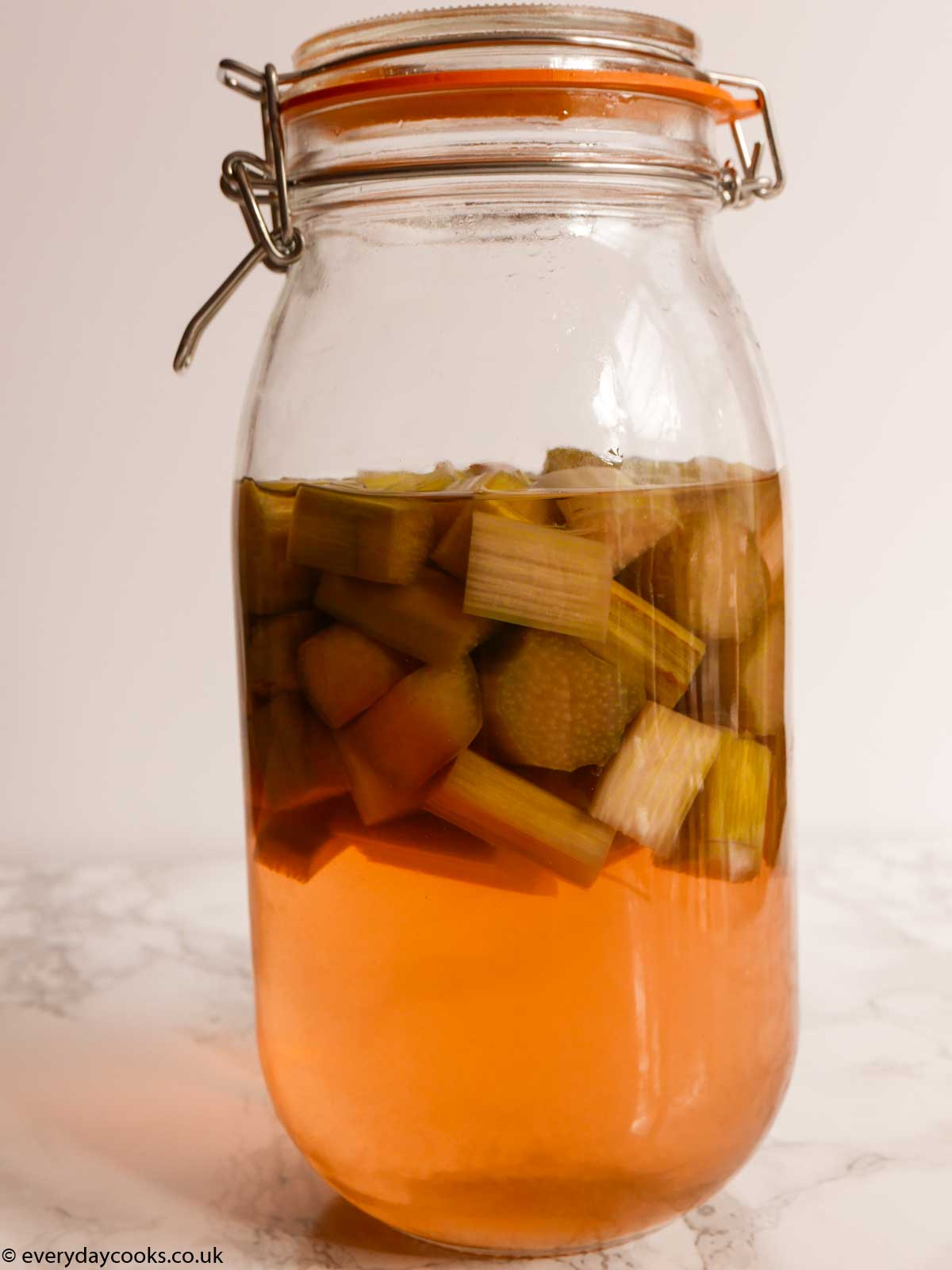 Secrets of Success
Mature in a cool, dark place
You only need to leave rhubarb gin for 3-5 weeks to mature. Any longer and the flavour goes off a bit. The variation is because of temperature - in warmer conditions, the gin matures more quickly. Find the coolest, darkest place in your house, but not the fridge.
Give the gin enough room
I use a two-litre Kilner jar to make my fruit gins. This gives you plenty of room for one litre of gin, the fruit and the sugar. The yield is just over a litre - maybe 1.1-1.2 litres. If you use half quantities, you could use a one-litre jar - or an empty gin bottle.
Fresh fruit or frozen?
It doesn't really matter, but don't use fruit that's been in the freezer for ages because the flavour won't be so good.
How long does fruit gin keep?
Rhubarb Gin will keep for up to a year. After that, the colour begins to change, but it still tastes good!
How do you drink Rhubarb Gin?
Although Rhubarb Gin is delicious on its own as a liqueur, I rather like it with tonic, especially a less-sweet one like Fever Tree or Fentimans.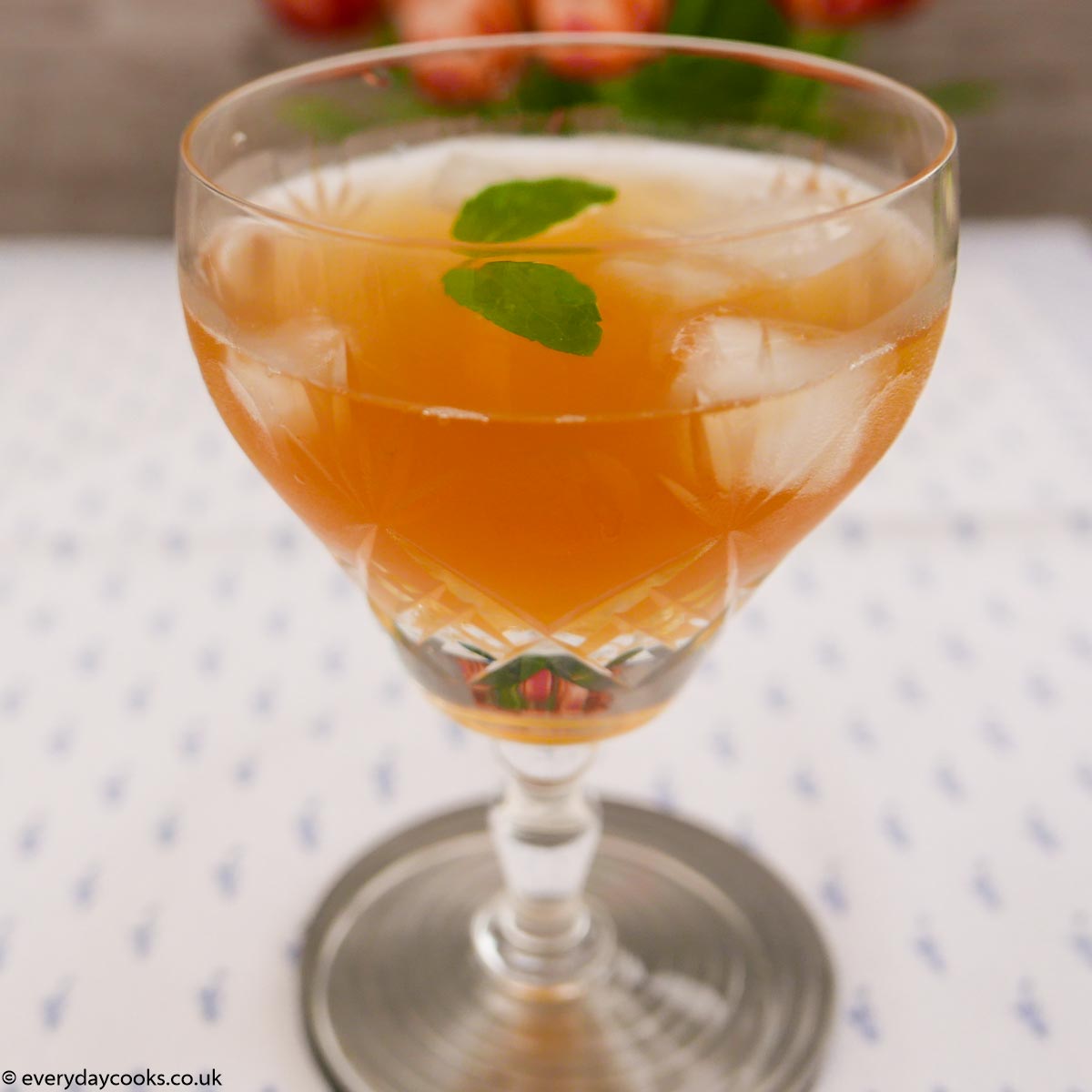 What equipment do you need?
I often put my gin into small bottles to give as presents or keep, although an old gin bottle is just as good if it's for home consumption. I eventually invested in a Sloe Gin set with everything in. It includes the Kilner jar, a funnel and some small bottles. Everything you need to get started!
If you like this...
...Why don't you try:
Pin for later
Hover over any picture on the page and hit the Save button to pin the image to one of your Pinterest boards.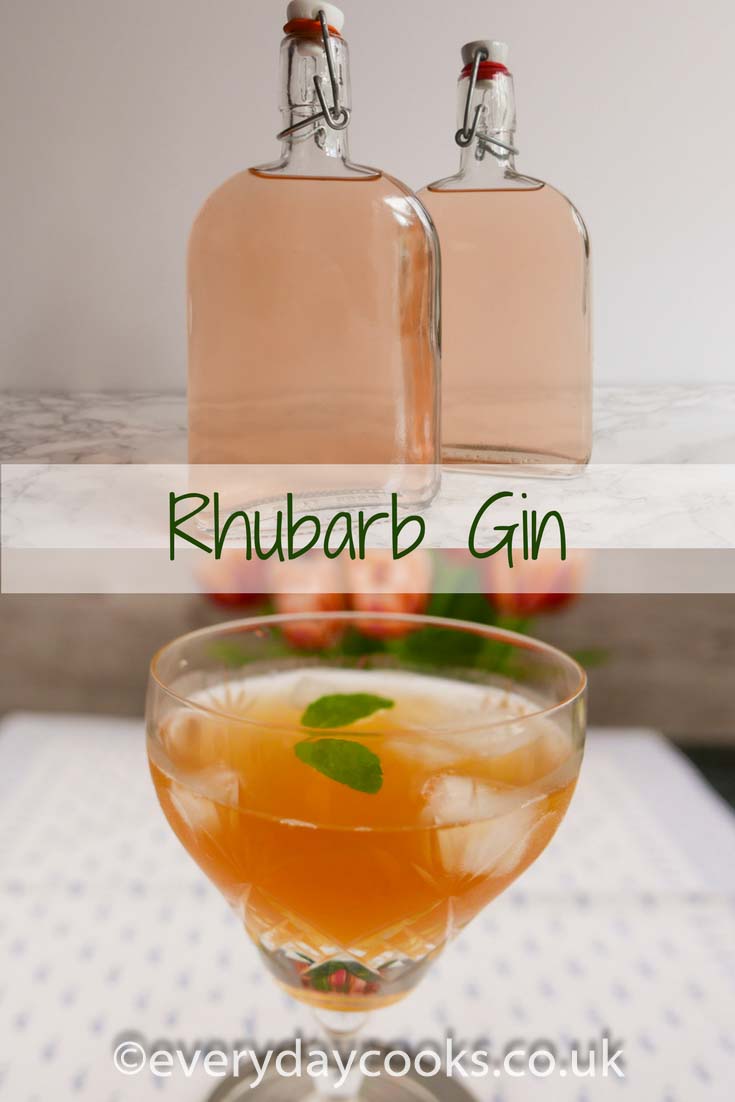 Recipe