Mild and sweet, Onion Quiche is a vegetarian lunch or supper dish you can eat hot or cold.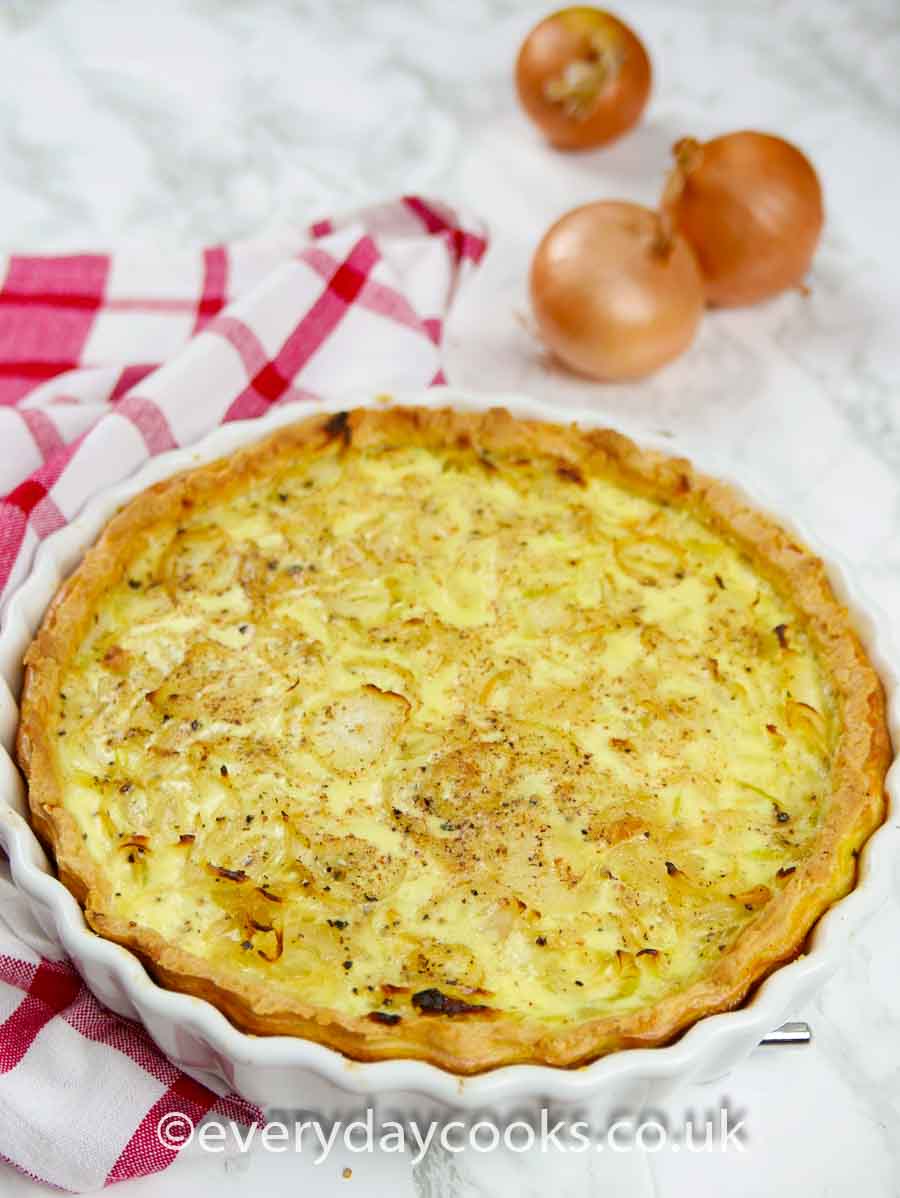 I avoided Onion Quiche for years because I don't like raw onions (these aren't) and I don't like a strong onion flavour (this isn't). When I finally made this for a vegetarian friend, I realised what I had been missing and now Onion Quiche is one of my favourites.
The onion taste is mild and slightly sweet - it's something to do with the way they're cooked - gently fried first and then baked in the quiche filling.
What can you add to Onion Quiche?
Cheese - 150g grated strong Cheddar cheese in the bottom of the cooked pastry case, before you add the onions, will add some protein and that cheese & onion flavour
Bacon - 150g cooked chopped streaky bacon is another option.
Making Onion Quiche easier and quicker
Pre-cooked pastry case
If you are organised and prefer to make your own pastry, you can make and blind-cook pastry cases that you freeze for later. On occasions, I have done this, although I prefer to batch cook the finished quiches so that I have some ready-to-eat meals in the freezer.
Or you could buy a shortcrust pastry case. This is a great option if you're short of time or not confident about making pastry (although if this is you take a look at my recipe and method for Pâte brisée, which involves not rolling out the pastry - the bit I hate).
The third option is to buy ready-made pastry, in a block or ready-rolled. If you're using my method of making the pastry case you won't be rolling it out, so buy a block.
Frozen sliced onions
Again you have the option of buying frozen, sliced onions or freezing them yourself - details are here. You will need to cook the onions a little longer - especially if you start from frozen!
Helpful Tools
Microplane Spice Mill - I'm a big fan of freshly grated nutmeg and I use a lot of it, especially in quiches. I've used a small nutmeg grater for years, but I recently upgraded to a Microplane spice mill. What a difference it makes!
Splash screen - Reduces fat splashes when you're frying the onions for the sauce.
If you like this...
Why don't you try:
Recipe