Take a quarter quantity of Basic Bolognese Sauce and kidney beans and spices for a warming supper. To make Everyday Chilli from scratch you will need to look at the basic recipe, which take about 1 ½ hours to make in total.

Everyday Chilli is a variation on Basic Bolognese. The chilli uses store-cupboard ingredients to create a spicy meal with all the vegetables included. Just add rice for a complete meal.
Key ingredients in Chilli
Chilli powder
Not all my family like spicy food, so this is not too hot. You can always add more chilli powder if you want!
Chocolate
You don't taste the chocolate, but it adds some richness. I first heard of adding chocolate to chilli years ago and was dubious but gave it a go. Now I see everyone is doing it so it probably isn't a surprise to you.
You do need dark chocolate, though - the darker the better as you don't want to add sweetness.
Adding to basic recipes
Everyday Chilli is always a joy to make for me because I did all the hard work making the Basic Bolognese Sauce days, weeks or, sometimes, months ago. Now I reap the reward and take a pot out of the freezer, defrost, add a few bits and pieces and hey presto! A different dinner with not much effort. That, for me, is what Everyday Cooking is all about.
 Everyday Chilli uses Basic Bolognese as the base and is one of four variations on the main recipe. The others are Mince and Potato Gratin, Lasagne, and Cowboy Dinner.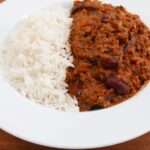 Print Recipe
Everyday Chilli
Spice up Basic Bolognese with storecupboard ingredients for a veg-inclusive Everyday Chilli. Just add rice for a complete meal.
Servings:
4
generous servings
Ingredients
1

quantity Basic Bolognese for 4 people

1

teaspoon

hot chilli powder,

use more if you like very hot food (5ml)

½

teaspoon

ground cinnamon

(2.5ml)

10

g

plain chocolate - the darker the better

1

tablespoon

15ml chutney rounded tablespoon (30ml). I use Branston Pickle or a sweet mango chutney like Geeta's

1

tin

kidney beans

(400g)
Instructions
Preparation:
Drain the kidney beans into a colander or sieve and rinse thoroughly with cold water

Break or chop the chocolate into 6-8 pieces

If you're cooking rice, start that now
For the Chilli:
Put the Bolognese sauce, chilli powder, and cinnamon into a saucepan on a medium heat, stirring occasionally

When the sauce is bubbling, continue to stir so that it is thoroughly heated. If in doubt keep it bubbling for 5 minutes

The sauce will be 'piping hot'

Stir in the chutney. Add the chocolate and stir well.

You don't want the sauce to be boiling (bubbling) fast at this point or the chocolate will grain

Stir in the kidney beans carefully so that they don't break up. Bring the sauce back to bubbling. Then it's done
Notes
Everyday Cooks tip:
Make the Everyday Chilli sauce with a batch of Basic Bolognese before you freeze it. Just microwave to piping hot to serve.
Remember to chill and freeze food quickly after cooking