Easter Bunny Biscuits are fun to make and can be iced and decorated any way you or your children want.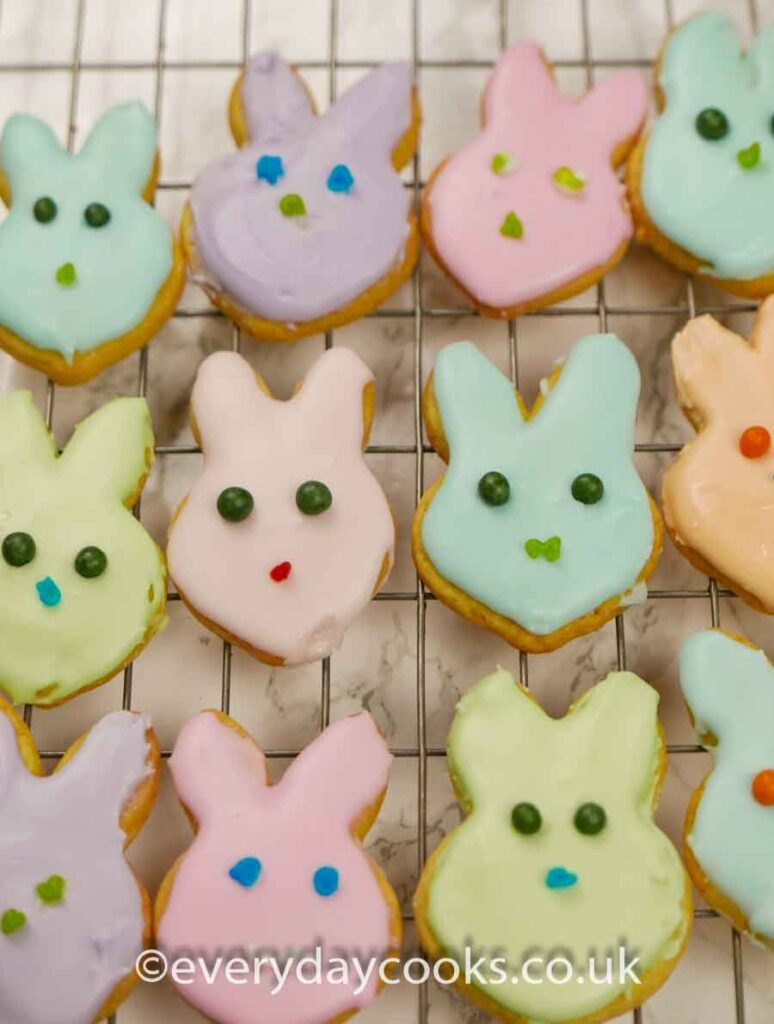 Easter Bunny Biscuits
These iced Easter Bunny Biscuits are delicious and kept mysteriously disappearing. Fortunately, the recipe makes about 40 small biscuits so they are plenty for everyone.
Cutters
I bought new cutters for the Easter Bunny Biscuits as I didn't have the shapes I wanted - any excuse! Mine were about 5cm, which is a nice size for a small snack.
Colourings
I used gel colours by SugarFlair in Egg Yellow, Baby Blue, Pink, Apricot/Tangerine, Party Green, Primrose. You can mix, as I did to get the lilac colour. These are sold as an Easter Set and are great for almost any cakes you make. The other colour I have is Christmas Red, which I use for a strong red e.g. in Red Velvet Cupcakes.
Gel or paste colours are concentrated so they don't make your icing runny and are ideal if you want a strong colour. If you use liquid colouring, watch the consistency. If the icing gets too runny, just add a little more sieved icing sugar. You only need a small amount so add with the tip of a cocktail stick. Add a minuscule amount to start with as they're very strong.
If you use liquid colours, you won't get such vivid colours and you may need to add extra icing sugar. Any sort of colouring is fine - use what you have, or what you prefer.
How to ice the biscuits
Make the white icing and put only a small amount into another bowl for colouring, leaving the white icing covered so that it doesn't dry out. Add a tiny amount of colouring and mix well, adding more colour until you have the shade you want.
Test-ice the first biscuit to make sure the consistency is right (I made 2 batches and the first was instantly okay, the second needed more water although I'd swear I made them the same.)
Put about half a teaspoon of icing on the biscuit (exactly how much depends on the size of your biscuits). Use a palette knife to smooth it over. The icing should slowly relax and form a smooth surface. You can see the difference between these two chicks - the yellow one is smooth, but the icing on the peach one needed more water:
I used sugar balls for the eyes for most biscuits and Writing Icing for other piping. Not very successfully really. It isn't my thing at all! Just as well they taste great.
Helpful Tools
If you like this...
...Why don't you try: