Dog Biscuits with carrot, cheese, and parsley (for fresh breath) are a treat for every day. Even fussy dogs (like mine) enjoy them.
My ex-racer greyhound, Billy, is rather unadventurous when it comes to food. Well, it's not just food. He's a dog who doesn't like the unfamiliar - I think he's institutionalised - having lived in racing kennels for the first four years of his life where he didn't have any opportunity to think for himself.
When our last dog, Evie, died I had to give away lots of different treats and food (all the expensive things I'd bought to persuade her to eat) because Billy didn't like them.
He's very specific about the treats he eats and he rarely eats away from home, so I wasn't at all sure that Billy would eat these biscuits.
When I told Keith what was in them - carrots, parsley, cheese - he just laughed. Billy doesn't knowingly eat vegetables. He doesn't see the point.
Sure enough, when I offered him one of these biscuits he sniffed it and turned away. I left it on his bed and twenty minutes later it had gone. He proceeded to eat three more, so I'm pretty sure they're a success.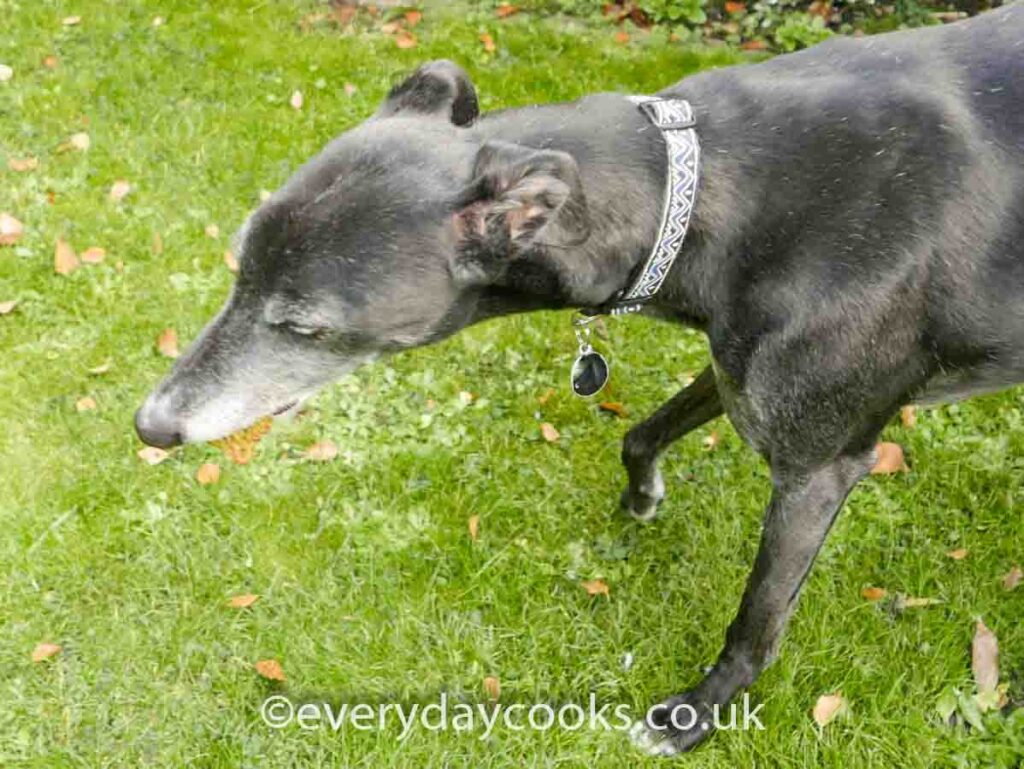 Key Ingredients in homemade Dog Biscuits
Cheese
Nice strong Cheddar is best. Dogs like smelly food and this is what entices a reluctant eater
Carrots
For bulk and vitamins. They also give a nice colour to your biscuits. More important to you than the dogs!
Parsley
The important ingredient for fresh breath! Even Billy likes the flavour.
Flour
Both wholemeal and white flour to give a good biscuit base.
What else do you need to make Dog Biscuits?
Bone-shaped cutters - I saw these and I couldn't resist! I made small and large biscuits for different-sized dogs. We have four different regular doggy visitors and two of them are small so they will only have a small one (they're very greedy so they would eat giant biscuits if on offer, but I'm thinking of their waistlines!)
5-bladed herb cutting scissors - Use to cut the parsley. Most importantly, they don't cut your fingers
If you like this...
...Why don't you try:
When you need a treat, try a mug of Spiced Hot Chocolate - warm and restorative.
Print Recipe
Dog Biscuits
These dog biscuits are full of carrot, cheese, and parsley. Yummy and good for doggy breath.
Ingredients
100

g

Cheddar cheese

75

g

fresh parsley

150

g

carrots,

after scrubbing and topping & tailing

150

g

wholemeal flour

150

g

plain/all-purpose white flour

75

ml

olive oil,

(or other oil)

1

egg

2

tablespoons

hot water

(30ml)
Instructions
Preparation:
Set the oven to 190°C/ 170°C fan/ gas mark 5/ 375°F

Line 2 baking sheets with a liner or baking parchment

Put the parsley and carrot in a processor and blitz until the pieces are very small OR Grate the carrot and chop the parsley very finely
For the Dog Biscuits:
Put the carrot, parsley, and cheese in a large mixing bowl and combine

Add the flours and mix well - It's easiest to use your hands

Drizzle the oil and water over the mixture, add the egg and use your hands to pull it all together into a dough.

It will be smooth and not sticky. If it feels dry, add a little more water

Tip the dough onto a floured surface and roll out to ½ cm thickness.

Use plenty of flour on your hands and rolling pin to avoid it sticking

Cut out the biscuits and put onto the baking trays. 

You will probably need to make two batches of two trays

Bake for 20-25 minutes, depending on size

Cool for a minute or two then turn onto a wire rack until completely cool.
Notes
Storage:
The dog biscuits will keep for at least two weeks in an airtight container