Chicken Chasseur or Hunter's Chicken, with sausage, bacon and mushroom, makes a warming family supper, enough for 6 - or 4 very hungry people.
When I was a teenager this was called Poulet Sauté Chasseur and it seemed quite exotic. I don't know where Mum got the recipe from, but we loved it. The idea of having more than one sort of meat in a single dish was a bit of a novelty.
Years later, I found that Hunter's Chicken was a common idea, although, usually, it has bacon in. I still like the original recipe (but with the addition of bacon) best.
Key Ingredients in Chicken Chasseur
Despite the list of ingredients, most of these I keep in my fridge, freezer or store cupboard anyway. the only things I had to buy were cider and mushrooms.
Chicken
You can use breasts or thighs, or a mixture of both. If you prefer to buy a whole chicken and joint it yourself - go ahead.
Sausages
The original recipe asks for sausages, although I don't see that in many modern recipes for Chicken Chasseur, but I like them, so they stay in.
This time all I had in the freezer were Chicken and Lemon sausages from Field & Flower, so I used them and they were delicious. It occurs to me that if you're cooking this for someone who doesn't like red meat, it's a good option anyway.
Other times I've used various types of pork sausage - sometimes with chorizo. So use what you like (or what you have).
Bacon
Streaky bacon is best for this recipe, smoked or plain - whichever you prefer - but if all you have is back bacon, carry on.
Cider
Dry cider. My rule of thumb for alcohol in food is If you wouldn't drink it don't cook with it. However, buying the cheapest booze you'd drink is fine!
Onions and garlic
I do look for an easy option here in real life. I've usually got them in the freezer, which cuts down the prep time (see here for more details). Otherwise, you could use garlic puree from a tube or jar. For the timings I've given, I peeled and chopped as per the instructions.
Here, then, is my most recent retro revival: Chicken Chasseur.
Helpful Tools
Joseph Garlic Peeler – I know, it sounds so unnecessary, and to be honest it is in this recipe. Except that it makes peeling garlic so easy and your hand don't get smelly. You just chop off the ends of the garlic cloves, unwrap the silicone tube and pop them inside. When it's re-curled you rub the garlic and when you open it up the skin and garlic are separated - like magic.
Helix Garlic Press - Often, I just chop garlic, but when you want it to be very fine it's easier to use a garlic press. I've just updated mine as it's a bit fiddly to use (and 30 years old, so I felt justified). A helix press means you don't need as much force to get more out of the garlic - also good if your grip isn't as strong as you'd like.
If you like this…
…Why don't you try:
Chicken in Sherry Sauce is a simple dish for a special weekday meal.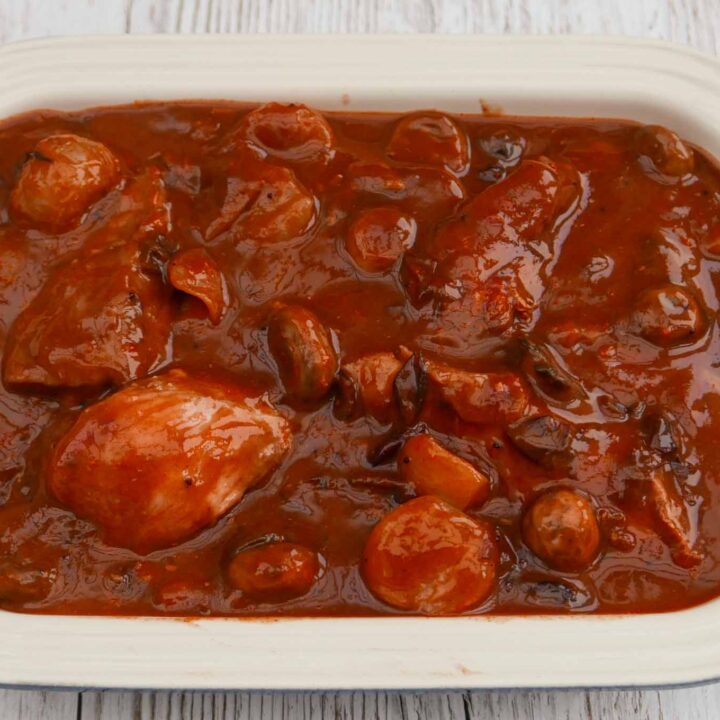 Cranberry chicken casserole is an easy meal that looks and tastes out of the ordinary. Ideal for entertaining without too much effort.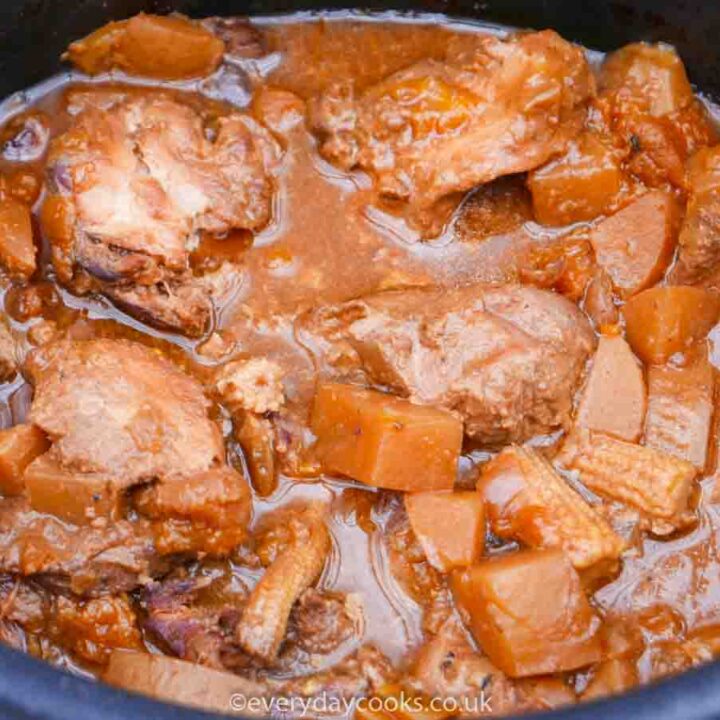 Slow Cooker Apricot Chicken Casserole is a one-step recipe. Chuck the ingredients in and leave to cook all day for a tasty, aromatic chicken supper.
Recipe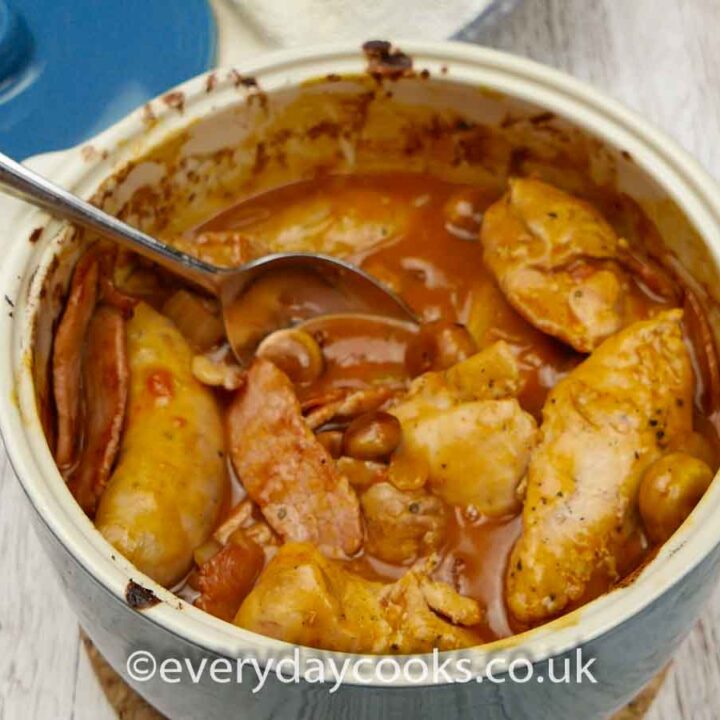 Print Recipe
Chicken Chasseur
Chicken Chasseur, or Hunter's Chicken - chicken joints with sausage, bacon and mushroom makes a warming family supper.
Ingredients
1

small onion

(125g)

2

cloves

garlic

200

g

button mushrooms

4

rashers bacon,

preferably streaky

600

g

boneless chicken joints - breasts and/or thighs

1

tablespoon

olive oil

(15ml)

40

g

butter,

divided

6

sausages

(300g )

25

g

plain/all-purpose flour

1

tablespoon

tomato puree

(15ml/25g)

150

ml

dry cider

250

ml

stock
Equipment
2-litre/4-pint casserole dish
Instructions
Preparation:
Peel and finely chop the onion

Peel and finely chop or mince/crush the garlic

Clean the mushrooms and trim the ends

Cut the bacon into strips - 1 -1½ cm wide

Remove the skin from the chicken joints, if necessary, and cut any large joints in half

Season the joints with salt and pepper

Put the stock on to heat in the microwave or on the hob
For the Chicken Chasseur:
Heat the oil and 20g butter in a large frying pan on a MEDIUM-HIGH heat

Add the chicken joints and sausages, and brown all over (3-4 minutes each side)

You may need to do this in two batches

Remove the meat to the casserole dish

If you have a plate-warmer, keep the casserole dish warm

Turn down the heat to MEDIUM

Put the onion in the pan and cook for 2-3 minutes. Add the garlic and cook for 30 seconds

Add the flour and tomato puree, stir in well and cook for another minute

Add the cider gradually, stirring to give a smooth sauce. Gradually add the hot stock while stirring

Pour the sauce over the meat

Add a bouquet garni to the casserole and cover with a lid

Set the oven to 190°C/ 170°C fan/ gas mark 5/ 375°F

Cook the casserole for 1 hour (no need to pre-heat the oven)

10 minutes before time, fry the mushrooms in the remaining 20g butter

After 2-3 minutes, add the bacon and fry until browned

After the casserole has had its hour, take it out of the oven. Add the mushrooms and bacon and stir well

Serve with mashed potato and peas.