Crunchy on the outside, soft on the inside, and full of almondy sweetness. Almond Macaroons are quick and easy to make.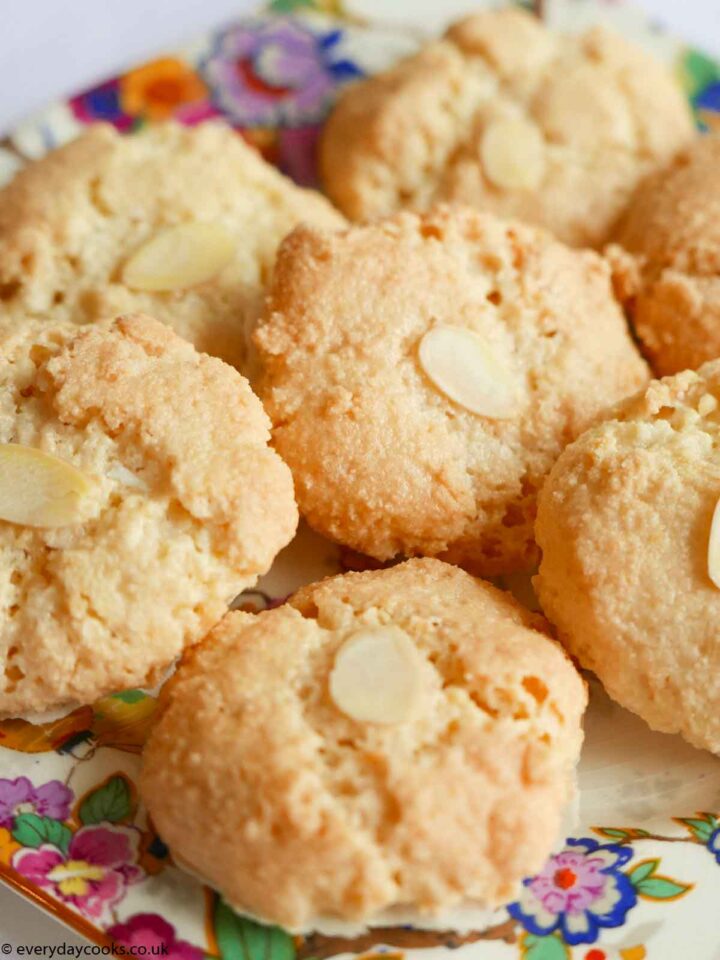 These almond macaroons are the ones my mother has been making for 50 years. Unlike their elaborate French macaron cousins, English macaroons are quick and easy to make (I love quick and easy!) and taste just as good.
They don't look quite as beautiful but, in my experience, that isn't a problem because they won't last long once your friends and family get started on them.
Key Ingredients in Almond Macaroons
Rice Paper
Almond Macaroons do require a couple of special ingredients. The first is rice paper, which is an edible wafer paper (and is sometimes called that in the store). This is the base for the macaroons. It adds to the texture and for me is a real bonus because it means the baking sheet stays clean - less washing up! (Rice paper has a very long shelf life so, unless you hate these macaroons and never make them again, you can keep it until you need it.)
Semolina
The second ingredient is semolina, which you may have in your cupboard anyway. You can also use it to make semolina pudding if you like milk puddings. It's pretty yummy with jam and especially good for children who need to increase their milk intake!
I use it in other recipes, such as shortbread, so you won't get stuck with it unused until it reaches its use-by date when you throw it away (which is not in my everyday cooking philosophy).
How do you make the macaroons Gluten-Free?
My original recipe used ground rice, which would make the macaroons gluten-free and can be used in all the ways that semolina can. I couldn't find any in my local supermarkets or online, so you might have to search for it.
How long will they keep?
Store the macaroons in an airtight container for up to 10 days. They don't need to be kept in the fridge.
If you like this...
...Why don't you try:
Pin for later
Hover over any picture on the page and hit the Save button to pin the image to one of your Pinterest boards.